Sorry, Muscle Beach Club Combo is no longer available.
This item has been discontinued, but you might still find what you're looking for in our current catalog. Please let us know if you have any questions.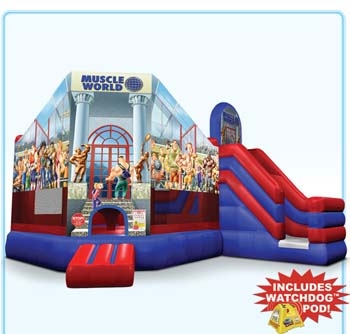 Muscle Beach Club Combo
Throughput of 60 guests per hour
Required space: 16' × 16' × 16'
Requires a 20A/110V electrical outlet
This new take on the Classic Combo is sure to be a big hit at your next party! No longer a boring square, this hexagon shaped beach themed combo lets kids Bounce, Climb, and Slide. Great for kids ages 3 to 10. Holds up to 6 kids at a time.