Your Source for Fun when you can't find the Sun
Whirligig at the Seattle Center House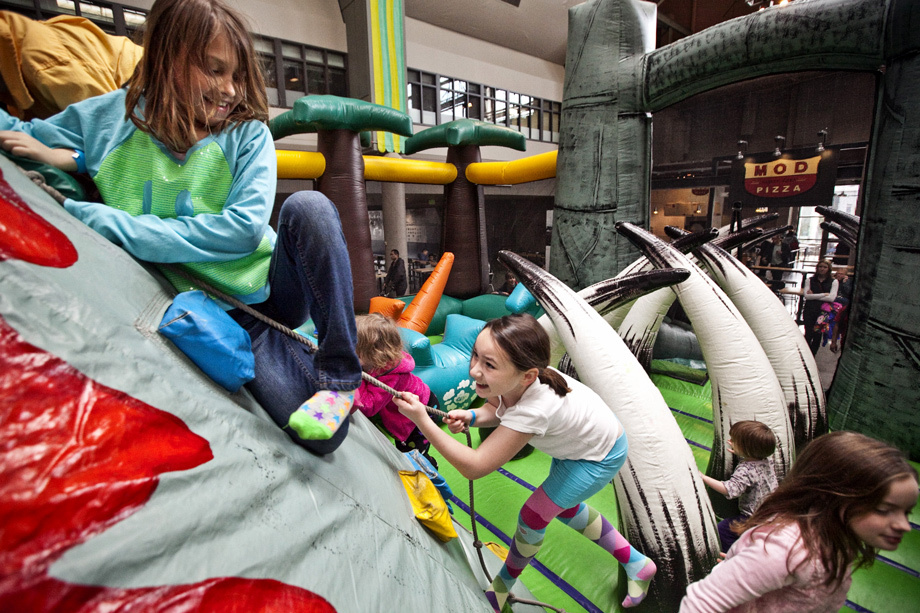 Here in the Northwest, it's the time of year when the Sun doesn't like to come out very often. Fortunately, organizations like the Seattle Center team up with us to bring all sorts of indoor, bouncy, inflatable fun. A couple years ago we did a Whirligig write-up that went into details of several of the onsite activities for kids at the Seattle Center. This year, we will go into more depth on the individual bounce houses that are being brought in for Whirligig and what the cost to your family will be. If you are planning an event in Portland or Seattle this summer, it is also a great activity to test out any slides, obstacle courses, or bounce house rentals you might be considering.
If you are one of our customers in the Portland, Hillsboro, or Beaverton area, we highly recommend making a day trip up to Seattle for the Whirligig event. In addition to all of the fun Seattle has to offer, your kids can enjoy an entire day of low-priced, unlimited inflatable fun.
Let's bounce our way into the details!
Dates and Times
Whirligig starts on Friday, April 1st 2016 and is operational every single day until Sunday, April 17th 2016. The event times are 11am to 6pm daily. If you are looking to attend when it is less busy with shorter lines, the best times to attend are weekday evenings from 3pm-6pm. Alternatively, show up first thing in the morning prior to opening so that you can get in line and quickly get a wristband. Any weekday (Except Thursdays, see below) will be much slower than Saturday and Sundays.
Cost
Whirligig is an absolute steal when it comes to playing on inflatable rides. Unlimited wristbands are $8 per child. Getting a wristband means that the kids can go on any of the rides in center house as many times as they want during that particular day. If your child is under the age of 4 and doesn't want to ride on the large rides, there is a restricted toddler area on the second floor that is reserved for kids under the age of 4. The unlimited toddler pass is only $4.50. However, if your young child is ambitious, and still wants to ride all of the rides, be aware that you will need to purchase the more expensive all day pass. If you are just passing through for the day, tickets are available for $1.50 a piece (with rides costing 1 or 2 tickets), but this option is not recommended unless you only plan on doing one or two rides.
If you compare the cost of the unlimited passes to the average bounce house rental in Portland or Seattle, I think you'll find it's a steal. $8 for unlimited use of 10 bounce houses instead of the normal cost of $200-$300 to have a single bounce house delivered to your house.
For a real deal, come on Thursdays when everything is FREE! All of the rides, free, all day long. Be warned though, it will be very, very busy.
Rides
Onto the best part of the experience! The inflatable slides, obstacle courses, and bounce houses! There are a grand total of 10 bounce rides that are brought into the Seattle Center House. Two of the bounce houses are reserved for children under the age of 4. Remember: Each and every one of these inflatables can be rented for your corporate event, summer picnic, or other special occasion. Click on any of the links below to get a detailed description of the interactive ride and stunning picture!
Toddler Area
Main Floor Play Area
We hope you come out to visit us this year and enjoy your experience at the Whirligig!