Location: 1916 Baldwin Street Houston, Texas 77002
Great For: Corporate Events, Happy Hours, Networking Events, Receptions & Intimate Gatherings. 
Next to the Central Business District in downtown Houston, The Oakmont Houston offers three levels suited for any occasion with a beer garden level, a dining and event venue level, and a nightclub level. 
Gremillion & Co. Fine Art Inc.
Main Gallery Capacity: 115
Annex Building & Sculpture Garden Capacity: 225
Location: 2501 Sunset Blvd, Houston, TX 77005
Great For: Intimate Gatherings, Receptions, Networking Events, & Weddings  
Located in the Southampton neighborhood of Houston, the Gremillion & Co. Fine Art Gallery provides not only a stunning collection of contemporary art but a unique and versatile event space for any occasion.
The main gallery is equipped with movable walls and track lighting perfect for intimate gatherings and the Annex Building offers 6,000 square feet of event space including an upstairs, downstairs, and an elegant sculpture garden.
Location: 3516 S Shepherd Dr, Houston, TX 77098
Great For: Team Meetings, Happy Hours, and & Teambuilding Events
Nestled between Houston's Montrose and Southampton neighborhoods, the Honey Art Cafe offers some of the cutest confections in all of Houston.
Guests can come to Honey Art Cafe for a one-hour tea for two that includes an array of pastries, a fresh pot of tea, and an art activity to partake in. The Honey Art Cafe also offers workshops, art classes, and project table reservations. This cafe is the perfect location for a team-building event or intimate gathering where guests can get creative. 
Location: 3519 Clinton Dr, Houston, TX 77020
Great For: Happy Hours, Teambuilding Events, Intimate Gatherings & Networking Events. 
Located in Houston's East End neighboorhood is The New Potato, a neighborhood craft beer garden featuring a menu of classic cocktails and a noteworthy whiskey collection. This is the perfect spot to escape the hustle and bustle of downtown and enjoy good food and good company.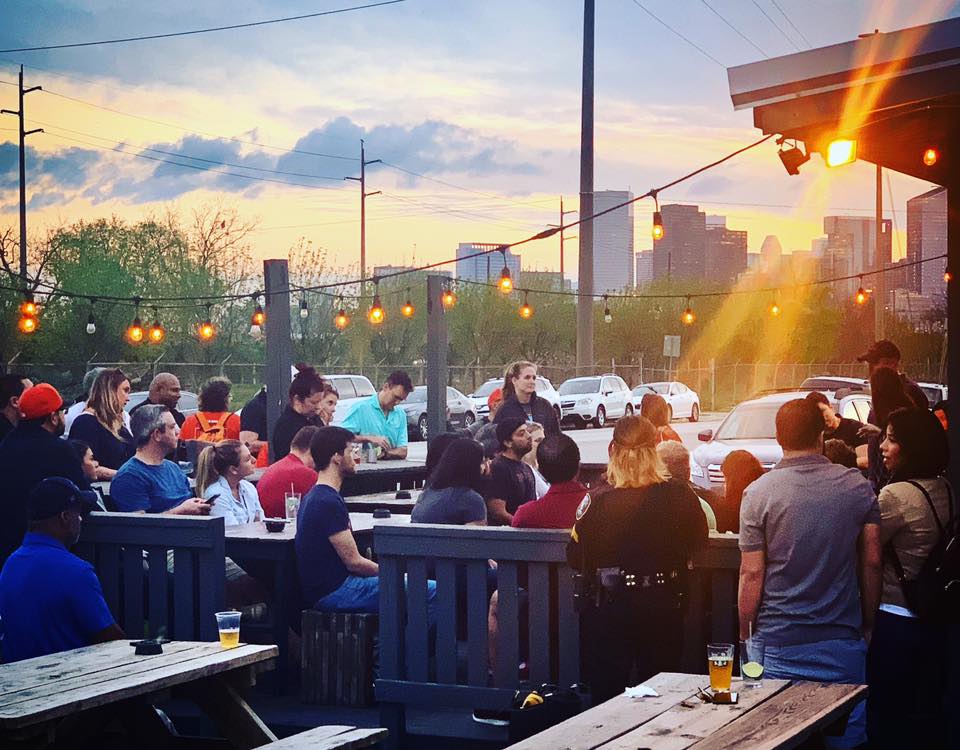 When looking for the space to create your own experiences in Houston, Texas the minds behind Sharespace have created the perfect range of venues to do just that.
Preston Location: 2203 Preston St., Houston Tx 77003
The Preston location also known as the Blank Canvas Warehouse is the original Sharespace location. This location serves as one of the most versatile event spaces in Houston. 
East Downtown Location: 5001 Navigation Blvd., Houston Tx 77011
Located in East Downtown this warehouse-style venue offers 3,000 sq ft of event space. The space itself features a completely open floor plan, concrete floors, exposed brick walls, and a white kitchen. The second level of the space features a glass balcony that overlooks Houston's historic Navigation Blvd.
Downtown Naylor Location: 1120 Naylor Street, Houston Tx 77002
The Downtown Naylor Street location features 4,500 sq ft of event space, broken into a front room, main room, patio, 15ft ceilings, and 27ft bar perfect for any occasion. 
Berry Street Location: 2015 Berry St., Houston Tx 77004
Light, bright, and full of greenery, the berry street location is the perfect event space for those looking to escape the hustle and bustle of downtown but still enjoy a convenient location with parking. The event space includes a 1,100 sq ft main room and a 250 sq ft enclosed patio. 
Emancipation Ave. Location: 4212 Emancipation Ave., Houston Tx 77004
This location is the perfect spot for intimate gatherings with a 975 sq ft open floor plan, large windows, and high ceilings.