Festival Season Has Arrived in the Pacific Northwest
Paradiso Music Festival 2018
Where Digital Meets Nature

Where digital meets nature, located along Washington's iconic Columbia river is the beloved Paradiso Music Festival at the Gorge Amphitheatre. Since 2012 this show has been considered the crown jewel in a year-round line up of shows created by USC Events. Founded in 1996, USC Events has followed its vision: "a vision for an electronic dance music experience that went beyond your typical concert" USC Events is known for hosting The Pacific Northwest's big annual events such as Freaknight, Lucky, and Resolution. This year's Paradiso Music Festival was it's 7th appearance at George, Washington's Gorge Amphitheatre. Having the opportunity to experience this year's Paradiso as my 3rd Paradiso in addition to 2014 and 2015, it was a great year for the electronic dance music festival.
Where Digital Meets Nature

There is so much to take in when one attends Paradiso, from the breathtaking one-of-a-kind view of the Columbia River Gorge to the brightly outfitted entertainers, the diverse range of music, and the feeling that summer has finally arrived in The Pacific Northwest as people come from all around the country to enjoy.
This year USC Events has shown how far the festival has come with many new additions and highly anticipated artists on the lineup that stands the test of time. One of the new features of the festival covered by an article by EDM Identity was " the "Flow Garden". Rather than seeing a variety of flow artists walking around the event, many found themselves giving shows to people in the garden."
Then and Now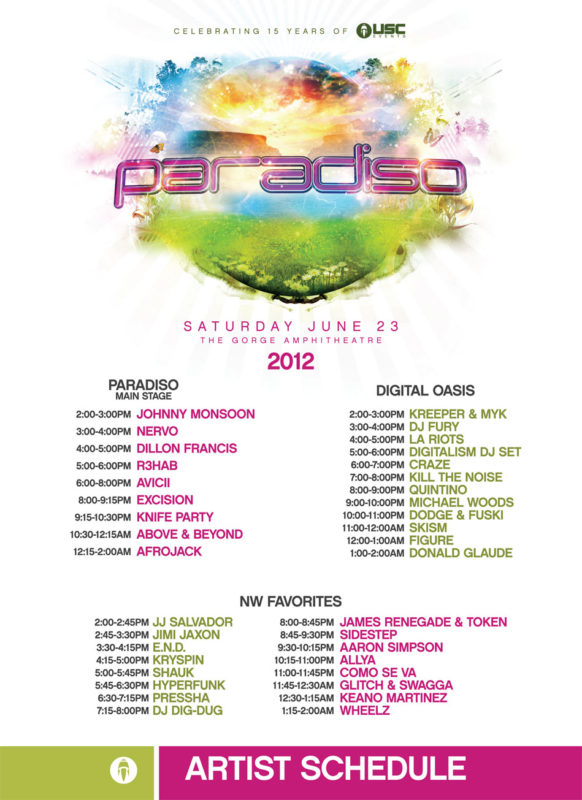 Despite the weather conditions that came with this year's second day of the festival, Paradiso still prevailed managing to still complete its second-day lineup.