Sorry, Jungle Adventure Playlite is no longer available.
This item has been discontinued, but you might still find what you're looking for in our current catalog. Please let us know if you have any questions.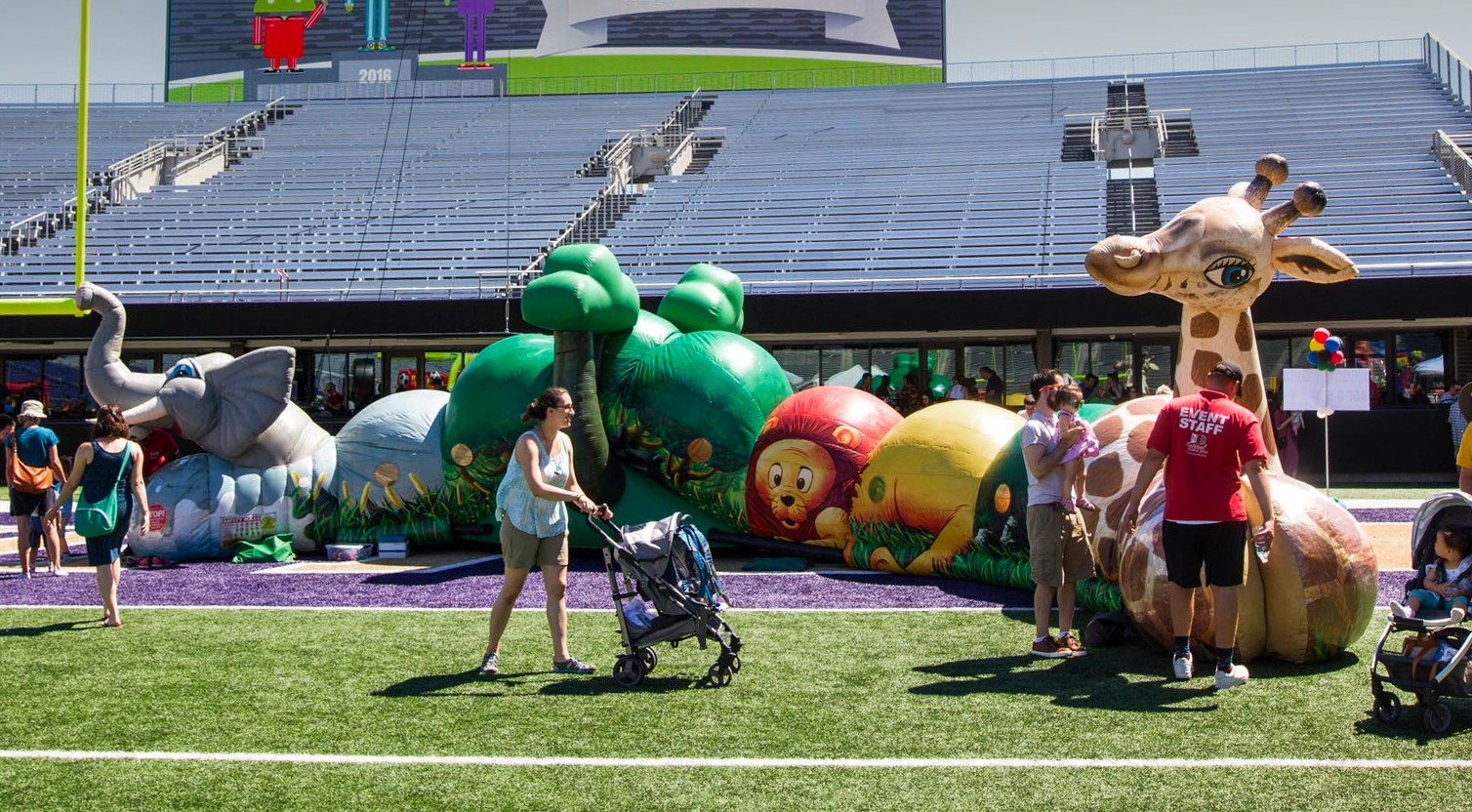 Jungle Adventure Playlite
Throughput of 200 guests per hour
Required space: 56′ × 7′ × 12′
Requires two 20A/110V electrical outlets
If you've already added a bounce house, obstacle course, slide, and interactive inflatable to your event, you might be wondering what else is there to add? The Jungle adventure playlite is a special variety in the world of inflatable activities called a "run-through" inflatable. Like a toned down obstacle course, the elusive run-through caters to children aged 2 to 12. The upper portion of the inflatable is actually inflated like a balloon, meaning participants have to squeeze into the inner area of the inflatable. The lower portion is inflated to provide padding and safe passage to the opposite end.
With no real obstacles aside from a small climb and slide at the end, kids of all ages will quickly make their way through the appealing tunnel, coming back to the entrance to run through again! Due to the quick turns, over 200 kids per hour can use this attraction. Some kids get so hooked that they will spend hours running through again and again.
The Jungle theme can be useful when trying to theme a Safari type event or possibly a Jurassic park event! In a pinch, it can be used for a carnival theme due to the animals, but the similar circus train inflatable is a better option for such an event.
With any rented inflatable or bounce house it is required for safety reasons that it be monitored by a volunteer or trained event staff. When setting the inflatable, the NEP event crew will identify a flat, safe area to set the unit. Using a combination of stakes and sandbags, the event crew will secure the inflatable to prevent it from shifting or becoming a hazard during the celebration.