20 Charming Boston Event Venues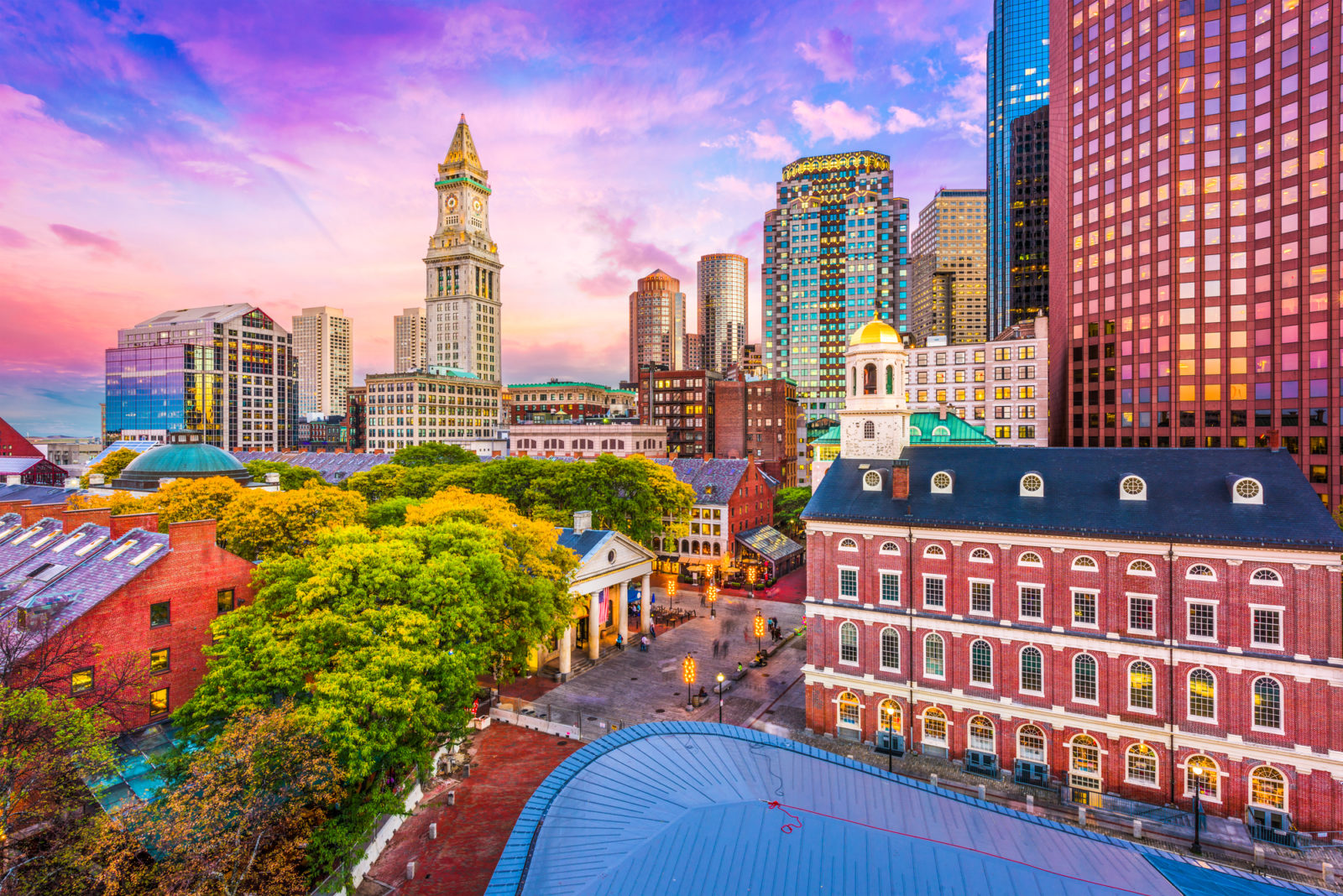 One of our country's oldest towns, Boston is as charming as it is impressive. Its picturesque cobblestone streets are lined with firsts: America's first lighthouse, first public park, first chocolate factory, and first subway system. Its the town where high-IQ daughters and sons go to continue their education and the town to which companies flock for conventions, meetings, and events marked by charm and sophistication. Here are a few of our favorite places to host guests while in Beantown.
Capacity: 3000
Location: 420 D St
Great For: Outdoor Activities
In the heart of the Waterfront District sits a venue that is truly the stuff of event planners' dreams. It's an outdoor event space so flexible it leaves nothing out of question, and so cared for that it needs little to come alive in short order. The Lawn on D, an event space managed by the Massachusetts Convention Center Authority, offers clean air, green turf, and room to mingle for crowds of up to 3000 Bostonians. A fabulous pick for design-heavy outdoor events in need of wide-open spaces to bring big ideas to life.
Capacity: 300+
Location: 700 Boylston Street
Great For: Holiday Parties, Conferences, Weddings
You've never seen a library quite like this. The Boston Public Library is a working (and prestigious) library by day and a drop-dead gorgeous venue by night. Green lamps and wooden tables on the McKim Floor look amazing when decorated with as many as 330 table settings, while the Abbey Room provides mural-clad space for a dance floor and seating for smaller crowds of up to 70. The building itself is a sight to be seen, and an inspiring environment for smart celebrations of all kinds.
Capacity: 3300
Location: One Broadway (Everett)
Great For: Performances, Meetings, Presentations
A taste of Las Vegas in Boston? At Encore Boston Harbor, the taste is pleasing to all palates. A sister hotel to the famed Vegas property, Encore's Boston Harbor outlet offers 50,000 square feet of event space, a 37,000 square-foot ballroom, 15 restaurants, and the largest bedrooms in Boston. The Encore specializes in meetings and conventions, supporting events with professional meeting planners who assist in throwing events free of hiccups and full of purpose.
Capacity: 4000
Location: 900 Boylston St
Great For: Conventions, Conferences
Short for the John B. Hynes Veterans Memorial Convention Center, The Hynes stakes its claim as the "best-located convention center in North America." Along with space for up to 4000 attendees, the conference center prides itself on keeping abreast of the latest technology while supporting meeting planners with top-notch service. The mix is a win for tech-heavy product launches, future-focused conferences, and everything in between.
Capacity: 250
Location: 70 Rowes Wharf
Great For: Weddings, Receptions
The Boston Harbor Hotel is quintessential New England. Walnut ballrooms, opulent chandeliers, massive windows, and an eye-popping presence in Boston Harbor, the iconic hotel is a frequent contender for the city's top wedding venue. Consider the Wharf Room, a 5,500 square-foot room with 19-foot ceilings and seating for up to 250, or the Atlantic Room, a warmly colored 4000-square foot room perfect for weddings with 170 or fewer guests.
Boston Convention and Exposition Center
Capacity: 10,000+
Location: 415 Summer Street
Great For: Conventions, Conferences
Let's take things up a notch, shall we? The BCEC is a Boston behemoth of epic proportions. We're talking about 2.1 million square feet of convention space. A 40,000-square-foot ballroom. 82 meeting rooms. And a breathtaking view of the Boston Seaport. The location and context of the BCEC make it a happy destination for visitors and locals alike. The perfect venue for large conventions and trade shows.
Capacity: 4500
Location: 1 Science Park
Great For: Nonprofit Events, Galas
Along the Charles River, a tribute to Science regularly provides event space to charitable galas and corporate celebrations. Boston's Museum of Science features offers accommodations for up to 4500 lucky guests, with views of the Boston skyline, mouthwatering catering by Wolfgang Puck, and even free parking for guests. And did we mention the optional presence of dinosaurs?
Capacity: 100
Location: 49 Melcher Street
Great For: Small Parties
Sometimes, you just need a private place to enjoy the company of colleagues or family. Bastille Kitchen is a turnkey destination for private dinners for crowds of 100 and under. Few celebrations could be simpler to plan. Planners choose from one of four different dining areas, a range of menu options, and consider the planning complete.
Capacity: 2000
Location: 50 Park Plaza at Arlington St.
Great For: Corporate Parties, Weddings
A contemporary hotel with more than 55,000 square feet of meeting, mingling, and dining space, the Boston Park Plaza features three ballrooms and space for up to 2000 guests. The Grand Ballroom features an epic staircase guaranteed to flood Instagram, while in-house catering makes planning simple.
Capacity: 200
Location: 87 Santilli Highway (Everett)
Great For: Birthday Parties, Receptions
Let's get casual. Night Shift Brewing is a brewery that offers up its Taproom for semi-private events of 20-200. Craft beer is on tap, brewery tours are included, and crowds and sure to be pleased. Due to healthy crowds clamoring for their primary line of business, the brewery is unavailable for private parties on Saturdays.
Capacity: 150
Location: 26 North St at Faneuil Hall
Great For: Meetings, Weddings 
Directly across from Faneuil Hall, the Bostonian is a hotel managed by Millennium Hotel and Resorts. Smaller than some other hotels, the Bostonian can accommodate meetings and receptions for up to 150 people. Its proximity to Faneuil Hall makes it a fabulous pick for sports fans. As an added bonus, wedding reception packages come with complimentary access to a bridal suite.