How to Rent a Bounce House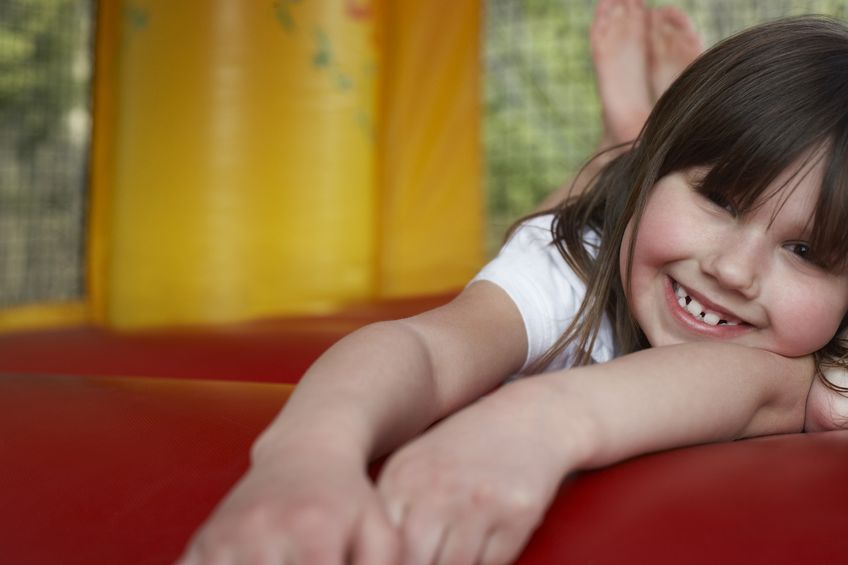 When planning a children's birthday party, parents often don't know where to begin. There are countless options and ideas out there. If you have decided to rent a bounce house for your kid's party there are a few steps you need to take in order for your event to run smoothly and make sure your guests have a safe, fun time.
1. Pick a Date and Time
The first thing you need to accomplish is picking a date for your party. Most vendors have a limited supply of bounce houses and a restricted delivery schedule. Knowing what day and time you want the bounce house for your party will help the bounce house company determine what availability they have. The other advantage of picking a date and time early on is that you can send out invitations soon enough for your guests to reserve the date. After all, you want people to come to you party!
2. Choose a Location
Knowing where you are going to setup the bounce house is almost as important as knowing when you need it. Different companies have different restrictions on where they can put inflatables. Often, if your party is going to be in a public park, additional insurance or staff are required to use the inflatable. If you aren't planning on hosting the party at your house, the inflatable company needs to know where the party is going to be so they can give you more accurate delivery charges. Finally, different surfaces require unique supplies to secure them properly; knowing the location of your bounce house can insure safety for all party participants.
3. Select a Vendor
Depending on where you live, there may be multiple bounce house rental companies available. Pricing shouldn't be your only consideration when it comes to picking a vendor. Reputation, Safety, and Insurance are all critical aspects of any company you choose. Any legitimate inflatable rental company will have all of their equipment inspected by the state and insured. However, this is only one piece to the puzzle; an inspected company doesn't necessarily guarantee a safely operated company. A great inflatable company will hire their own employees, run background trucks, and train the employees to setup and operate inflatables in the safest manner popular. Don't be afraid to ask the company questions about their operations, especially when it comes to your family's safety.
4. Let your Child Pick Out their Favorite Bounce House
Here comes the fun part! Let your child pick out their favorite bounce house from the company you choose. Bounce houses come in a wide variety of shapes, sizes, colors, and themes. Whatever bounce house your child chooses, it's sure to be a hit.
5. Check the Space and Power requirements
Every bounce house can be a different shape and size. Make sure you check with your vendor on how much space you need. Typically you want the space to be at least a little bit bigger the actual inflatable. You need room for the entrance, and don't want the sides rubbing against a fence, bush, or house. Check how many circuits of power you need. Most basic bounce houses only require on circuit of power. If your bounce house is larger it might require two circuits. A circuit in a house is not just a single outlet, but a combination of outlets on the same breaker. Make sure you aren't running any other equipment on the same circuit when the delivery drivers setup your event. Popping a circuit is never fun and can lead to delays in your party.
6. Book your Party
Once you have all the details confirmed, work with your inflatable company to submit payment and a signed contract. Make sure you have a copy of your invoice that shows you have paid. Make sure you understand their cancellation policies and operating rules for weather in case its raining. Hold onto your final invoice in case there are any issues with the company later.
7. Confirm your Reservation the Week of the Event
No matter who you book through, it is always a good idea to confirm your reservation a couple days prior to your event. The event industry is a busy one, especially during the summer, sometimes things get missed. Some companies will call you to do their own confirmations, if they don't make sure you make a call on a weekday during normal business hours to confirm your reservation. This is also the best time ask any last minute questions you might have about your upcoming party.
8. Bounce all Day!
The party is here! It's time for fun and games. Your delivery drivers should arrive at least 30 minutes before your booked time slot. The should be friendly, courteous, quick, and safe. Once they are setup and on their way to other deliveries, you can have all the bouncing fun you want! Remember that you are responsible for safety once the unit is setup, and that the delivery drivers can only do so much. Follow the rules that they give you to keep all of your guests safe. Most of all, have a great time!