Menu Selection 101
Serving styles, entrée choices, and food allergies (oh my).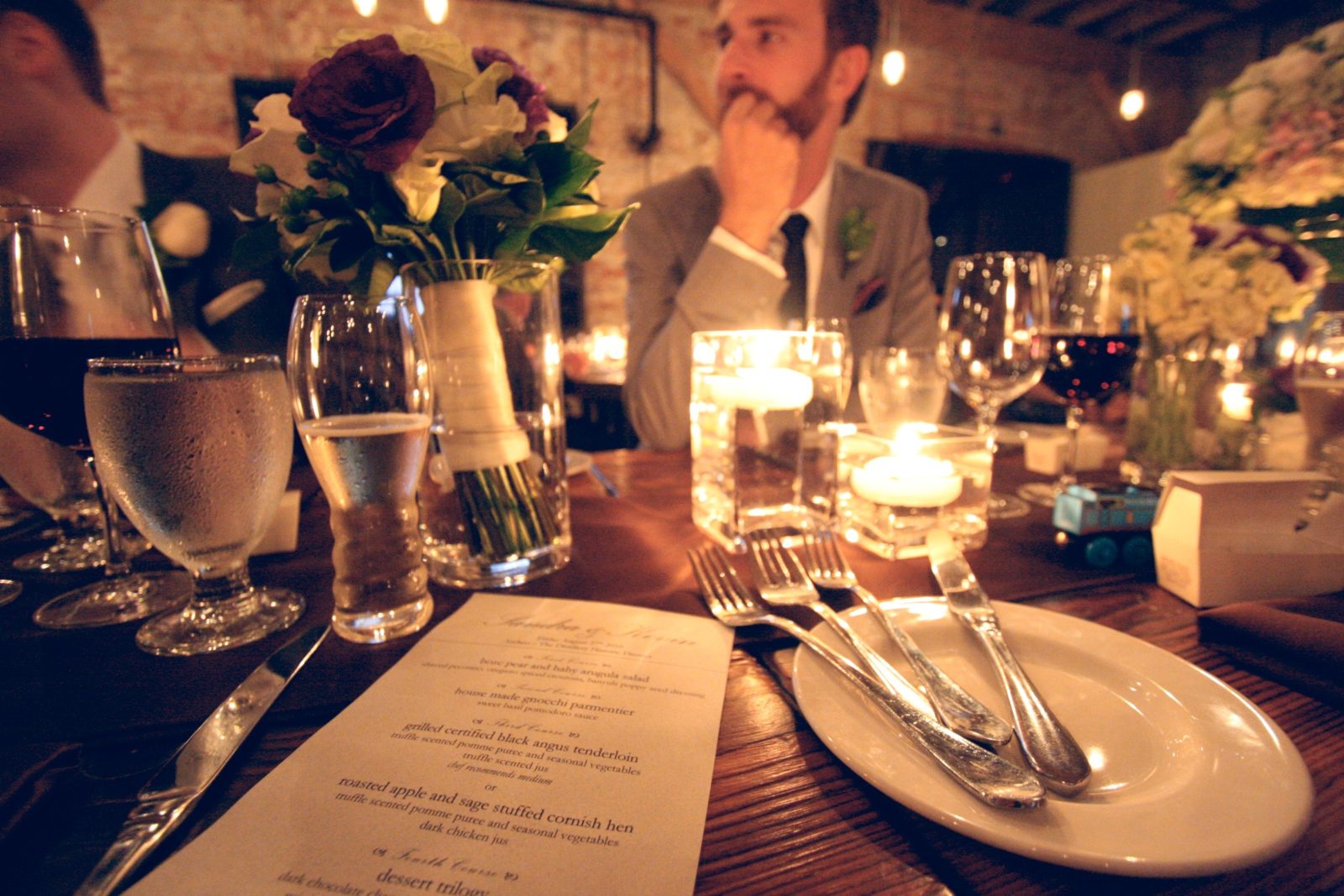 "Would you like beef or chicken?"
For all of us who struggle to answer this simple question, planning the menu for a special event can be a conundrum. The variety of options for what to serve your guests is nearly unlimited. Varying price points abound, and for every serving style considered, new seating requirements and temperature control questions pop up. But not to fear, menu-fearing friend. We're here with a comprehensive guide to all things menu selection.
Make it Meaningful
If we've said it once, we've said it a hundred times: every aspect of your event should reflect its overall vision and purpose. The menu selection process provides a perfect opportunity to infuse your party with thoughtfulness.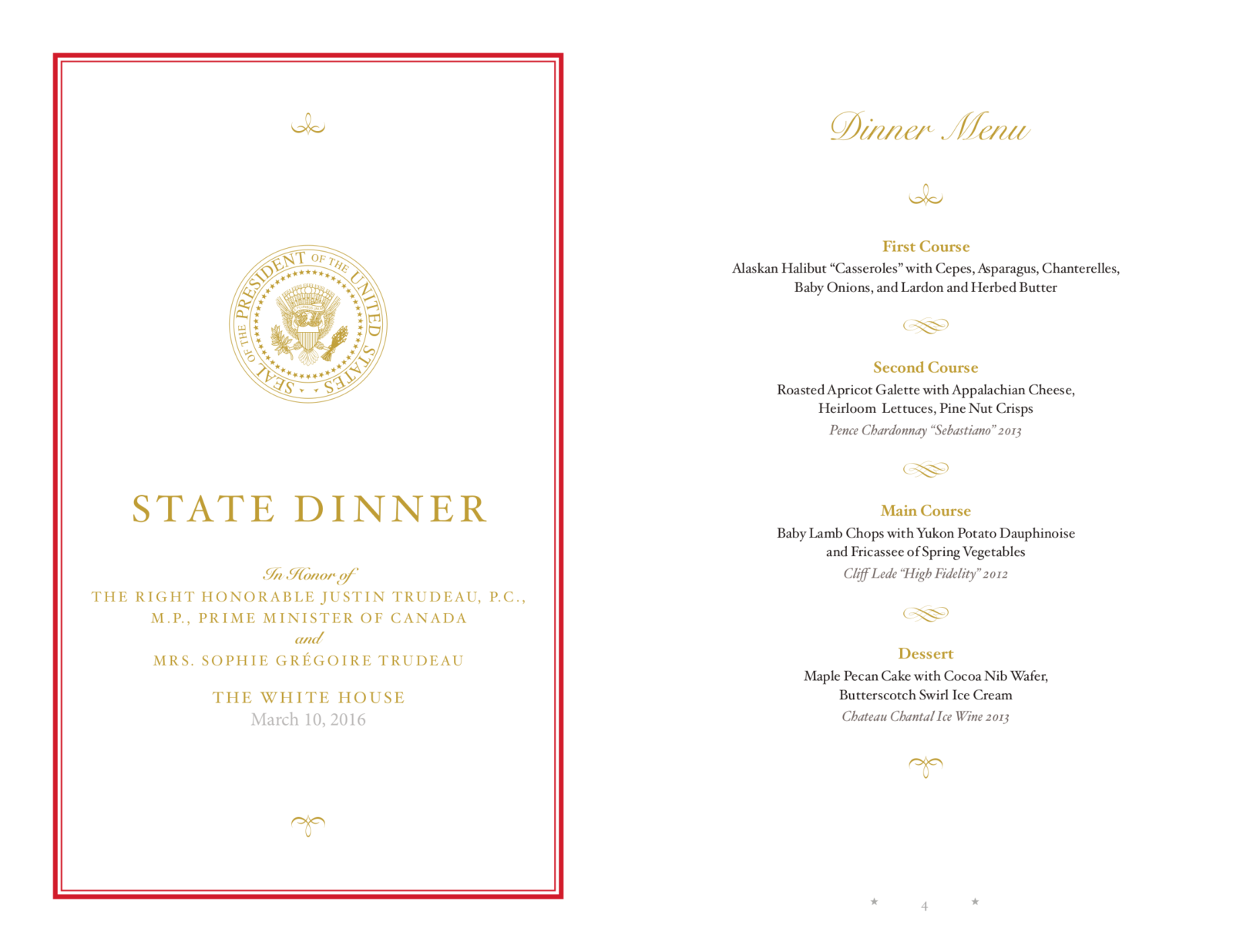 At the State Dinner held to honor Canada's newest Prime Minister, Justin Trudeau, the White House created a menu filled with meaning. Each item was selected for its symbolic value, highlighting both American and Canadian ingredients. And the butter? It was infused with herbs grown in the First Lady's garden. Talk about thoughtful!
Of course, having the White House Social Secretary meticulously plan your event for months helps in this category. But that doesn't mean you need to skimp in making things meaningful. In fact, thoughtfulness can go a long way in making your menu rise above the rest, even if you aren't spending money like royalty.
Variety vs. Simplicity
Any customer can have a car painted any colour that he wants so long as it is black.

Henry Ford
Variety is the spice of life.

William Cowper
There are two divergent paths you can take in the menu variety category: provide so many options that everyone will be happy, or confidently dictate exactly what your guests will be treated to. Each comes with its own pros and cons.
In the simplicity category, the Canadian State Dinner is a perfect example. While the White House Chef surely could have offered two or three choices for each course, they opted instead to serve everyone the same menu. Now, that isn't to say that guests with allergies were out of luck. It's likely that the social secretary's office planned for guests' food sensitivities in advance. But in case your party planning team isn't connected to intelligence agencies who can notify you of a quinoa allergy at Table 3, you'll want to give your guests some options. (But more on allergies later.)
For many events, providing some options is a realistic way to accommodate both allergies and preferences. If you're throwing a very large event, not only will a variety of food options cost little more than a single option, it may be necessary. There is a limit to the number of guests any vendor can serve. If you plan on hosting more than any single vendor can handle, take the opportunity to provide your guests with some choice. This can be achieved regardless of whether your serving style is a buffet with lots of options, a plated dinner of two choices, or passed Hors d'oeuvres of all kinds. And that brings us right to your next decision: how to serve your guests.
Serving Styles
Event Manager Eddy Willingham explains that there are essentially three options when it comes to serving event guests: "The three serving styles are plated dinners, buffets, or passed. Passed is typically a hired staff person walking around with a menu item and serving guests. This is typically hors d'oeuvres, but could include more main dish items if the event warranted it. Buffet-style and plated dinners are fairly standard. The decision process regarding which style to go with depends solely on the event's goals and constraints. A buffet is typically easier on the budget because it requires minimal overhead. Buffets tend to be appropriate for events ranging from formal to picnics, but can take time to get everyone served. Plated dinners are typically reserved for more formal events, and require more staff (and thus, cost). Plated dinners have a distinct advantage: time. If your agenda is tight, getting everyone served within minutes is incredibly helpful.
Accommodating Allergies
Even the most thoughtfully-planned delicacies won't be remembered fondly if they caused hives, or worse. Food allergies can be a real challenge , but they can be overcome with a bit of patience and forethought. According to the ACAAI, the eight most common food allergies are:
Eggs
Milk
Peanuts
Tree Nuts
Fish
Shellfish
Wheat
Soy
Helping your guests avoid unfortunate allergic reactions can occur in a variety of different ways:
Ask guests to report food allergies on their RSVP card, then provide special meals for those who need them.
If guests aren't required to RSVP, print an email address on the invitation that can act as the inbox for allergy notifications.
If your menu options will provide enough variety to where being notified of allergies in advance is unnecessary, have cards printed by each item that lists its major ingredients.
With a few precautions, your guests will be in good hands.
The menu planning process is both daunting and inspiring. Like the theme it follows, it can set the course for the evening. And if you're as lucky as the White House Social Secretary, it could even make the evening news.