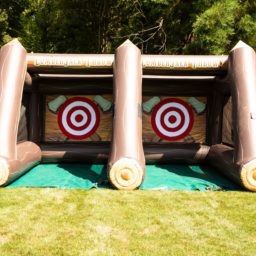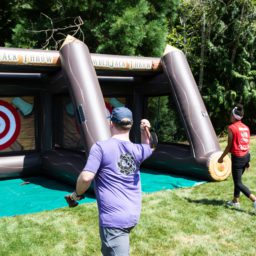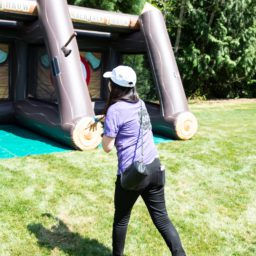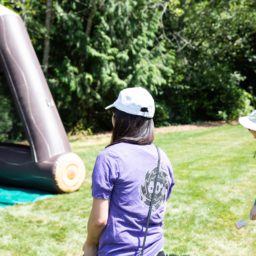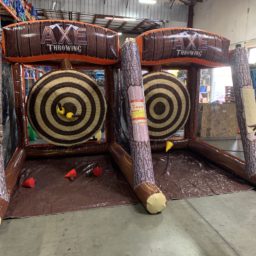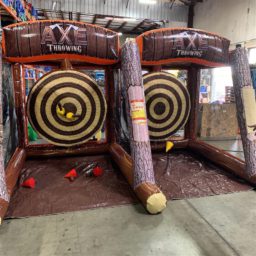 Event Rentals

:

Axe Throwing Game
Branded Experience Option Available
Available in WA or Nationwide for corporate events and long term rentals
Throughput of 100 guests per hour
Required space: 10′x16′ × 8′7″ 
Requires a 20A/110V electrical outlet
Axe throwing has been a beloved past-time and pub game of many, now guests and party-goers alike can enjoy this fun game with a bit more safety.
Instead of wielding sharp wood chopping axes these axes are a lot more forgiving and are great for axe throwers of all ages and ability levels. The entire axe throwing station is inflatable as well as the target and axes which are outfitted with velcro tips that stick onto the target when thrown.
Host an ax-throwing competition and keep score of each guests score, host head to head axe throwing games, or split into teams and let the best team win.
The axe throwing game can also be outfitted in custom branding upon request through NEP's custom branding services.
Create a custom gaming area by adding other giant games and interactive inflatables to the event. Create a ticketing system where guests can cash in their earnings for prizes or custom branded prizes upon request. You can rent the Glow in the dark Axe Throwing Game for a dark or indoor event.
Branded Experience Option: This game rental item can be turned into a branded interactive experience to promote your message, product, or company. When implemented correctly, creative engagement activities can improve your impact and conversions. Stand out at your next marketing activation or trade show.
Get pricing for your event
Tell us a little about your event, and we'll get in touch to discuss the details.