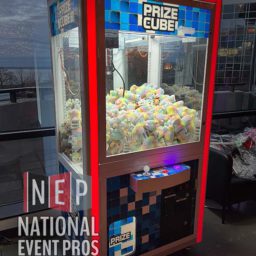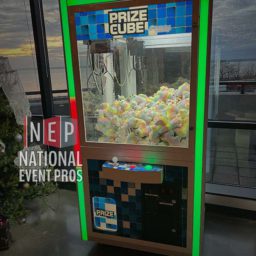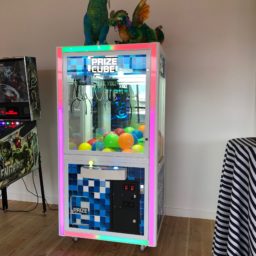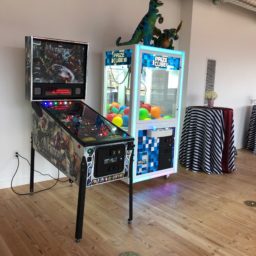 Event Rentals

:

Arcade Claw Machine
Branded Experience Option Available
Available in WA or Nationwide for corporate events and long term rentals
Required space: 31″W × 35″L × 76″H
The arcade claw machine is such a classic that it's believed the first claw machine was created as early as the 1890s although the arcade claw machine was not mass-produced and sold until 1926.
The first 1926 model of the machine was dubbed "The Erie Digger" inspired by the equipment used to build the Erie Canal in New York. The machine quickly popped up along boardwalks, at carnivals, and casinos and has been gobbling up coins and tokens ever since. With quite the history it's safe to say that there are some expert arcade claw machine players out there.
The machine has come a long way since then but the allure of winning the best prize out of the machine for all to see is still there. As the years past by the construction of video arcades and gaming halls welcomed in various versions of the classic machine as well as other arcade classics.
Everyone remembers the treasured claw machine from the arcades of the past. Now there is a new take on this classic with LED lighting and custom branding available for any pop-up shop, company event, or launch party.
This is the perfect addition to any event or pop-up arcade at an event. Fill the machine with prizes of your choice and let your guests put their claw machine prize-grabbing skills to the test.
Check out NEP's personal branding services for a limitless selection of custom prize options available that can showcase a company logo, event logo, or a personal touch for any occasion.
Prize Balls are 5″ or 7″ for lightweight prizes.
Branded Experience Option: This game rental item can be turned into a branded interactive experience to promote your message, product, or company. When implemented correctly, creative engagement activities can improve your impact and conversions. Stand out at your next marketing activation or trade show.
Get pricing for your event
Tell us a little about your event, and we'll get in touch to discuss the details.