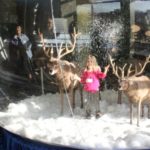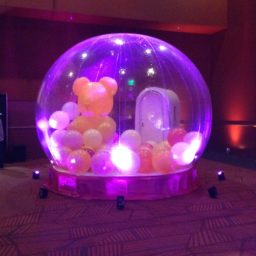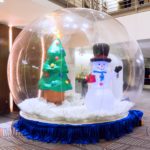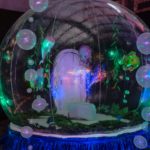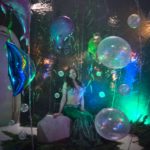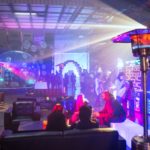 Event Rentals

:

15′ Giant Snow Globe
Branded Experience Option Available
Available in WA or Nationwide for corporate events and long term rentals
Required space: 20′ × 20′
Requires a 20A/110V electrical outlet
Step into the magical world of a snow globe for a fabulous photo opportunity. This one-of-a-kind 15′ inflatable snow globe is made of clear vinyl and features an attached igloo that serves as an airlock so that guests can enter while the globe is inflated.
Holiday-themed decor such as snow, reindeer, trees, lighting, and more can be added to complete the real snow globe experience. To really bring the globe to life, a costumed character gingerbread man, Santa, elf, or any other character can be added.
Looking for something less holiday centered? We've used the inflatable snow globe as a decor centerpiece to build an aquarium, a cityscape, a mini-dancers exhibit, and so much more. Speak with a creative director today to see how this unique event rental could transform your venue.
Branded Experience Option: This rental item can be turned into a branded interactive experience to promote your message, product, or company. When implemented correctly, creative engagement activities can improve your impact and conversions. Stand out at your next marketing activation or trade show with our Attention & Traffic builders!
Get pricing for your event
Tell us a little about your event, and we'll get in touch to discuss the details.