Your 2017 Valentine's Day Playlist
From Love Songs To Bitter Breakup Jams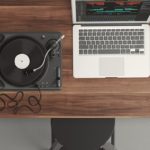 Music can make a huge difference at events, whether it's live music on a huge sound system, or someone playing it off a tiny phone speaker.
Since we're unable to get Adele, Beyoncé, and Ed Sheeran to play your Valentine's Day party, we've done the next best thing. We've curated a 53-song Valentine's Day playlist for your event (or date night).
Fifty of them are romantic love songs, and if those don't fit the mood we snuck in 3 bitter breakup jams too. Can you spot them?