19 Incredible Atlanta Event Venues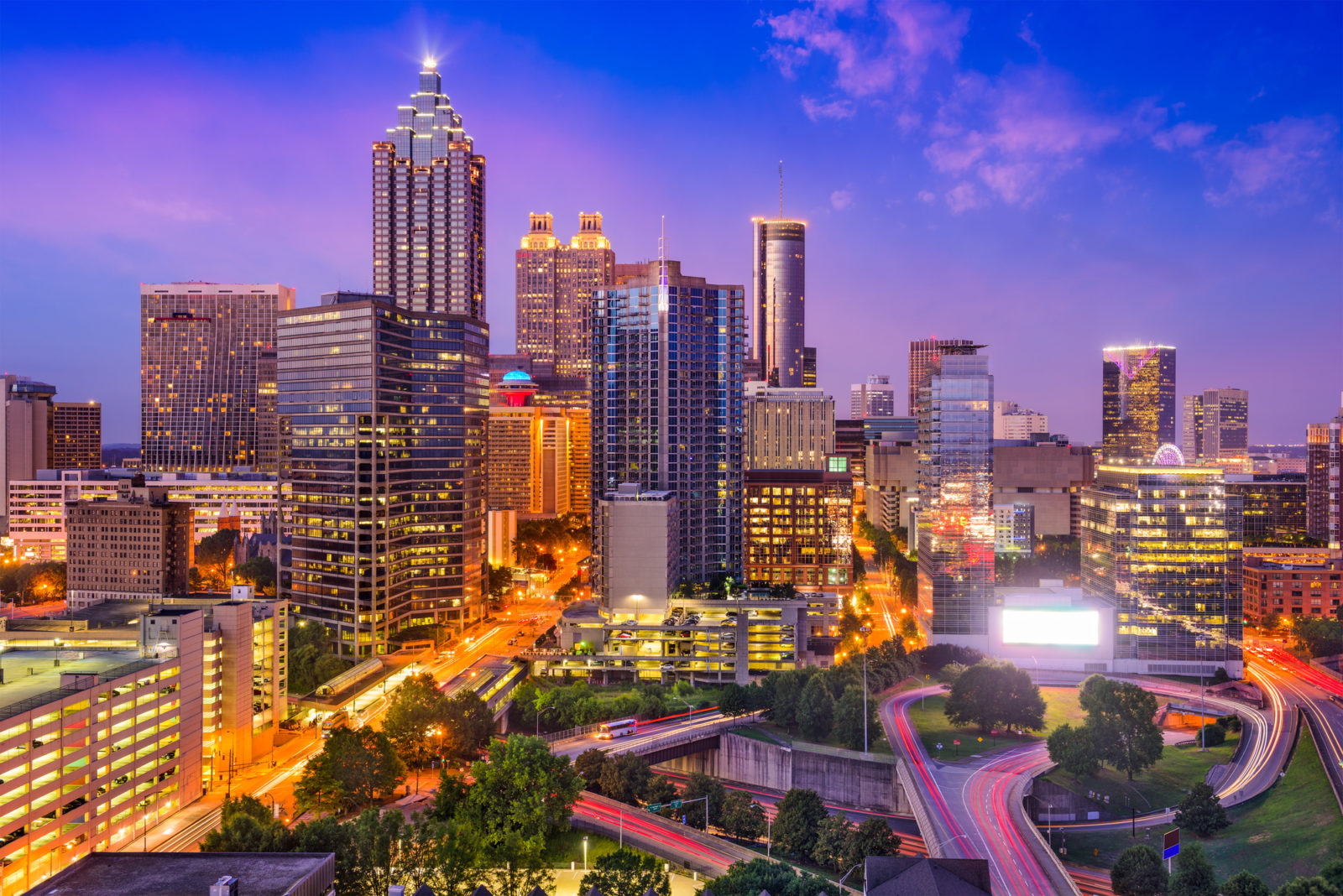 Where does Southern hospitality intersect with titans of industry? Where do marketing pros from one of the world's most famous brands share subways with anchors from the country's first cable news network? Where do families enjoy world-class aquariums and attractions while elite universities train the next generation? Atlanta, Georgia, of course. The city with the ninth-most populous metro area in the United States just so happens to play the perfect host to events big and small.
Capacity: 200
Location: 99 Peachtree Street NE
Great For: Receptions, Cocktail Parties
For more than three decades, the Peachtree Club has set the stage for marriages, parties, and celebrations of all kids. And it's a stage with a stunning backdrop: the skyline of Atlanta. Withstanding space for cocktail receptions 200-strong or seated capacity of 100, The Peachtree Club consists of six private dining rooms, one outdoor terrace, and infinite views.
Capacity: 250
Location: 963 Edgewood Ave NE
Great For: Non-Profit Events, Retreats, Corporate Events
The Trolley Barn is like a Russian nesting doll: a venue surrounded by trees surrounded by 19th-century architecture surrounded by Atlanta's most populous neighborhoods. Its location offers the best of both worlds: easy to access yet restfully serene. Once the offices for Atlanta's innovative streetcar system, today's Trolley Barn offers a brick patio and green gardens for corporate meetings, receptions, and team retreats.
The Estate by Legendary Events
Capacity: 250
Location: 3109 Piedmont Rd NE
Great For: Receptions, Formal Dinners
The Estate offers classic accommodations for formal dinners of all kinds, but its unique structure checks all the boxes for weddings. Wedding guests will feel instantly welcome in the large foyer, after which they'll be ushered into one of two salons. Downstairs, groomsmen can mingle in the basement wine cellars while bridesmaids and family get access to a baby grand piano and bar. An elegant venue for weddings and company dinners alike.
Capacity: 425
Location: 817 West Peachtree Street
Great For: Outdoor Dinners, Company Dinners
A refurbished warehouse, Summerour Studio is the working headquarters for an architect by day. But by night, its 8000 square-foot space is filled with the sights and sounds of dancing and celebrating. Thanks to a unique truss system, the large room is completely free of pillars or columns, allowing the entire room an unobstructed view. Outside, the courtyard is designed to resemble a Tuscan Courtyard. Need we say more?
Capacity: 250
Location: 8000 Capps Ferry Rd
Great For: Team Retreats, Reunions
Not so much a venue as a sprawling property, Foxhall Resort sits on 1100 acres a short drive from the heart of downtown. A no-brainer for team retreats, Foxhall Resort is filled with options for activities, from croquet and quail hunting to clay shooting and fishing. When playtime turns to productivity, three spaces offer built-in A/V, ample seating, and plenty of room to lead teams into their best days yet — all while taking in the scenes of the Georgia countryside.
Capacity: 300
Location: 585 Wells Street SW
Great For: Photo & Video Shoots, Musical Events
10,000 square-feet of hardwoods meet walls of glass at Ambient Studio, a venue designed for photoshoots but ready to play host to creative events of all types. The studio's giant cyc-wall, designated dressing rooms, vanities, and roll-in access make it a hotly demanded destination for videographers and photographers. Need to supplement your equipment? Ambient's impressive collection is available for rent, as well. The only thing missing from Ambient Studio? Your script.
Capacity: 250
Location: 1150 Peachtree Street NE
Great For: Corporate Dinners, Receptions
Formality has never been more fun. The Wimbish House– a historic property primely located in midtown–features formal reception rooms, tall ceilings, and period furniture. But don't let that fool you. The house is anything but stuffy. Fireplaces, crystal chandeliers, and warm colors make the Wimbish House a gorgeous setting for a well-appointed wedding or formal dinner.
Capacity: 150
Location: 101 E. Court Sq
Great For: Weddings
One look at the DeKalb Courthouse and you won't believe you're looking at a former public building. White and gray marble not only line the walls but are the walls. Arched windows, high ceilings, and white stone are everywhere, as are the myriad opportunities for light-filled photo ops. Not in Atlanta per se, the Decatur, Georgia courthouse is a short distance outside of the city, and one well worth the drive.
Capacity: 200
Location: 453 Freedom Parkway
Great For: Auctions, Galas
How'd you like to hold your next leadership summit at a tribute to the highest leadership office in all the land? The Carter Center, the destination that shares the property with the official presidential library of Jimmy Carter, is a not-for-profit venue dedicated to "waging peace, fighting disease, and building hope." Their meeting rooms and spaces offer thought-provoking access to up to 200 guests. Who knows: maybe Jimmy himself will make a surprise appearance.
Fernbank Museum of Natural History
Capacity: 2500
Location: 767 Clifton Rd NE
Great For: Galas, Corporate Parties
If five-year-old boys could afford to attend black-tie dinners, your next event at the Fernbank Museum of Natural History would be brimming with them. This is where the world's largest dinosaurs live, after all. The Fernbank Museum of Natural History has the fossils, skeleton, and star-gazing you'd expect from a natural history museum, plus an event-hosting prowess you might not. A favorite destination for black-tie galas, the dino-filled Great Hall can accommodate up to 400 for a seated dinner, while the full museum can accommodate as many as 2500 lucky guests.
Capacity: 150
Location: 1516 Peachtree St
Great For: Holiday Parties, Company Parties
To Atlanta residents, it's the "Castle on Peachtree." To historians, it's a furniture titan's former home. And to event planners, it's a house fit for the most lavish of gatherings. Rhodes Hall offers up its first floor, porch, and front lawn to event hosts, and weddings unlock additional access to a bridal suite at no additional cost. Its largest room can seat 40 for dinner, while the first floor regularly hosts cocktail parties for 150.
Capacity: 1500
Location: 1150 Peachtree Street NE
Great For: Galas, Formal Dinners
In 1924, a hotel opened in Atlanta so prestigious it was termed the "South's Supreme Hotel." Sixty years later, the Biltmore Hotel closed its doors. Today, its beauty and grandeur are on full display as a part-office building, part event venue. The space has been featured in multiple Hollywood blockbusters (including Driving Miss Daisy) but its biggest claim to fame is as the preferred venue to large dinners Atlanta, accommodating crowds as large as 1500.
Capacity: 100
Location: 4199 Paces Ferry Road SE
Great For: Team Retreats
A hidden gem in Vinings, Georgia, Canoe is a riverfront restaurant available for private events of up to 100 guests. Far from manufactured, its lush green surroundings offer picturesque views of Georgia's natural beauty along the Chattahoochee River. Five different rooms offer accommodations for groups of any size, while prix fixe menus keep budgeting simple and ordering efficient.
Capacity: 150
Location: 100 Galleria Parkway #1700
Great For: Private Meetings, Educational Events, Team Retreats
The Georgian Club is a professional meeting venue, offering corporate clients, small businesses, and membership-based organizations a private place to meet, mingle and dine. In-house catering makes planning a snatch and comes with the service you'd expect from a venue dedicated to hosting professionals. Classic, professional, and turnkey. A solid choice for important meetings without a lot of fuss.
Capacity: 200
Location: 980 Briarcliff Rd
Great For: Picnics, Musical Recordings, Receptions
12 acres in the heart of Atlanta? You read that correctly. The Callanwolde Fine Arts Center isn't just a venue. It's a sprawling property devoted to fine art in all its forms. An especially fitting space for creative receptions, musical events, or gallery showings, the Callanwolde is a 27,000 square-foot beauty complete with an onsite recording studio. Plus, its 12.5 acres of gardens and woods event caught the eye of the National Register of Historic Places.
Cobb Energy Performing Arts Centre
Capacity: 2750
Location: 2800 Cobb Galleria Parkway
Great For: Conventions, Performances
Primarily known among event planners as one of Atlanta's best places for presentations and performances, the Cobb Energy Performing Arts Centre flanks a 2,750-seat theatre by a prestigious ballroom fit for wedding receptions, speeches, and galas of all kinds. This is where touring comedians come to share laughs, where traveling puppeteers make their mark, and where large companies make pivotal presentations.
Capacity: 1200
Location: 225 Baker St NW
Great For: Fundraisers, Charitable Events
We hold a soft spot in our hearts for animal-centered venues. Zoos, natural history museums, and aquariums have a way of turning stuffy events into whimsical ones. The Georgia Aquarium is no exception. Specializing in black tie events and fundraisers, the aquarium offers up to 23,000 square feet of space that can be transformed for myriad purposes. Exclusive catering by Wolfgang Puck is guaranteed to dazzle guests, while epic backdrops of undersea fish life make photo ops pop.
Capacity: 250
Location: 996 Huff Rd NW
Great For: Receptions, Dance Parties
With 6400 square feet of dance-ready event space in midtown, Westside Warehouse is surprising to approach. Much less of a warehouse feel than one would expect, the intricate iron doors and charming potted plants put guests at ease, while the wide open floor plan beyond the threshold can be transformed into a massive dance party, colorful wedding, or minimalist fashion show in a snap.
Capacity: 250
Location: 721 Miami Circle
Great For: Private Parties
Suada Studio is a Buckhead-based event space dedicated to weddings and lavish birthday parties. Its black ceiling is designed to disappear, allowing decorators to make use of the venue's built-in drapery, uplighting, or other colorful elements to define the space according to their own visions. Suada is also among our top picks thanks to their straightforward pricing. A glance at the website tells you precisely how much a rental will cost based on day of the week, headcount, and purpose. Ten points for clarity.