Event Planning
Event Decor 101
Vision is to theme what theme is to decor.
Your event's purpose will inform your theme, which should dictate your decor. We covered event vision and have begun our tour of creative event themes. Now it's time to carry the baton into the planning of your event's look and feel.
Don't Reinvent the Wheel
There will be plenty of time to think about what you could add to your venue to communicate the theme, but first, consider what you don't need to add.
What's already on-site that should be harnessed for decor? Perhaps your venue has a brick wall, a grand staircase, or stained glass that can be highlighted. Next, what's going to be used either way that can be altered to fit your theme? Things like plates, napkins, and tablecloths can become a piece of your decor by ordering special colors or patterns.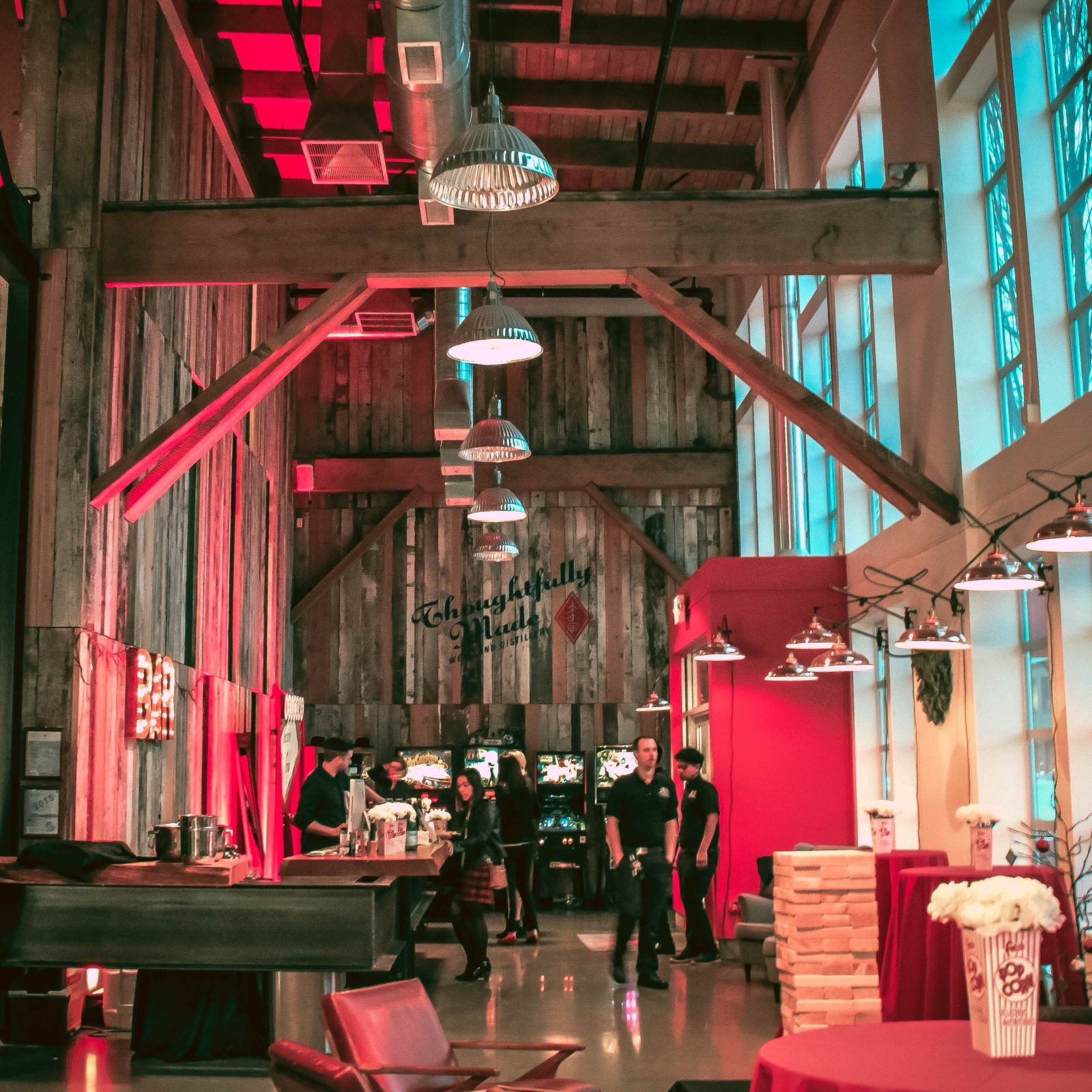 Scale
When decorating a large space, you have two options: fill the space with an obscene quantity of small decor, or source a few big items to fill the space. Not only does the latter require less cost and time, but it can have a much more impressive effect.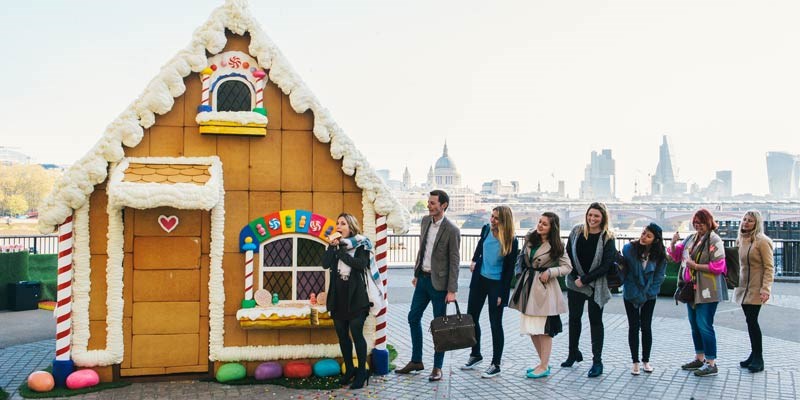 National Event Pros carries a variety of oversized rentals that can fill a large space in no time, such as Giant Checkers, Giant Jenga, or our Giant Lite-Brite.
If you don't have access to oversized decor, you can create a similar effect by clustering smaller decor into a single location.
Lighting
Another way to create big impact in a jiffy? Lighting! Good lighting can paint walls with colors, textures, and even graphics with the flip of a switch. Few things can transform a bare event space with so little elbow grease.
A combination of up lighting and patterned stencils turned these concrete walls into palate of pinks and blues.
Drapes created a canvas for additional wash of color-by-lighting.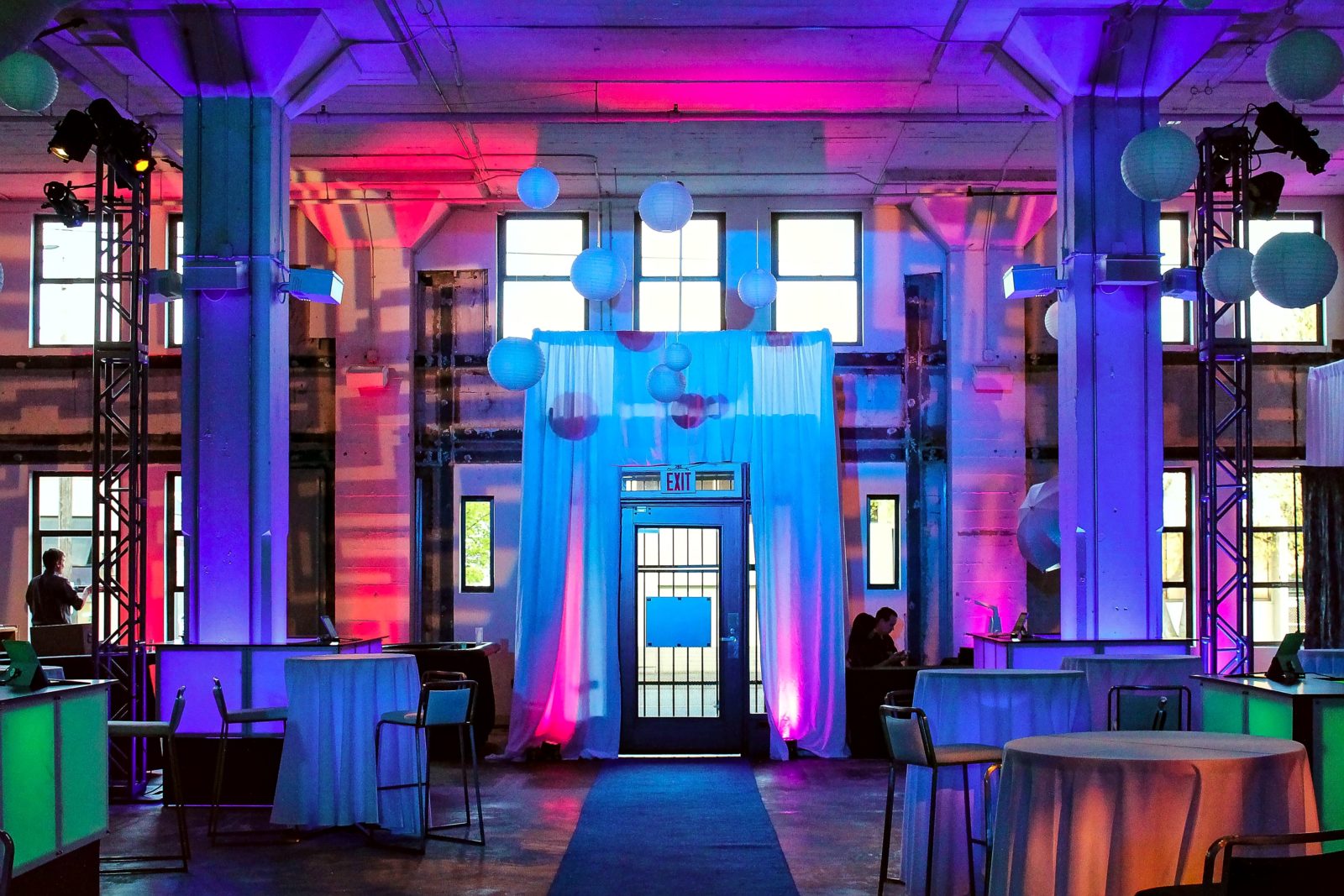 Rentals
When you only need a giant slide for a day, rentals are obviously the way to go. But decor can be rented, too! Companies like NEP offer rentals that can be repurposed as decor, as well as lighting, flooring, and even portable bars.
Sustainability
Decor can have a big impact on your event's overall look and feel, but it can also have a big impact on the earth. The three words that guide sustainability overall ring true for events, too: reduce, reuse, and recycle. Reducing is clear. But reusing is less obvious. Think about what you can repurpose for your event. What does your company already have on hand that can be used for this event? And recycling doesn't just mean preventing paper goods from going in the landfill. Think about what you can do with centerpieces, signage, and the like. Perhaps make centerpieces out of edible materials, or flowers that guests will be happy to take home.
Professional Decor Services
Yes, decor can be delegated, too. Firms including our own offer creative consultations and access to rentals.