Downtown Portland's Dunk Tank Dynasty
Everything you need to know about Dunk Tank Rentals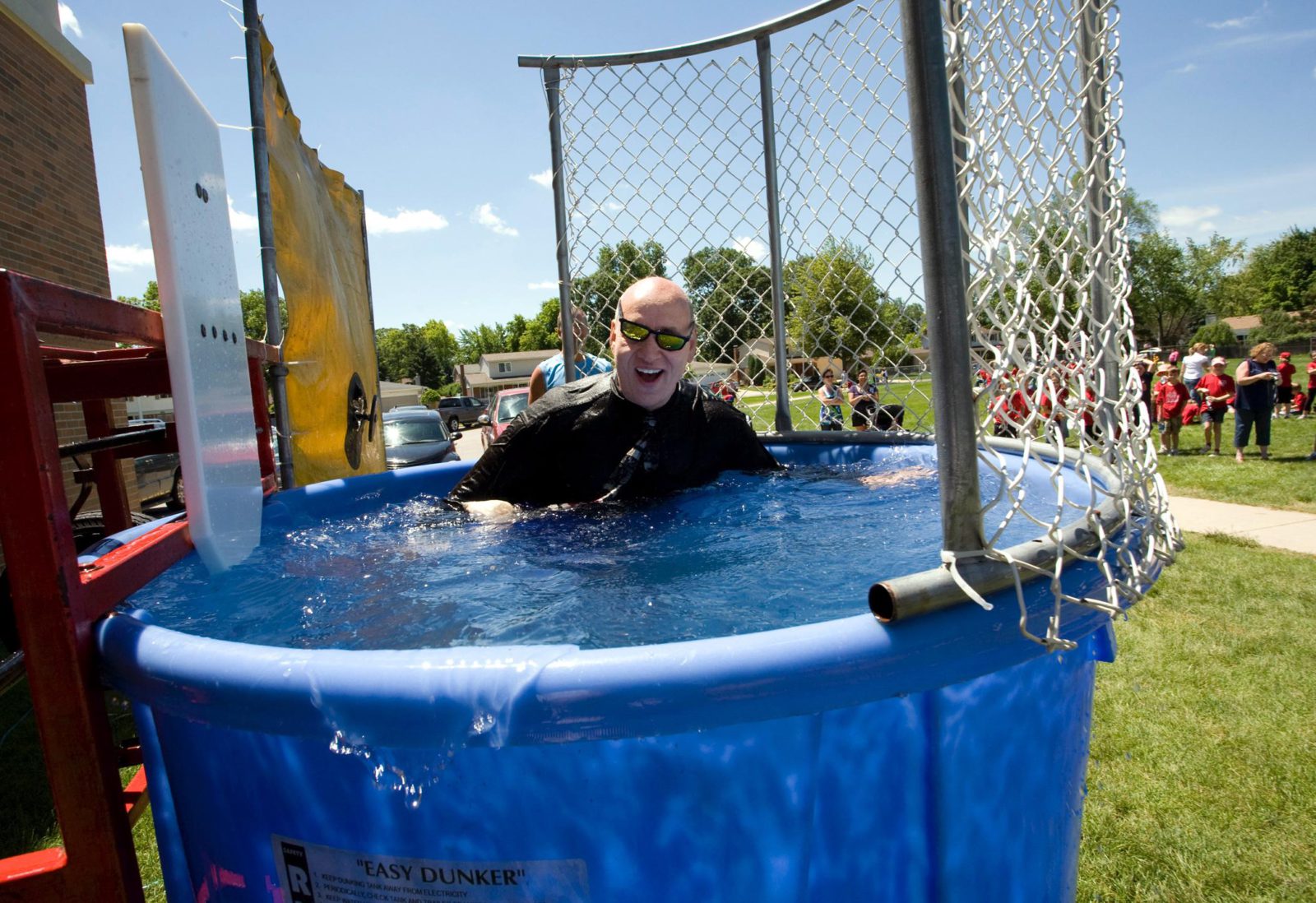 Renting a Dunk Tank in Portland is an easy task. There are multiple Portland Dunk Tank rental companies available that are competitively priced, insured, and competent at providing their service. Before you eagerly go placing a giant bucket of water at your Portland office, there are few things you should know about the actual water rental itself, so that you can plan your dunking event accordingly.
Most Risk Management groups won't allow Dunk Tanks
This is more of a problem for school carnivals than it is for corporate events, but you should definitely check with your risk management group before booking. Many schools will not allow a standing body of water that is above a certain depth. They consider it too high of a risk for drowning, and don't want to deal with the potential consequences should the unthinkable happen. If your corporate event or school carnival won't allow a traditional dunk tank, make sure you investigate dunk tank alternatives.
Drive up Access is Required
Where are you planning on putting your dunk tank? Dunk Tanks are typically trailers that travel horizontally while being delivered. They can be moved by hand, but if a small car can't access the location, it is doubtful that you will be able to get it to where you want it to go. Some companies offer collapsible dunk tank rentals that can be put in tighter areas not typically accessible by vehicles, but it will be easier to find a vendor if you plan for an easy access spot in a parking lot, or in front of a building entrance adjacent to the road.
It Takes Time to Fill
500 gallons is a lot of water, and is the total volume of your average Portland dunk tank rental. Make sure you coordinate with your event rental company to arrive at your event well before the start time. You will need at least 15 minutes to setup the actual dunk tank, and an additional hour to fill the tank to the top. Check your water pressure ahead of time to make sure your hose flows at a good rate, so there aren't any issues on the day of your event. Sometimes it is possible to work with the Portland Fire Department to schedule a time for them to come out and fill your tank super fast. Be careful though, sometime the water from fire hydrants is not suitable for humans to swim in.
The Water can get Gross
Speaking of not being suitable for humans… How long is your event? As your dunk tank is used, over time the water quality can degrade. With multiple individuals repeatedly dunking into the same water, you can introduce dirt, grass, and other not so pleasant elements. If your event is over 4 hours in length, it is wise to schedule some time to replace the water in the dunk tank. You don't want your guests to be put off and not eat your delicious catering just because of some dirty water! If you are looking for a quicker way to keep the water clean, consider purchasing bromine tablets and adding them to tank prior to the event.
500 Gallons of Water have to go somewhere
Your event is over and your dunk tank rental was a huge success! Cleanup time has come, and you go to drain the dunk tank. Oops. I guess we shouldn't have put a giant tub of water next to Mrs. Gretchen's brand new flower bed. What goes in must come out. Make sure you plan ahead in the placement of your dunk tank and put it in an area where such a large volume of water won't cause damage. If possible, placing the tank next to a large sewer drain or equivalent works best. If you absolutely can't find a good place with drainage, you can always hire a Portland septic company to come pump the water out at the end of your event. Just check with your rental company before doing so.
Don't let these minor logistical challenges discourage you from booking a dunk tank for your next Portland corporate event or school carnival, just consider it one of the many rewarding event challenges that can be overcome!