Get Ready to Make a Splash
Your Portland outdoor event is about to get kicked up a notch. How so? By dunking a good sport colleague down a notch. When Portland's hot weather arrives and summer picnics begin to fill our calendar, there's one party rental item that is always a crowd-pleaser: the dunk tank. One of the most iconic features of any American picnic, Fourth of July celebration, or carnival is the striking image of a friend, perched precariously on a hinged seat while a line of participants attempts to hit a target with a ball and seal their fate. Today, dunk tanks have gotten safer, easier to operate, and some would even say, innovative. The only thing that hasn't changed? The laughter that explodes with every successful splash.
---
The Timeless Allure of Soaking Your Boss
No event entertainment can beat the thrill of dunking your boss in a giant bucket of water. Lighthearted fun? Pent-up aggression? At the company picnic, no one will know the difference. Company parties are the perfect setting to break down the wall between boss and employee. One surefire way to break down the wall? Drop them in a pool of water.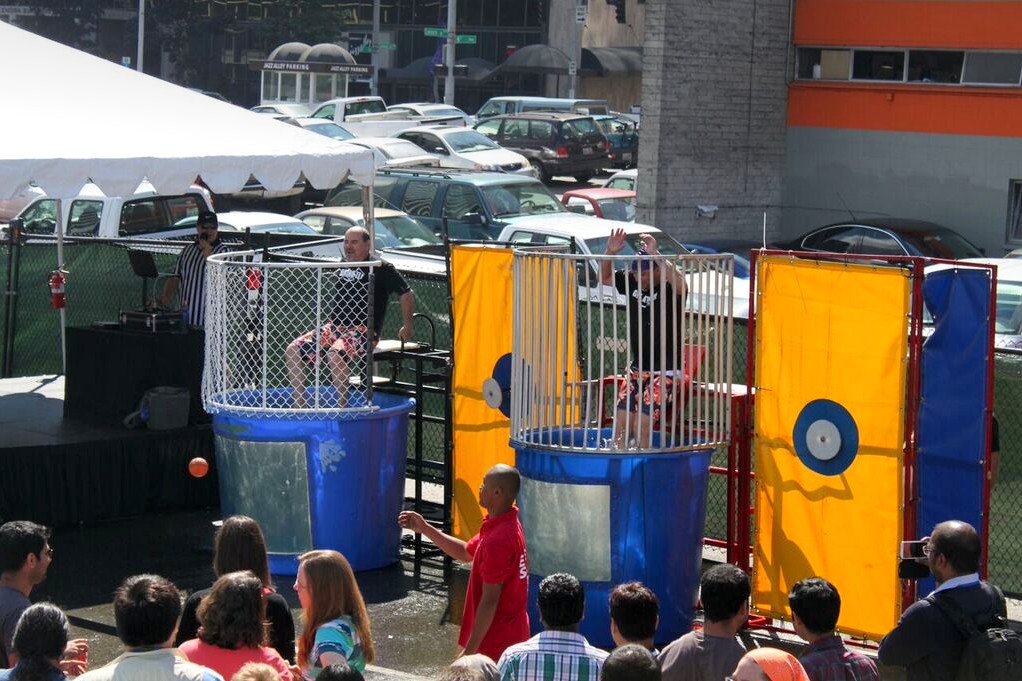 Or pop a water balloon over their head. Or spray them with a water gun. If you're anything like us, you're probably imagining the scenario right now. Just hope they forget in time for annual review season.
---
A Lasting Impact on Team Camaraderie
If your boss won't appreciate the sentiment of being soaked from head to toe, another group might: your colleagues. The workplace doesn't tend to lend itself very well to playful banter. But a company picnic could be the perfect place and time for such frivolity. Forget the cares of the office. Deadlines can wait. Accounting can get its answer tomorrow. And the office fridge drama could use a day to cool off.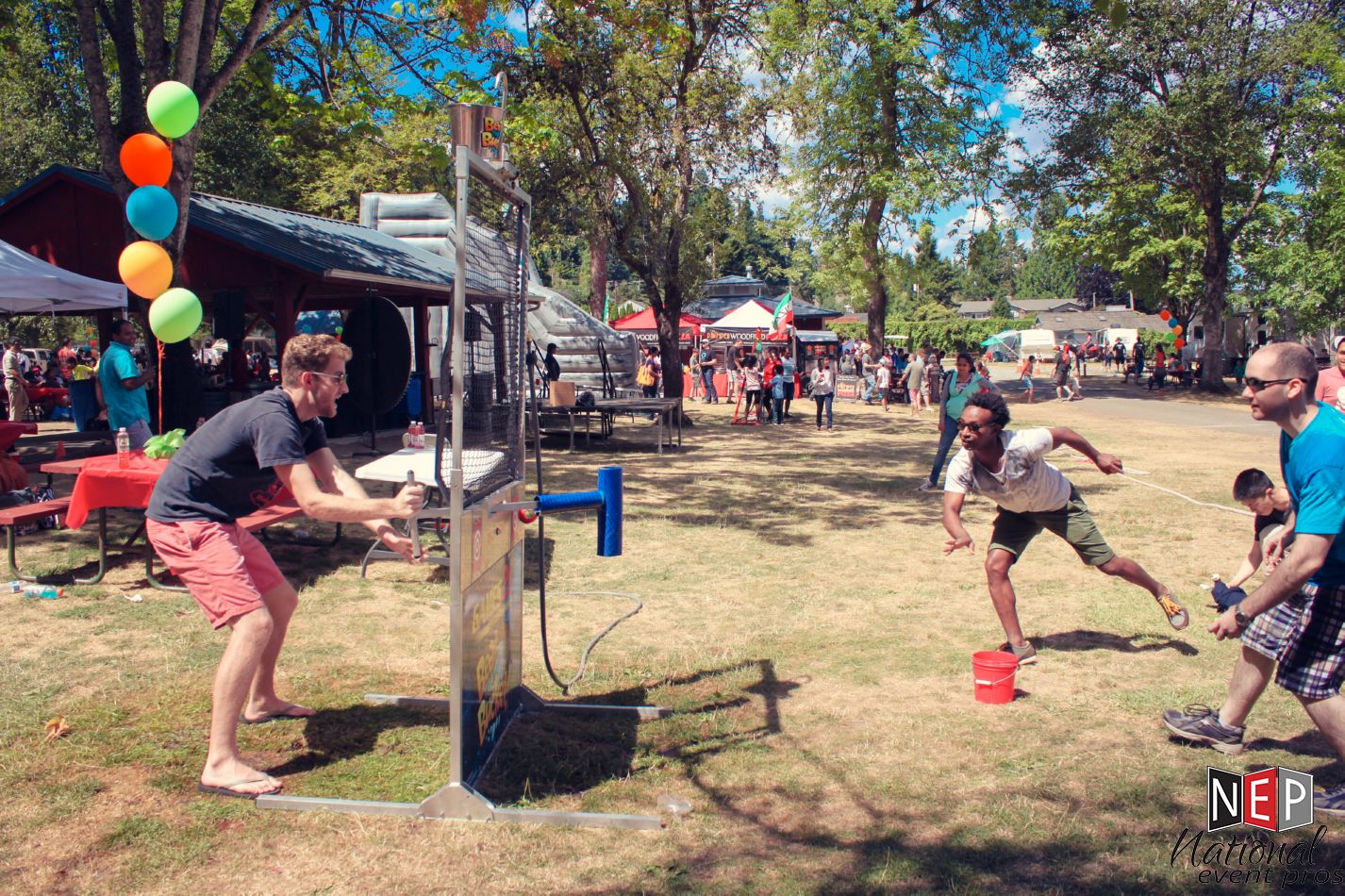 Encouraging lighthearted play between co-workers produces positive memories while making tensions and disagreement melt away. After all, it's hard to hold a grudge while laughing. But even more important than a lack of dissension, closer teams are more productive, less likely to see high rates of attrition, and more likely to come up with creative and innovative ideas and solutions. Need we say more? Who's wants to take the first pitch?
---
Today's Mind-Blowing Dunk Tanks Party Rental
Portland has never been one to accept the status quo. Cookie cutter entertainment? It simply won't do. Good news: our class Deluxe Window Dunk tank party rental isn't your only option for a splashing good time. Want to level the playing field? Our Dunkee Dunkable party rental is the only interactive water game that allows a fast-thinking player to control their fate.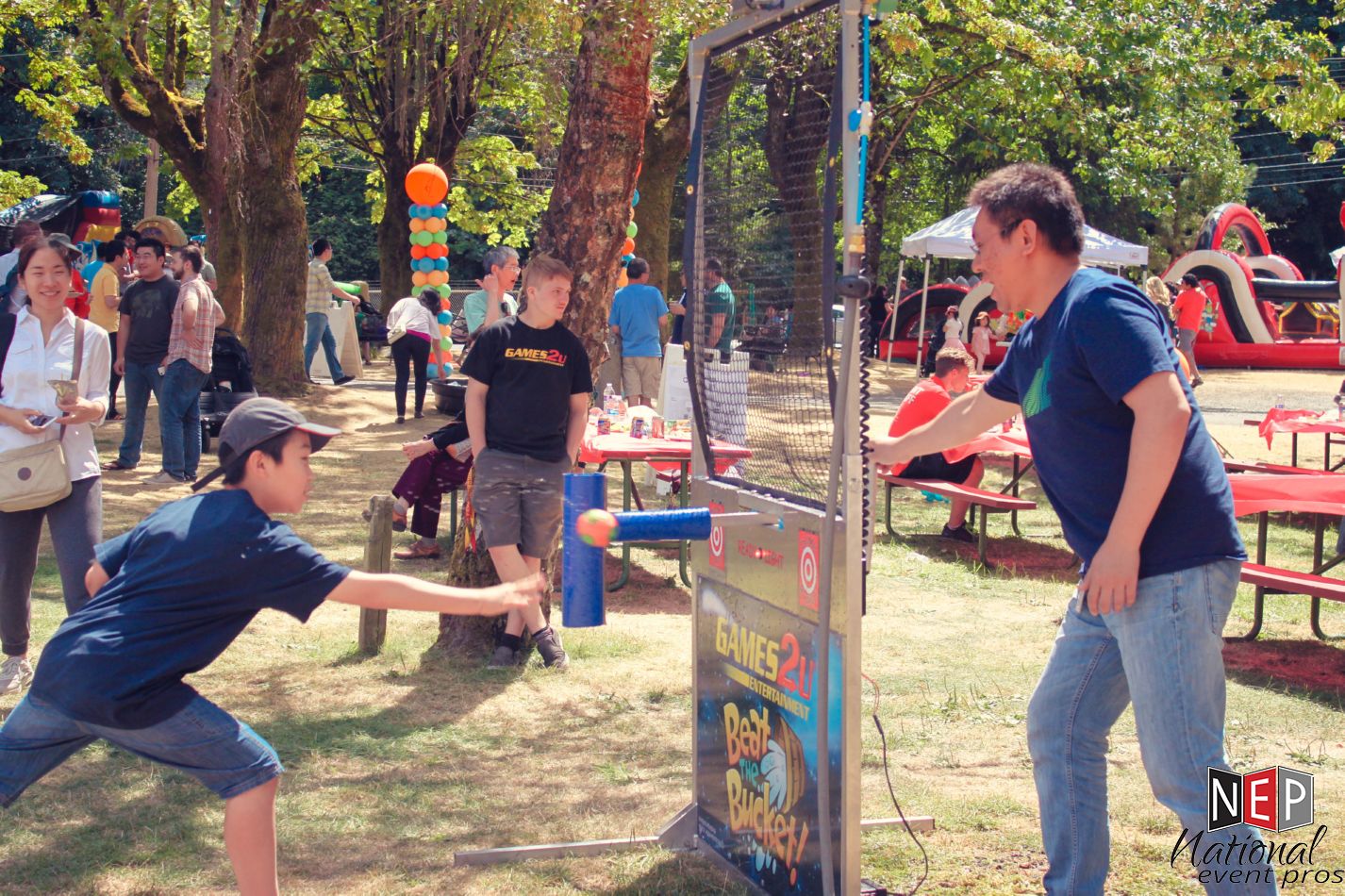 Hydro Blasters pits two participants against each other, filling water balloons dangling overhead. And Aqua Blaster connects a pressurized water chamber to a target for skilled pitchers.
---
Portland Dunk Tank Party Rental Delivery & Setup
You may be convinced of the merits of a dunk tank, but sourcing one is a different story, right? Wrong. A water game party rental for your company picnic, family reunion, or other outdoor celebration couldn't be easier. Our prized collection of interactive water games includes seven varieties of contraptions. And each one is available for timely delivery and expert setup anywhere in the Greater Portland area. Dunk tank delivery? You bet. Our friendly and knowledgeable staff will arrive on time, set up your dunk tank, and haul it away when your event is over.
---
Weather, Water, & Other Considerations
There are a few things one should consider before adding a dunk tank to an event's entertainment lineup. First, the temperature. No amount of laughter will make up for shivering in the cold while dripping from a colleague's spot-on aim. Check seasonal temperatures and have a backup plan should your event day defy all meteorologists' forecasts. Second, check with your event venue to ensure that you'll have access to water supply.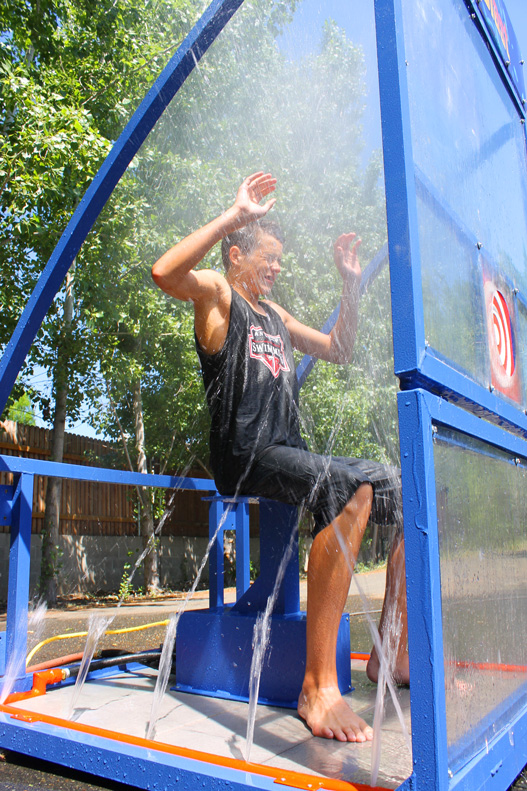 A traditional dunk tank needs only to be filled once. Others, such as our Deluxe Window Dunk game, require water hookup. Ask your event planner to confirm your access to water. Finally, throw your good-natured "victim" a bone by having a change of clothes available. After all, you don't want to be the one responsible for the CEO's bout with hypothermia.