Sky-High Mobile Entertainment
It's a bird. It's a plane. It's Deb from HR! Send your colleagues flying through the air when you bring a full-scale zipline to your next corporate party, employee all-hands meeting, or afternoon of unstructured, just-because fun. Climb thirty feet into the heavens, then hook into a safety harness and hold on for dear life and big adventure.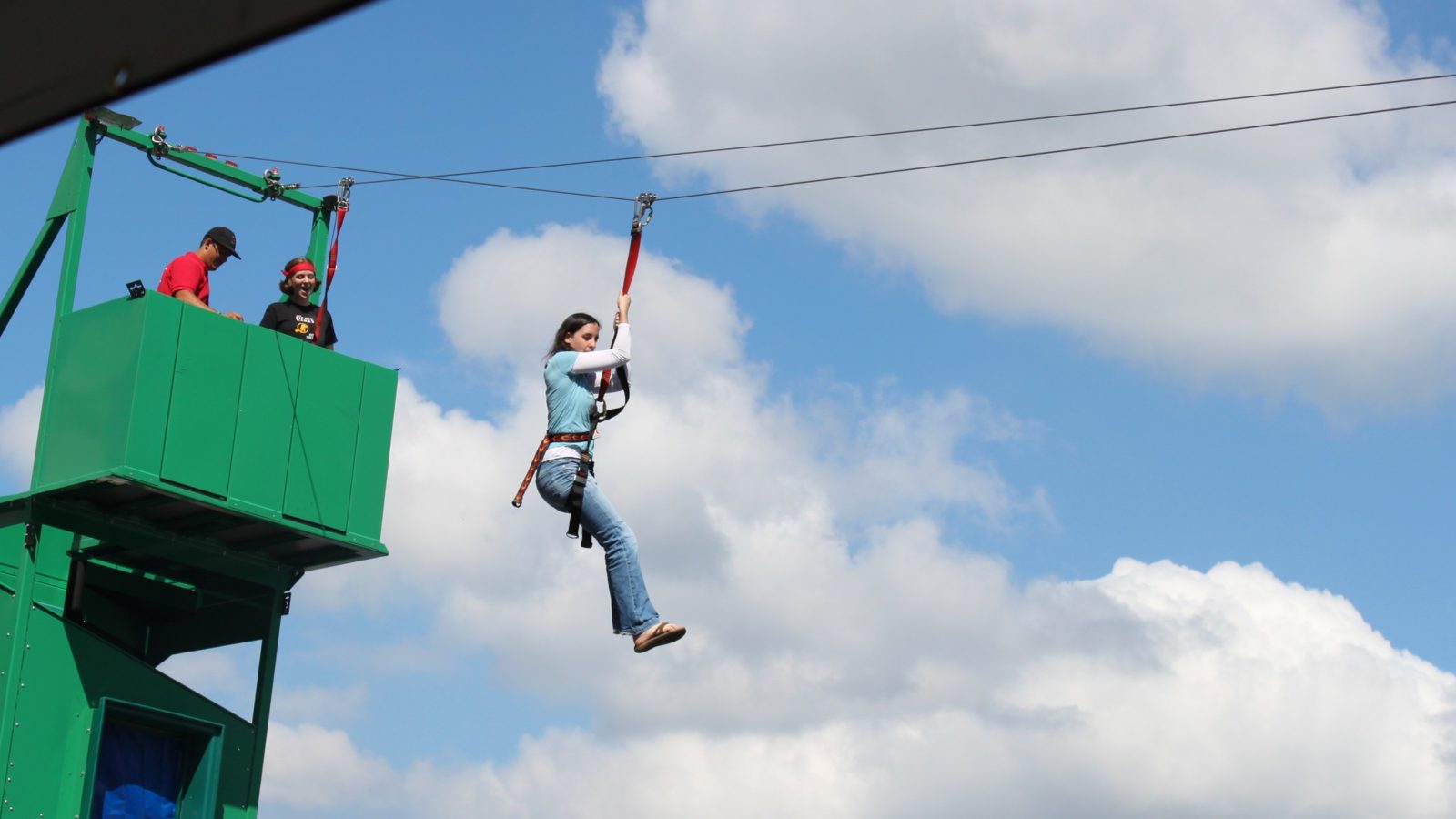 Located in Portland, and one of the Pacific Northwest's only mobile zip line rentals, ours has a throughput of 100 guests per hour, and requires open space of 250' × 20' × 34' and a 20A/240V electrical outlet.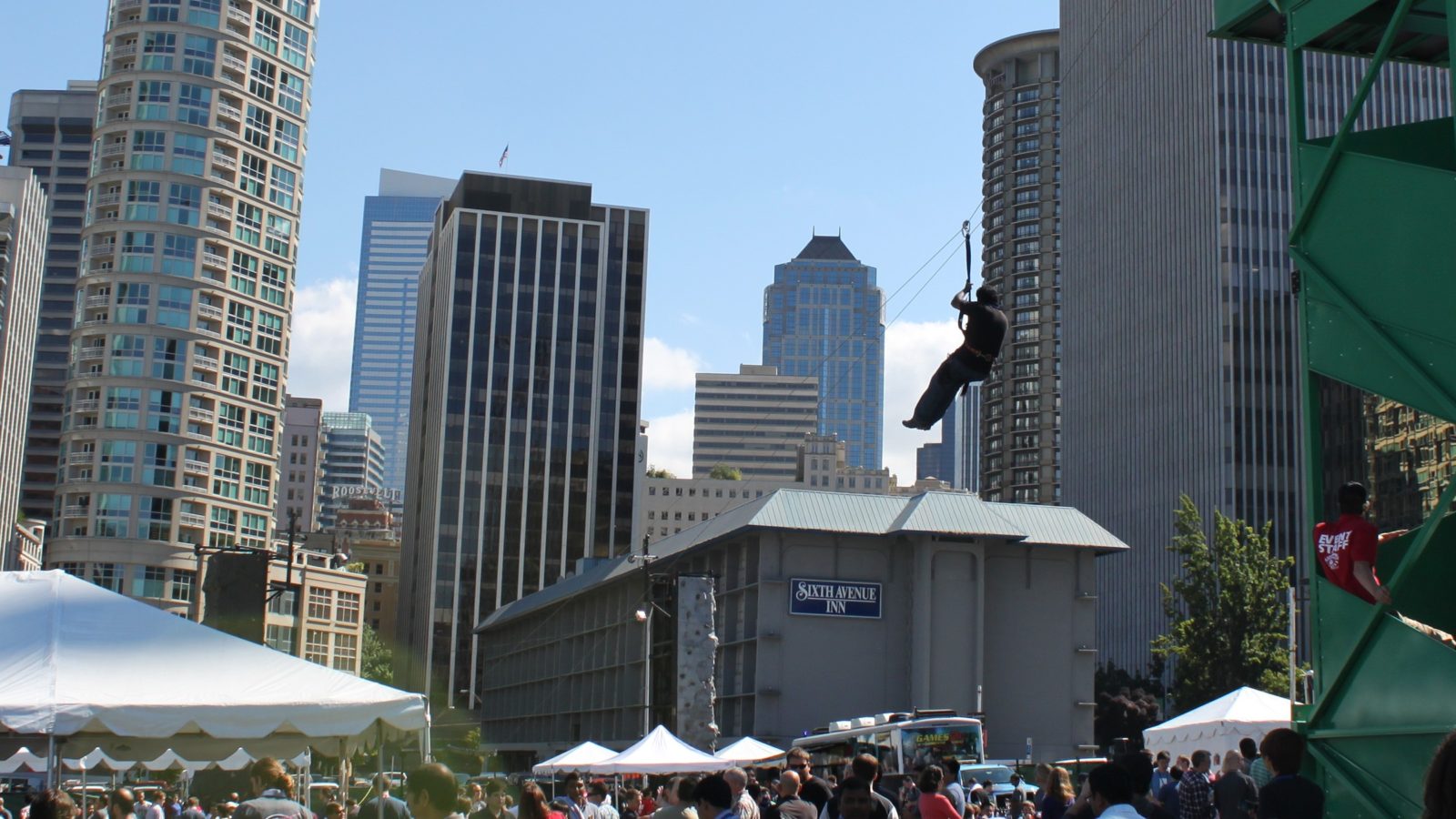 We've delivered our system to Fortune 500 corporations, market-shifting product launches, and epic family reunions all across the greater Portland area. And every time, our delivery comes with an added bonus at no additional cost: adrenaline.
---
The Ultimate Portland Team Bonding Activity
The trust fall just got kicked up a notch. Shared experiences create opportunities for bonding that no amount of chit-chatting over finger food can match. We're all naturally drawn to people whom we have commonality with. For colleagues, a lack of shared worldview or life experiences can create mental barriers to camaraderie. And that lack of relationship can be harmful to productivity and job satisfaction. The good news is you can do something about it.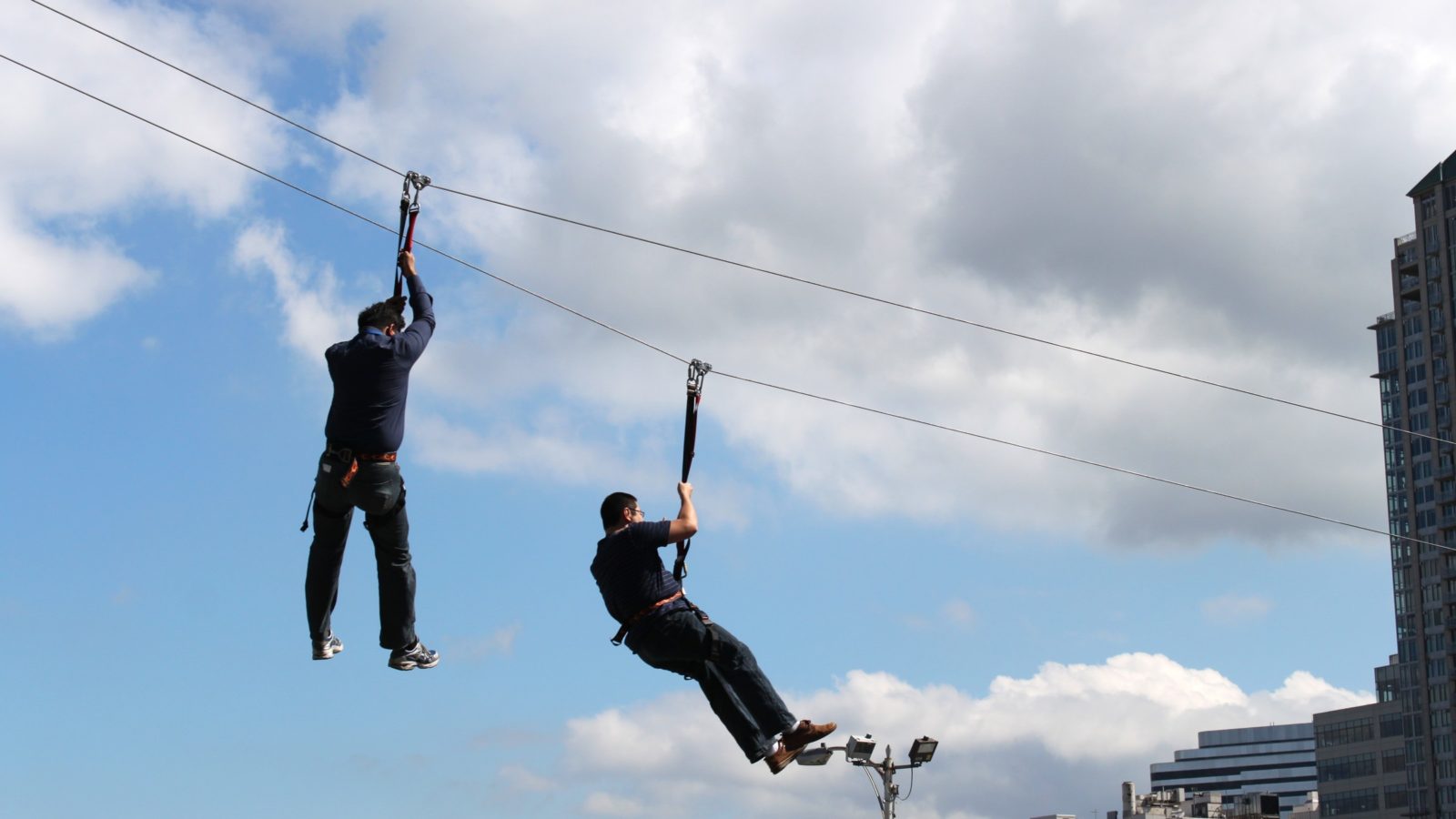 Proactively providing a shared experience for your team doesn't guarantee that all walls between employees will come down. But it does take a step in the right direction. By giving employees a memory they can all relate to—not to mention a very adventurous one—installing a mobile zip line could install something else, too: relationship.
---
The Life-Altering Power of Conquering Fear
A zip line rental is undeniably entertaining. But its enjoyment may actually be more powerful than you think. How? Think of it as thirty feet of fear-conquering might. There's no denying it: fear can be crippling. Fear keeps us from fulfilling our greatest desires and prevents us from turning over stones of opportunity.
Psychologist Noam Shpancer found that one of the most effective ways of conquering fear is to repeatedly expose yourself to what you're afraid of. A habit of stepping in front of your fears can have a significant impact on the way you treat setbacks and intimidating situations. It's this psychology that's behind inspirational speakers' activation sessions of walking on hot coals, a seemingly bizarre practice that has become so common that it's made its way into pop culture.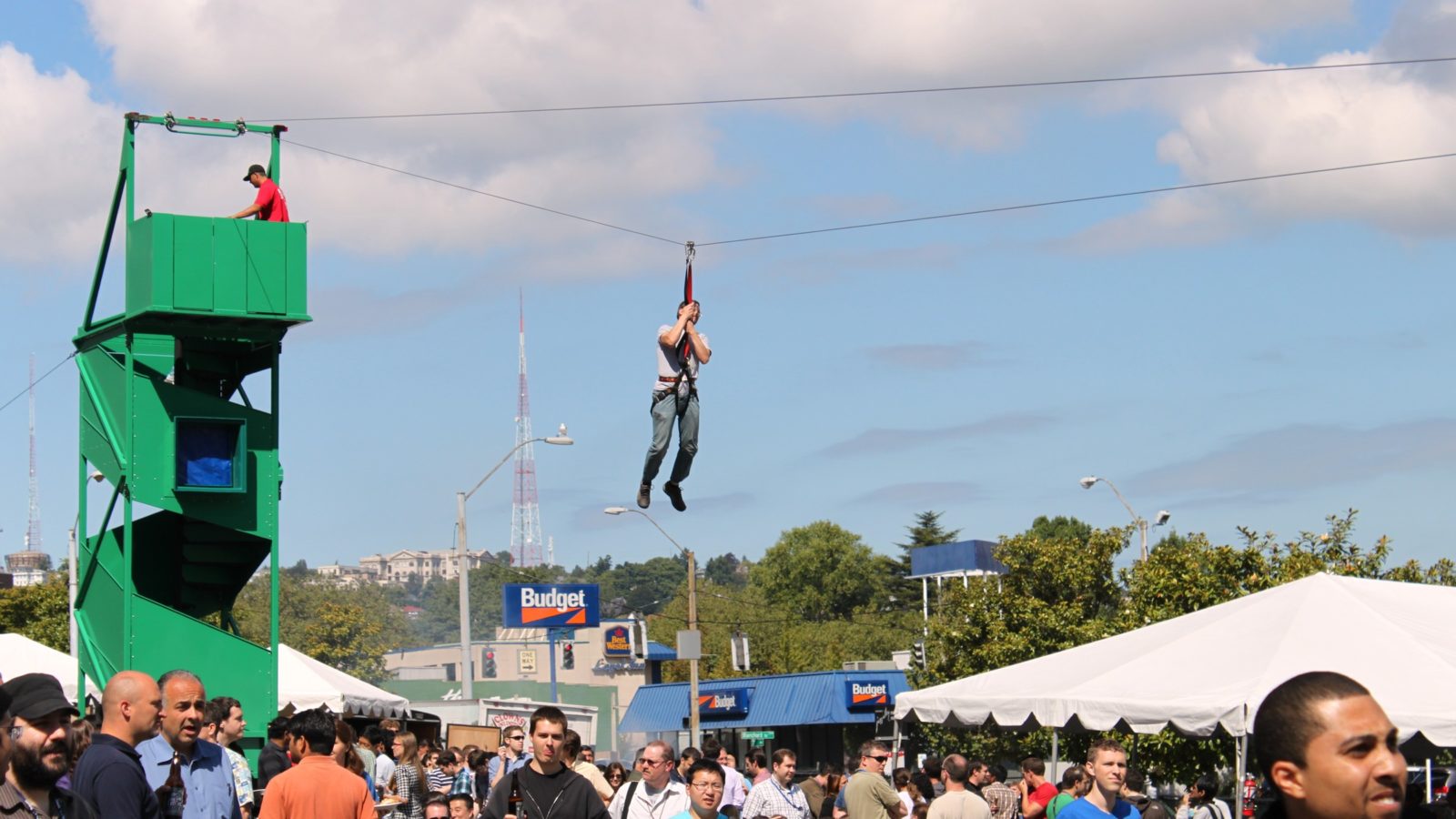 Treating your team in Portland to a zip line adventure is more than entertainment. For some, taking a first step toward conquering fears could be life changing. Ready to conquer some fears of your own? Give us a call.
---
Surprise Your Office with Outdoor Adventure
Think you need a special occasion for zip line rental? Think again. Sometimes, surprise zip lines make the best zip lines. If your team needs a pick me up, no pun intended, considering a high-flying afternoon ambush. Invite your team to a mandatory meeting, blocking their calendars a week or two in advance to ensure that nothing else will get in the way. Then moments before the "serious" meeting is supposed to commence, announce a location change. No longer will the "project review" take place in the conference room; now, it's inexplicably scheduled to take place in the parking lot.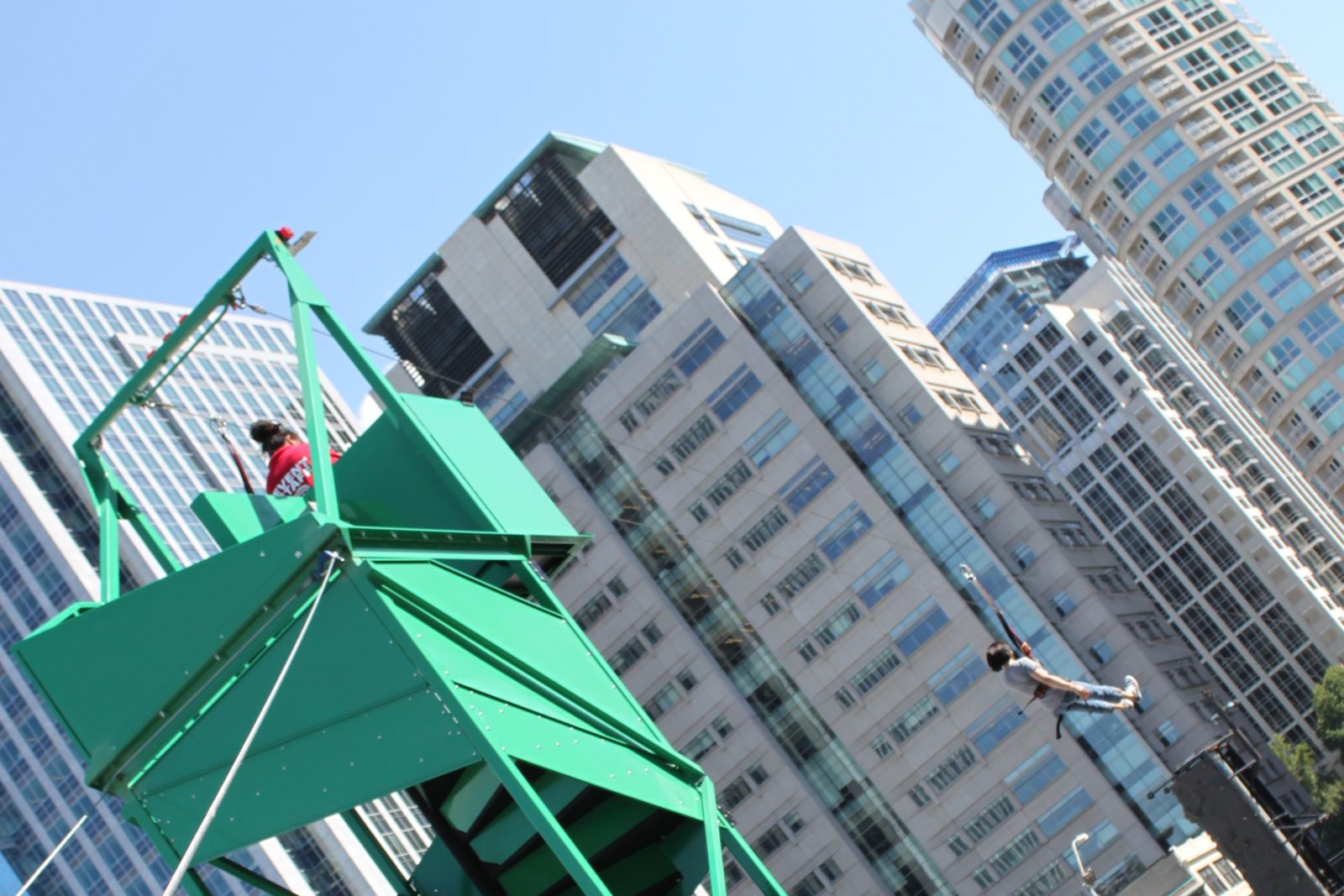 When your team arrives, thirty foot towers connected by a conspicuous wire will greet their puzzled eyes. A Portland-style adventure has just arrived. And their dismay at being scheduled for a late afternoon Friday meeting will be replaced with glee. World's best boss.
---
Professional Portland Zip Line Rental Delivery, Setup, and Teardown
You may be thinking that thirty-foot towers may not be the most convenient activities to move across the Greater Portland Area. But we've cheerfully carted our mobile zip line rental system to corporate gatherings, family parties, and city events all across the Pacific Northwest including Portland. And we can't wait to do it again.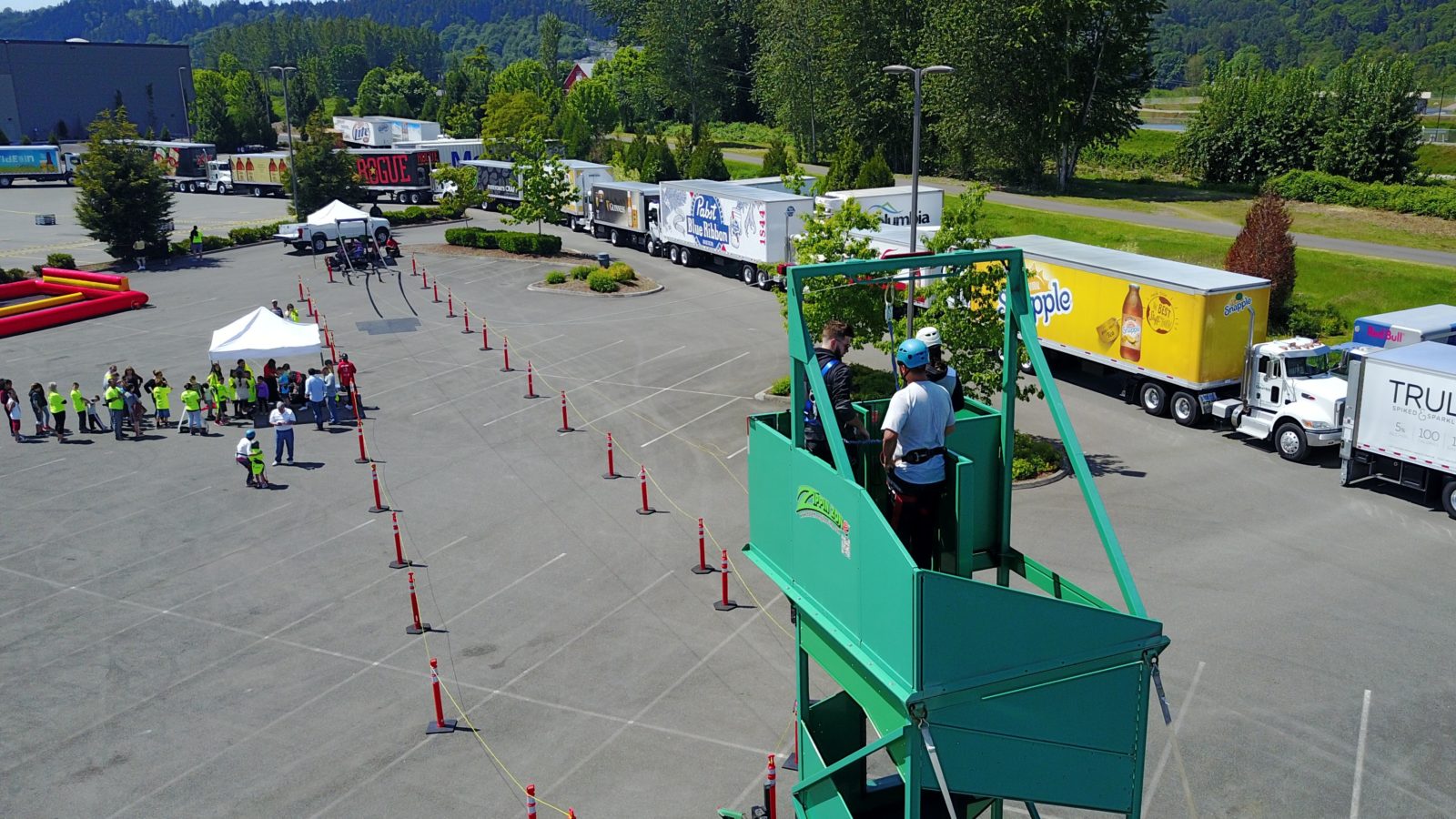 Renting our mobile zip line system includes expert delivery anywhere in the Greater Portland area. Upon arrival, our professional equipment handlers will install the equipment on your property, then complete a rigorous quality and safety check.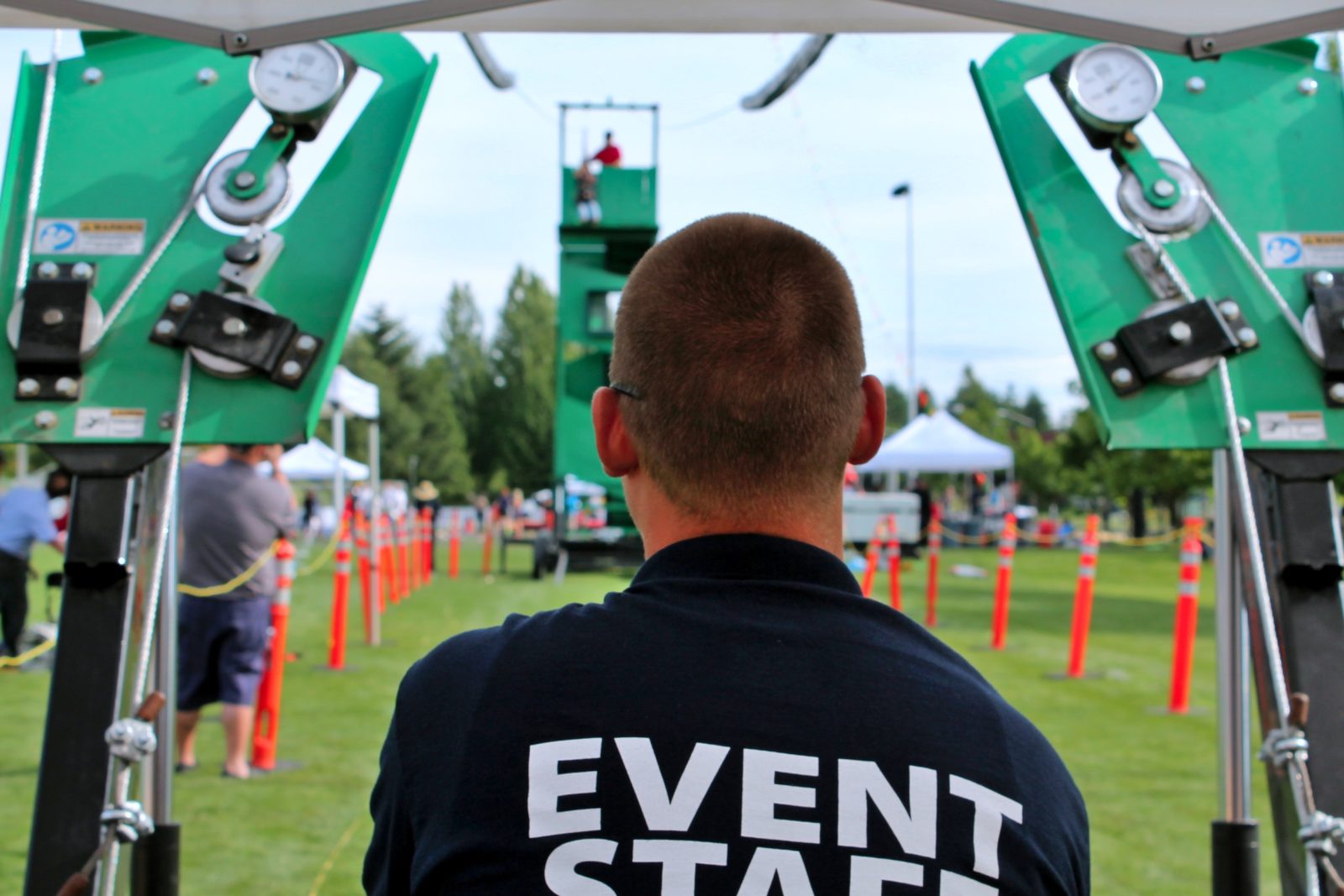 During use, we'll even provide staff to instruct your riders about safety and facilitate the fun. The only thing you need to do is get ready for lots of pats on the back.
---
P.S. Don't have 250 feet of space on hand?
If you're thinking to yourself, "All of this sounds great, but where in the world am I going to find 250 feet of clear space in the urban metropolis of Portland?," don't fret. Our professional event planners double as secret location scouts.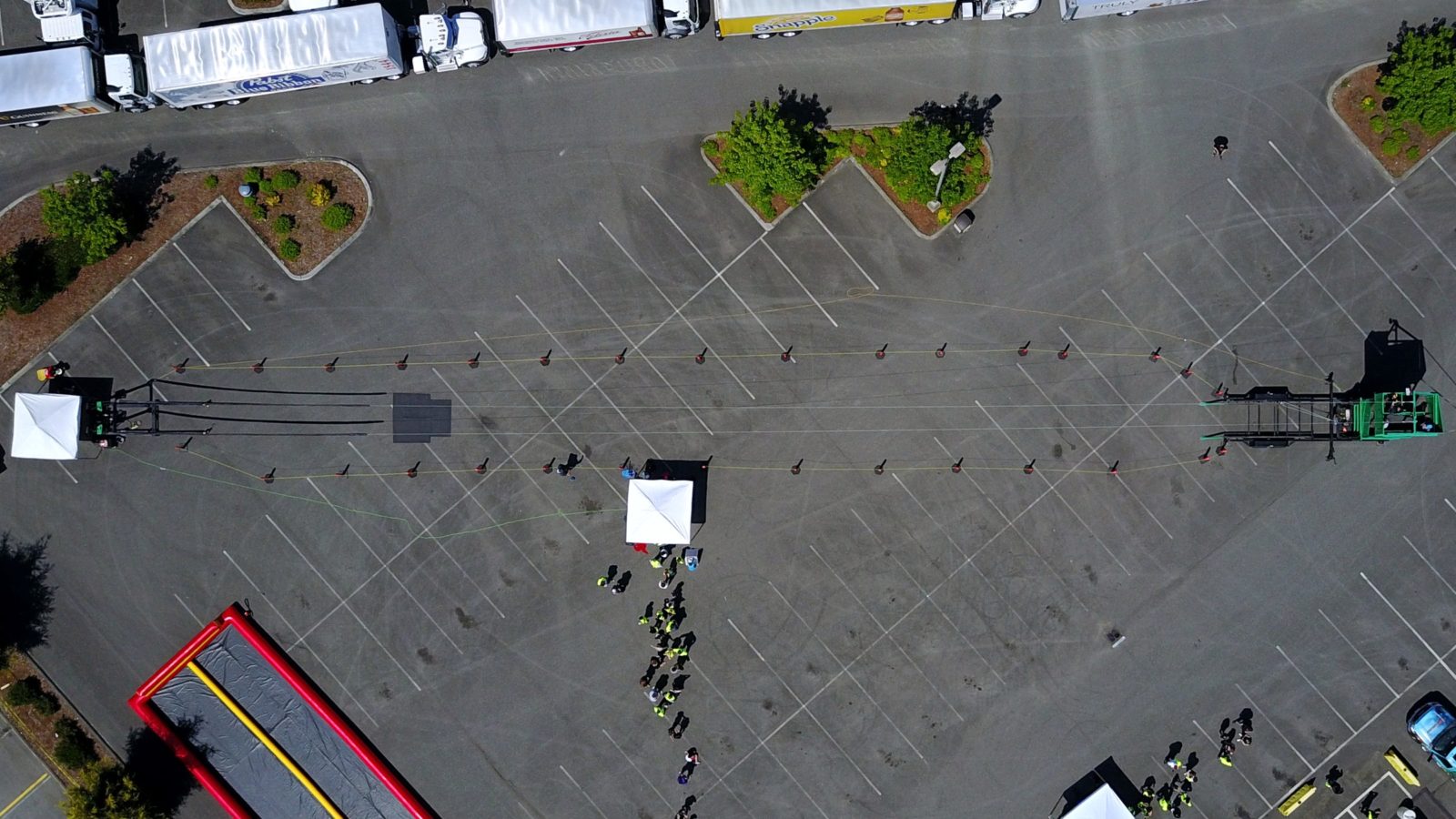 If you know you'd like to rent our zip line system, but don't know where to install it, we'll happily dig into our Rolodex of Portland event venues, public parks, and other smart spaces to find the perfect spot.