Throwing Portland's Best Office Holiday Party
When the holidays arrive later this year, so will a long list of other to-dos. The late nights of gift wrapping, weekends of cookie baking, and stacks of party invitations. In the scarce market of time, the holiday season is a competitive one. People, tasks, and priorities compete for attention like shoppers over a Black Friday bargain. For those planning a holiday party for a company, family, or organization, the competing demands of the holidays make attracting guests difficult; impressing them, a must. Our professional party planners have planned hundreds of holiday parties over the last thirty years, throwing knockout parties for some of Portland's most revered companies. May we have the delight of spreading some holiday cheer for you?
---
A Winter Wonderland of Decor
A cursory glance at any handful of lines from culture's most popular Christmas songs will reveal that the holidays are all about atmosphere. "Walking in a winter wonderland." "The stockings were hung by the chimney with care." "Frosted windowpanes." The list goes on. Festive decor is essential to a memorable holiday party. But that doesn't mean you have to break your back—or the bank—to get your guests into the holiday spirit.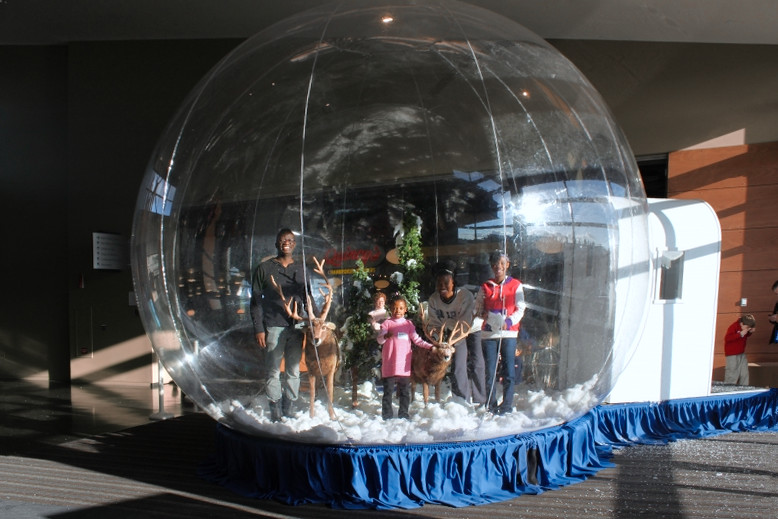 Our party planners (or shall we say, elves) know how to fill even the largest spaces with holiday cheer from wall to wall. From Hollywood-quality snow machines to a life-sized snow globe, our bag of party rental tricks includes high impact decor that doesn't cost an arm and a leg. And our party planners don't just think inside of our own warehouse. From lighting designers to custom prop craftsmen, our Rolodex of Portland area vendors knows no bounds. The best part? Working with a professional party planner means you can give your guests a walk in a winter wonderland without turning into a Grinch.
---
Catering Holiday Parties
It's wouldn't be the holidays without food. After all, there's a reason someone invented the turtleneck sweater. The eggnog. The christmas cookies. The carved ham. Need we say more? Our relationships with some of Portland's finest cooks, caterers, and chefs will put you in the culinary know.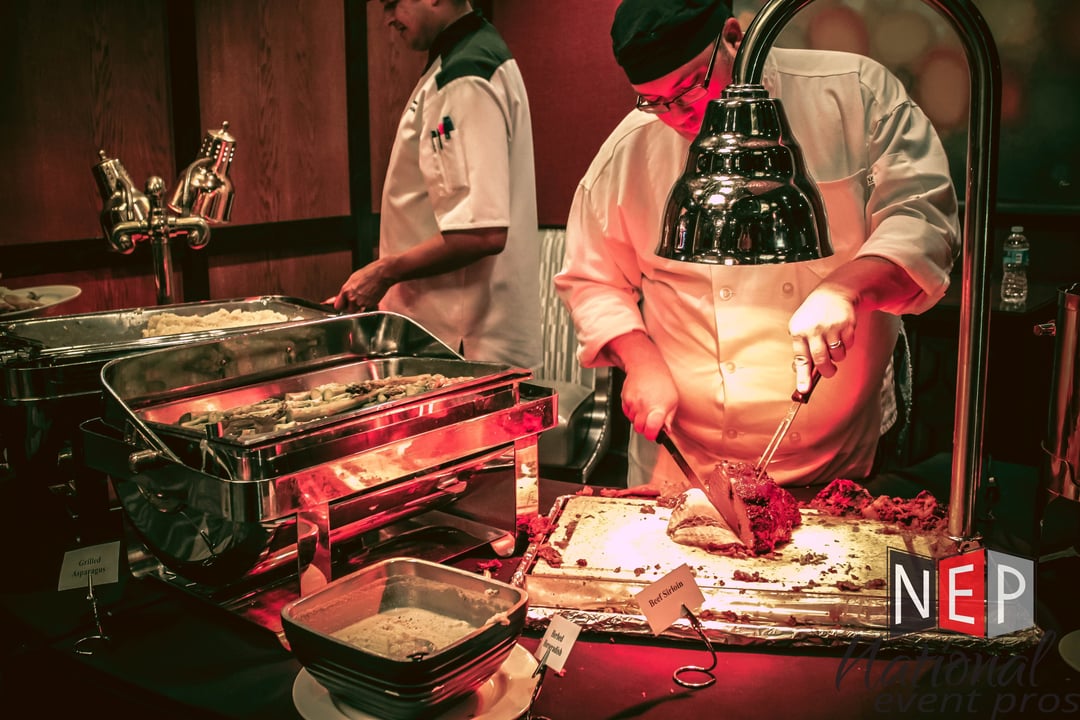 From seated meals for a few to passed hors devours for hundreds or buffet meals for thousands, no hungry crowd is beyond the mouth-watering skills of our trusted catering partners. We'll help you craft a menu, estimate quantities, and plan for what-ifs. Then you can take over at the most important time: the taste test.
---
Booking Festive Entertainment
Yes, we have Santa's phone number. And the phone numbers of stilt-walking tin soldiers, North Pole-worthy ice sculptors, and spirited cover bands. Entertaining a large group of guests requires something unique but not strange, impressive but not distracting, and widely appealing but not generic. That's a tall order. And one we've placed hundreds of times.
Booking entertainment for holiday events in Portland is all about who you know. And we know a lot of entertaining people. We'll help you identify entertainment that will bring your event vision to life, then get to work on all the small details, like contract negotiation, arrival and departure times, and even setlists. Fun fact: did you know that Santa spends his summers in Portland?
---
Portland's Best Holiday Party Venues
The stockings were hung by the chimney with care. But where?! Portland has an abundance of top-notch event spaces, from the simple and understated to the simply over-the-top. The Treasury Ballroom. The Sentinel Hotel. Coopers Hall. Each presents a unique showcase for your evening. And each has its own rules and restrictions. From catering policies to sound level restrictions, no small print gets past our sharp-eyed venue experts. We'll connect you with the right people at the right places, helping you select the perfect place for your enchanted party.
---
Employee Holiday Gifts
Many companies ring in the holidays with holiday gifts, occasionally distributed at the company holiday party. Some even distribute year-end bonuses at the event. Believe it or not, sourcing party favors is within our wheelhouse, too. Have a budget but not an idea? We can help. Have an idea but not the budget to pull it off? Let's put our minds together and see what we can do. Think of it as delegating your Christmas shopping—that part of your list with several hundred names.
---
Parking, Security, & Logistics
Festive decor, quality food, and talented entertainment is a great start to any holiday party planning process. Start, you ask? Yes, a start. Pulling off a large-scale event has quite a few layers of behind-the-scenes effort. Like parking accommodations, security, and attendants. Or event safety, medical care, and liability concerns. In other words, planning a simple holiday party can be a full-time job. That's why National Event Pros has a robust team of full-time professional party planners ready to reduce your to-do list to a sticky note and your concerns to vapor.