Master Event Planning Checklist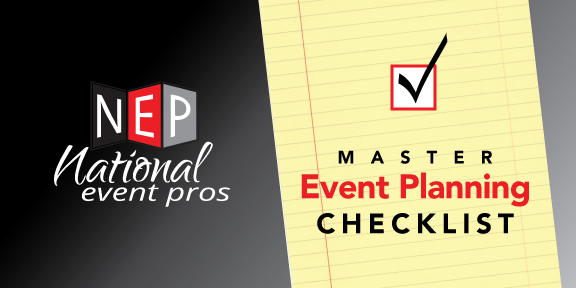 We've spent the last year scouring the event planning world for the latest trends, best tips, and most jaw-dropping stories from company functions, lavish parties, and everything in between. Here, we've compiled the best tips from our various posts to create one master event planning checklist. We hope you enjoy.
Let Your Creative Juices Flow
From "Dream on, Dreamer"
Specifically Define Your Target Guest
Answer this Vital Question: "Why?"
Use Brainstorming Tools to Elicit Great Ideas

Review IDEO's Rules for Collaborative Innovation
Try Harvard's "Brainswarming"
Don't ask "How?"
Don't ask "How Much?"

Get to Specifics

Theme
Date and time
Location
Food Menu
Drinks/Bar Theme
Activities
Seating
Speakers
Entertainment
Overall Vibe
Now, Consider Reality
From "Turning Dreams into Reality"
Ask How Much (nooooow, you can)
How How (you were waiting for this, weren't you?)
Visit the Location
Communicate clearly, repeatedly, and in writing, with vendors
Enlist the Services of a Professional
Get Thoughtful.
From "Making Memories That Last"
Be Thoughtful
Embrace Imperfection
Take Photos

Establish a Hashtag
Create a Photo Station
Rent a Photo Booth
Hire Professional Photographers

Facilitate Relational Depth
Give a Gift
End While You're Up
Get Ready for Your First Meeting
From "Preparing for the Initial Meeting"
Define the Win
Know the Practicals
Make a Budget
Land on a Guest List
Look for a Planner Who Thinks Holistically
…and Focuses on Your Goals
…and Asks Questions
…and is Comfortable with Feedback
Select Your Vendors
From "How to Choose Vendors"
Make a Short List
Evaluate Reviews
Start a Conversation
Get a Quote
Make a Spreadsheet
Commit
Start Thinking About Decor
From "Event Decor 101"
Review Current Resources
Think about Scale
Evaluate Professional Lighting Options
Look at Rental Options
Make Sustainable Choices
Consider Professional Decorators
Staff Up
From "Event Staffing 101"
Consider the Pro's and Con's of Internal Teams
Avoid "Gig" Workers
Enlist the Help of Volunteers
Hire Professional Event Staff

Event Concierge Services
Event Security
Janitorial Services
Guest Registration Services
Entertainment Staffing
Wait Staff and Bartenders
Make a Parking Plan
From "Event Parking 101"
Prioritize Proximity & Convenience
Ensure Ample Supply of Spaces
Test the Parking "Flow" to/from Event
Hire Parking Lot Security
Evaluate Cost Options (Public vs. Private Lots)
If Budget Allows, Hire a Valet!
Have your event!
Learn more at "Event Day"
Get in "After Party Mode"
From "Teardown & Follow-Up"
Clean the Space
Clean the Outdoor Area (if applicable)

Get park manager permission to bring vehicles onto the property
Ensure that trucks are brought in only at their specified time
Park on the grass to keep the road clear
Put back any hoses that were used
Respect campers and other park users
Pick up trash, including bottles and popped balloons

Pay Your Vendors
Ask for Feedback