Rental Item of the Week
Giant Monster Tricycles
Welcome to Rental item of the week, where every Thursday we highlight pros and cons of a different rental item. We provide an in-depth review and suggestions on how to incorporate the rental into your next event. Our goal is to inspire event planners to be creatively bold and move outside the normal event scope.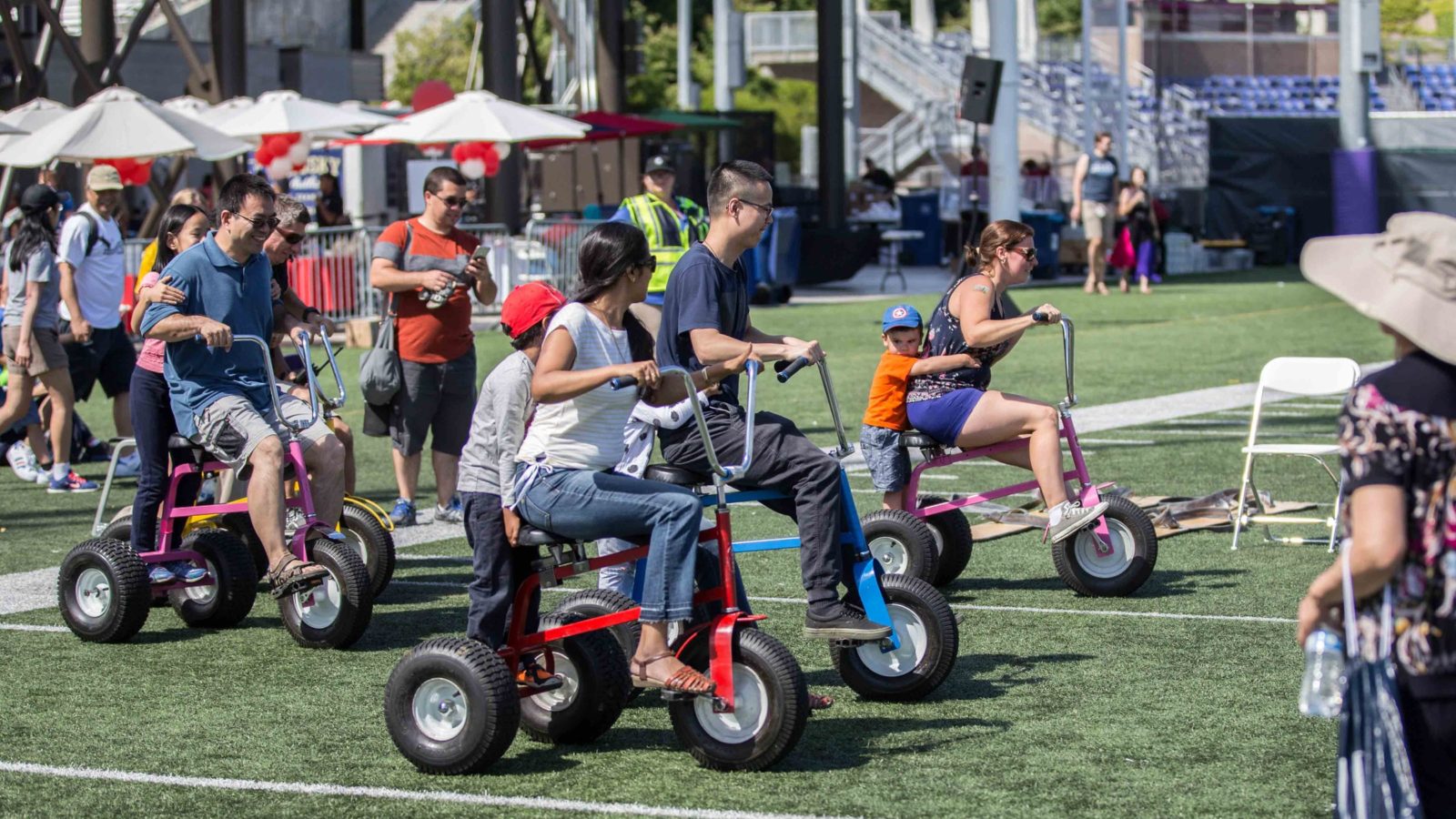 Monster Tricycles sound like they are out of the latest dreamscape novel by Dr. Seuss. Don't be deceived, they are a very real, incredibly unique rental item that will be remembered by guests at your event. A set of giant tricycles at your event is as much fun for the onlookers as it is the participants. On numerous occasions, we have watched as full grown adults indulge in their childhood tendencies. Rockin' 10-inch rims, chopper handlebars, and a bold red, blue, or pink powder coat, these big wheelers turn heads. So why is it that a toddler toy can influence a professional to drop their briefcase and pick up a helmet? We'd like to think that an exciting event provides the perfect opportunity for appropriately lowered inhibitions, and items like these adult tricycles end up being the perfect catalyst for said social interactions.
Helmets are provided when renting Monster tricycles and we definitely advocate for using them. Unless traveling down a steep hill, the tricycles can't gain too much speed, but we advise caution and safety above all else. Additionally, even though the tricycles are made of metal, nothing is indestructible. Always be respectful of rental equipment and know the limits of the item so it doesn't become damaged through extreme use. You wouldn't want to prevent the next party from having a great time.
So you've been provided with an incredibly simple yet effective piece of entertainment; how do you integrate it with your event schedule. Where does it fit into the grand theme of the evening? These are the questions we want to help you answer in Rental item of the week.
Wedding Entrances (or exits?)
Here comes the bride… on a tricycle! Using a giant tricycle on your wedding day is certainly not traditional, but brides (and grooms!) everywhere are looking for ways to add flare and a touch of spunk into their nuptials. Think about your wedding day. As the crowd goes quiet and the music starts, everyone's heads turn towards the back of the room. The double doors at the end of the aisle open and a the groom comes shooting down the aisle on a bright red three wheeled devil. not far behind him, the groomsmen rollerblade down the aisle hand in hand with roller-skating, dress adorned bridesmaids. The music shifts slightly and everyone stands up. Slowly and methodically, the bride rolls in on a pink monster trike. And in a mere moment, a wedding entrance never to be forgotten by guests was created thanks in part to the addition of a simple tricycle.
If your wedding ceremony is reserved for more traditional practices, consider the option of riding in to the ceremony or out to your honeymoon. The bride pedaling furiously and the groom standing shotgun on the back step. Careful of the dress train!
Races and Relays
Probably the most common application of Monster Trikes is at corporate events and picnics. The tricycles work equally well indoors and outdoors, so event time of year is irrelevant as long as you have ample space to ride around in. Introducing competition into an event is a great way to get people involved that normally would not participate in the festivities. You can further participation even further by incentivizing the competition with awesome prizes. To step up the game, create a much larger relay race or multiple stage event with monster trikes representing one piece of the challenge. Create multiple challenge stations around a field and require contestants to trike between stations while balancing a spoon on their nose. The goofier the challenges, the better.
Entertainment Props
Using rental items to improve and alter the nights existing activities requires an imagination and dedication to the event's success. If you have performers attending the event, let them use the Monster Tricycle to roll around and interact with guests. The walk-around Magician might be able to get a few more tricks in if he gets between people quicker. The photographer could capture amazing shots of event-goers smiling and laughing because he looks ridiculous on his tyke toy when approaching groups for snapshots. Have you ever seen someone juggle five knives while popping a wheelie on a big wheel. (Ok, I admit that last one might be a little extreme). If you have a youth group event with skits during the evening, include the wheeled fun on the evening theatricals to command the attention of the easily distracted youth.
Hopefully this first Rental item of the week sparks your creative fuse when planning your upcoming event. Let us know about all of the great ideas you come up with for incorporating unique rentals into your events. Happy Wheeling!