Rental Item of the Week
Inflatable Obstacle Course
Welcome to Rental item of the week, where every Thursday we highlight pros and cons of a different rental item. We provide an in-depth review and suggestions on how to incorporate the rental into your next event. Our goal is to inspire event planners to be creatively bold and move outside the normal event scope.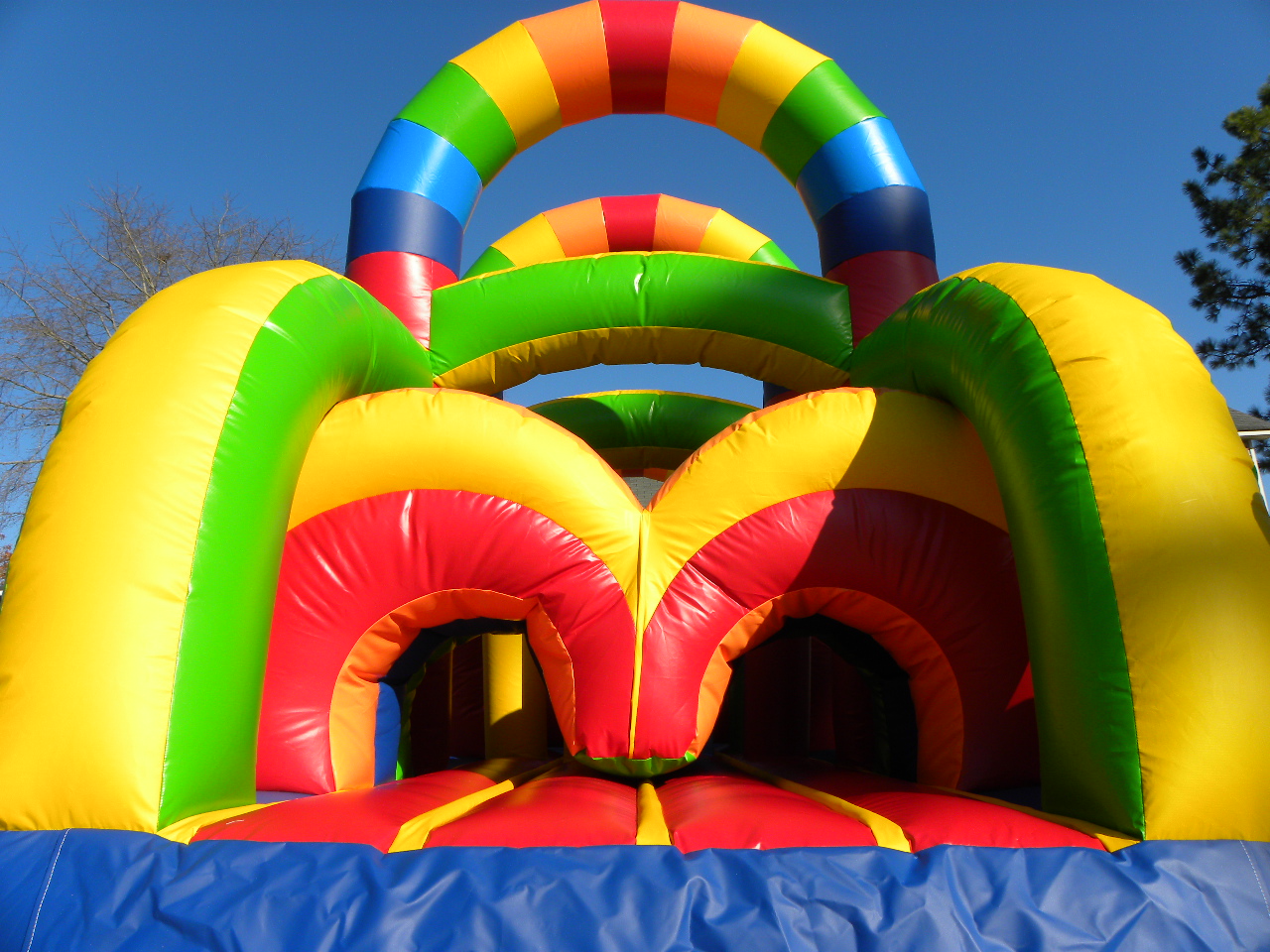 Welcome Seattle Event Planners! This week's RIOTW is the inflatable obstacle course. The great thing about about obstacle courses is that they appeal to all age groups. Unlike a traditional bounce house that is only designed for kids up to age 12, teenagers and adults can participate in races. Most courses have separate lanes for the participants, meaning that parents can race against their children without risking a potentially dangerous interaction. The biggest cause of injuries in inflatables comes from larger participants falling on the smaller ones and obstacle courses conveniently rid events of this issue.
In addition to great safety features, obstacle courses can be incredibly large, impressive rental items that can help you theme out your event. They have high throughput, allowing two individuals to enter the ride approximately every 30 seconds (at least 240 people per hour). Rides with high throughput are always preferable for large events because of their ability to constantly entertain more guests. As opposed to a bounce house that can only service 6 to 8 children every few minutes, the constant flow of guests gives the added psychological impression of constantly moving lines.
So what exactly does an inflatable obstacle course consists of? Most courses consist of four different actions; weaving, squeezing, climbing, and sliding. More often than not, the challenges present themselves in that order, though on larger tracks there can be multiple iterations of each. Participants start by weaving through multiple upright vinyl pillars. The pillars aren't particularly difficult to get past, but when you are running through racing your best friend, they can definitely trip you up. Following the weaving section comes two horizontal vinyl columns so close together you can't always see through them. You have to force the air out of the baffles and push your way through. The limited space makes this harder for adults than it is for children. Players will then encounter a wall of varying heights (depending on the obstacle course). The wall will usually have foot and hand holds and isn't particularly challenging to climb, but doing so fast will take some serious effort. The final and most fun leg of the course is the slide. Guest will race down the slide (feet first!) and out the exit in attempts to be the first one out and rejoice in their glory.
If you want to increase the challenge, you can rent several obstacle courses, or incorporate other non-bouncy challenge items. Great options include last weeks Monster Trikes, mud pits, tires, and whatever else you might be able to get your hands on that is lying around.
So now that you have established that obstacle courses are definitely something you want to be a part of your event, how you can integrate the attraction into the overall mood of the party? Fortunately, these inflatables come in a large number of varieties. Match them to your events theme, or get inspired to create a theme from the one you choose to rent. Here are some examples of themed courses:
Wild West – Get your cowboy on! Clearly a good rental for Western themed parties. Other great events it can compliment are Chili Cook-offs, Rodeos, Ho-downs, and any other Southwest special occasions.
Treasure Island – This pirate themed obstacle course is both impressive in size and decor. While it is an obvious choice for pirate themed events, you could also have it at a pirates of the Caribbean outdoor movie party, seafood cook off, or day at the pier.
Crash Course – The mother of all race car themed inflatables. This massive figure-eight race track is both challenging and great looking. A great centerpiece for any Nascar or Formula 1 party.
When booking your obstacle course rental, remember that these inflatables are typically on the larger side of things. If your event is indoors make sure you have ample room in a high ceilinged gymnasium or conference space. If outdoors, just make sure your party area is large enough and you plan for the footprint of the ride accordingly. Thanks for joining us for this weeks Rental item of the week. We look forward to setting up an obstacle course at your next Seattle company picnic location.