Game On, Salt Lake City

Arcade Game Rentals & Gaming Event Planning
Salt Lake City is known to be one of the most family-friendly places in the country. There is so much to do from getting out and enjoying the beautiful scenery to spending time with the community and exploring all of the great museums and parks Salt Lake City has to offer.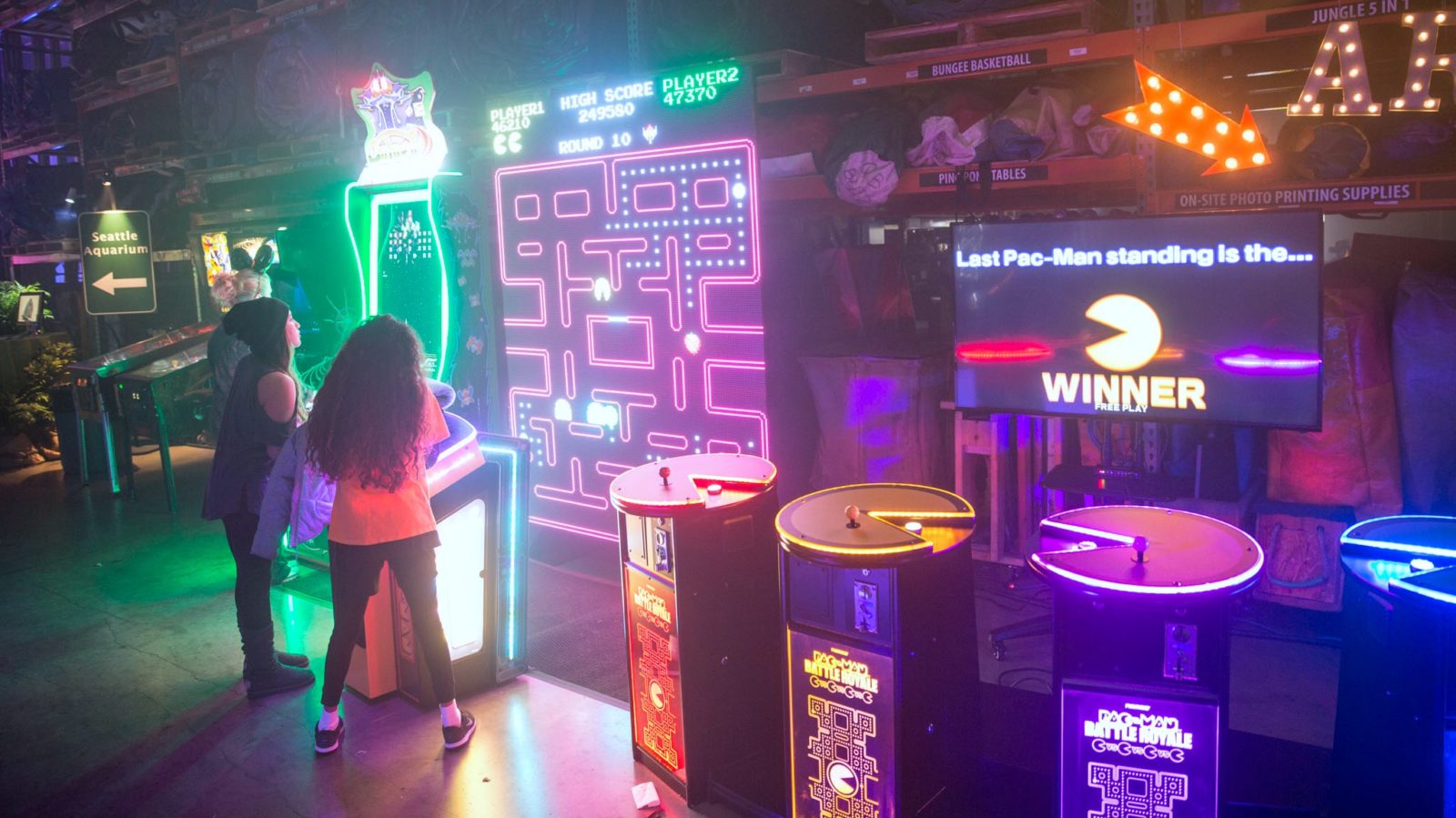 Video games tend to not what we think of when we think of bringing people together but these are not your typical Gameboy video games. Imagine the joy of your childhood arcade games, whether you played pinball, Packman, or skeeball you can recall a time when hitting the arcade with your friends was one of the best things about being a kid. Now you can bring the nostalgia and joy of the retro arcade to your next school fundraiser, church event, office party, or dinner reception. With all the classics you can think of and even the best of the best from virtual reality and interactive gaming there will be so much to enjoy for guests of all ages.
---
Experience That Old-School Nostalgia with Classic Arcade Game Rentals
Although much has changed in the gaming world the joy of the retro arcade still prevails. Nothing can beat a classic and nothing can beat the joy of experiencing your favorite classic arcade game with friends, family, loved ones, and especially the younger generation. Every generation has its favorites and fortunately, you don't have to choose just one with our rental catalog. Our event planning specialists have developed a massive collection of rent to play arcade games from every era so that way it's cost-efficient and most importantly you don't have to pick and choose. From Pacman, Pinball, Galaga Assault, Cruisin Hoops Basketball, Gauntlet Legends, to even our good ole Arcade Claw Machine that we all know and love, there is truly something for everyone and that's not even the half of it.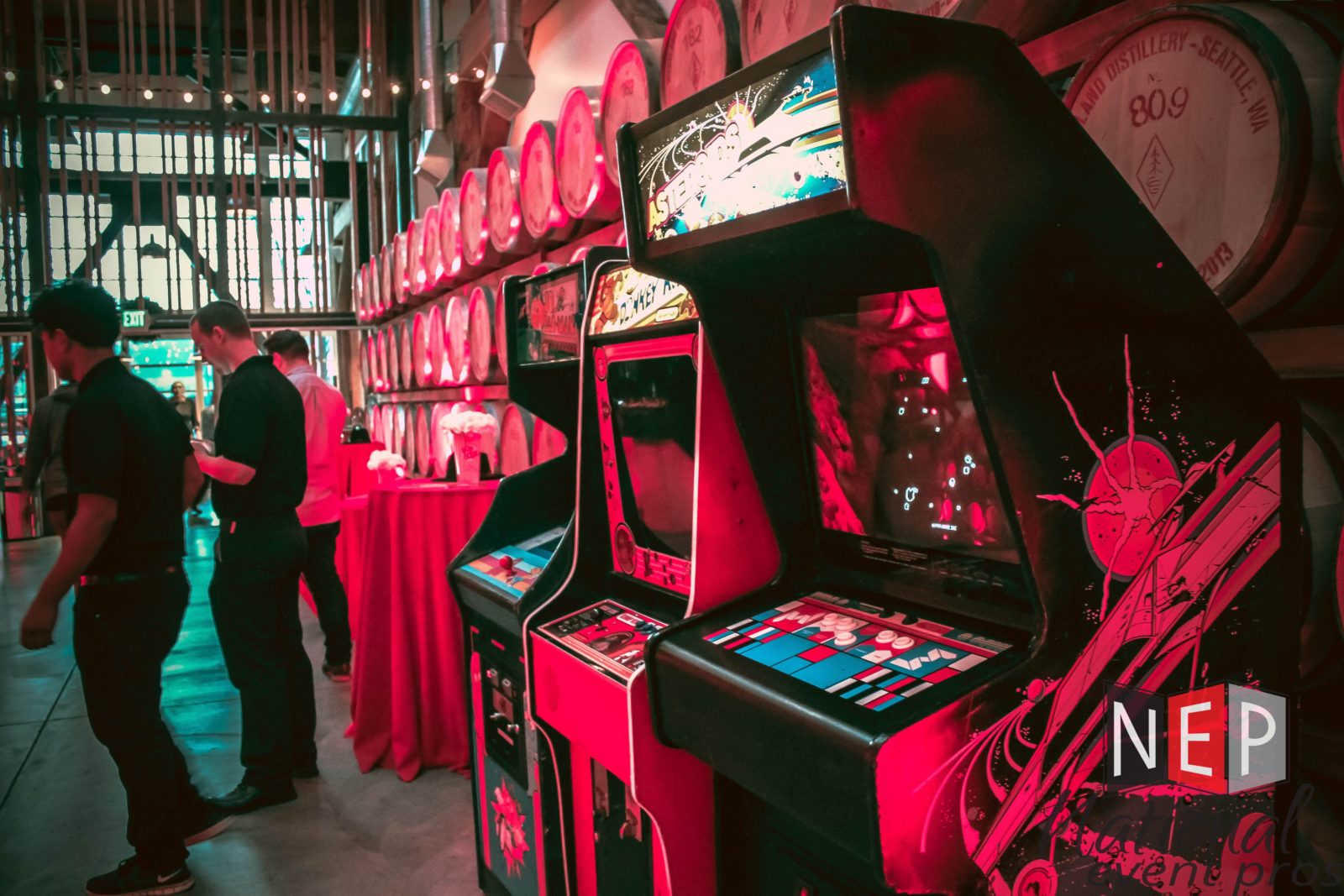 Light up the arcade with a game of LED Ping-Pong, Atari pong, or LED foosball. There is even a life-size LED light-up Battleship board game guests can enjoy that makes all the sounds and flashes of the classic board game itself. If you need a heavy dose of childhood nostalgia, a browse through our rental catalog may be just what you need.
---
Salt Lake City's Show-Stopping Gaming Technology
It's safe to say that we have a strong passion for gaming aside from building knock-out events for all to enjoy. Our gaming collection has grown over the years to be a little of everything, and it wouldn't be a proper collection without the latest and greatest of the past, present, and future. What are the games of the future? Virtual reality of course! Virtual reality has taken the gaming world by storm within the last few years and the options for incredibly virtual reality experiences are endless.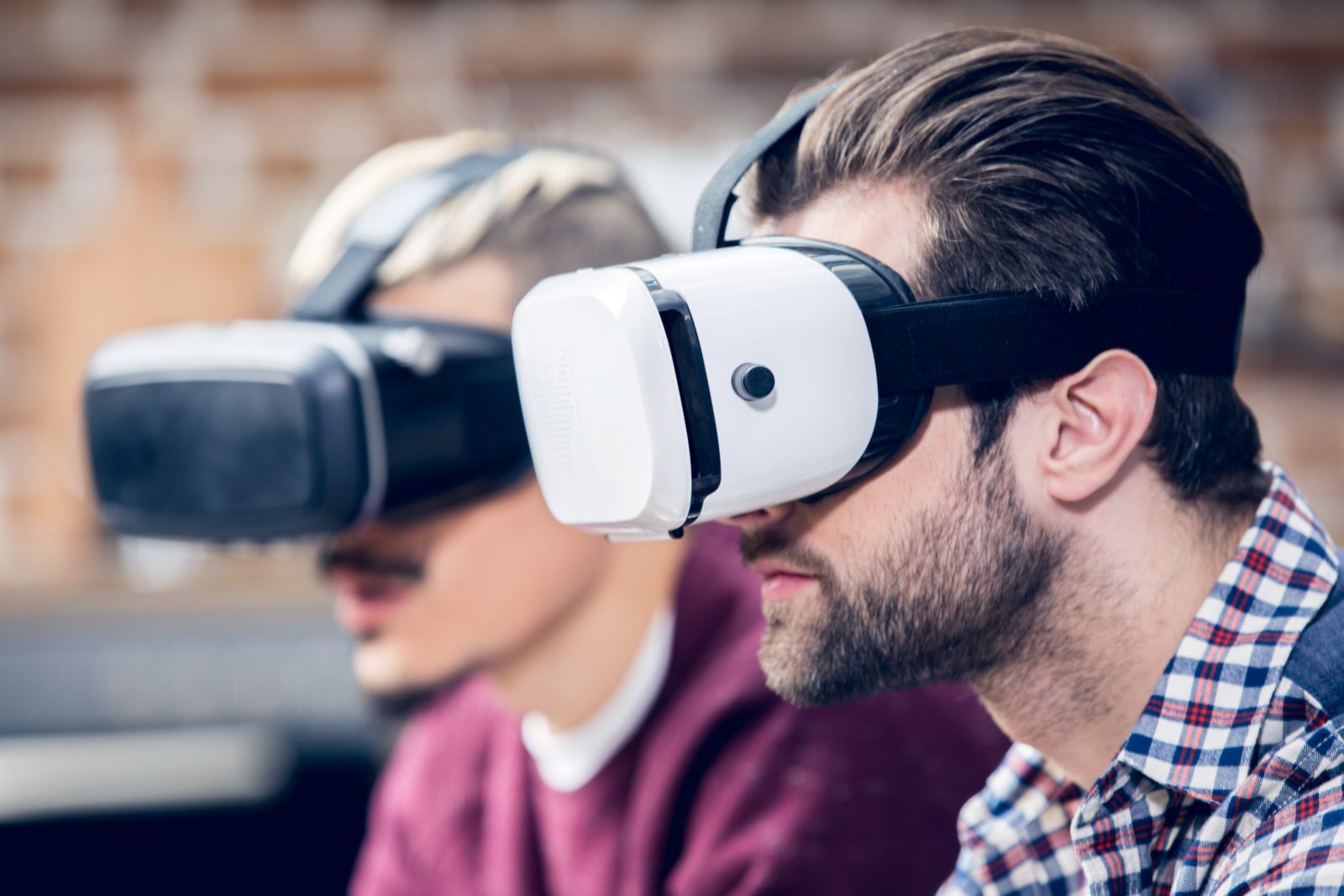 Want to experience what it's like to explore cities around the world as if you were a giant? City VR is the experience for you. Ever wonder what climbing Mt. Everest would be like but without the frostbite? Check out our Everest VR experience! Want to unleash your inner artist? Now you can create room-scale 3D works of art with our Google Tilt Brush. From shooting zombies in our Zombie Training Simulation, mastering Fruit Ninja, or even downhill skiing, it can all be done in virtual reality.
---
Bringing People Together Like Never Before
Gaming has a tendency of being an isolating activity, with gamers sitting behind a screen and set of controllers or strapped into a headset. However, we understand the importance of creating memories and engaging guests and have created gaming experiences that people can enjoy together. One of the best examples of this is our Minecraft virtual reality experience which allows for up to 4 players at a time to enter the virtual world of Minecraft together and explore and play!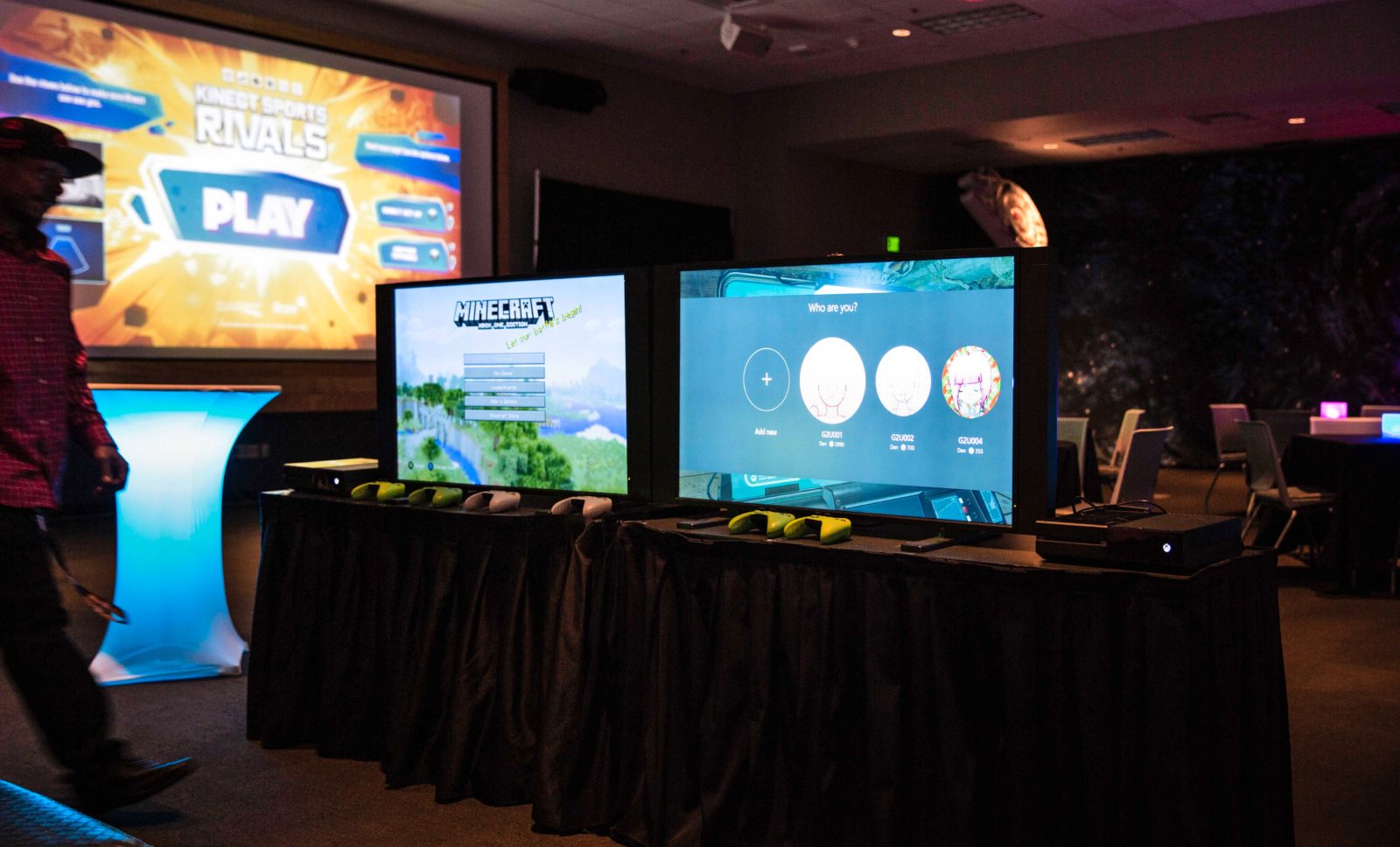 Many virtual reality games have been left as single player experiences but games like Minecraft are pushing the envelope for more engaging and interactive group virtual reality experiences. Guests can also enjoy competitive multiplayer virtual reality experiences with off-road racing in Project Cars, Dirt Rally, slicing and dicing with Fruit Ninja, host a basketball shootout with our NBA 2KVR Experience.
---
Don't Sweat the Details
If this all sounds like great fun but your perplexed by where in the world you can fit all of these fun and exciting arcade games and virtual reality experiences, no need to sweat the details. Our venue planning specialists have seen and done it all, whether it be creating a rooftop arcade gaming lounge on top of the highest skyscraper in your city, or finding a way to transform a conference room into the arcade of your dreams without blowing a fuse or racking up an electrical bill, we got you. Our gaming specialists know our units like the back of their hands and can create the power source you need for your event without a problem or if you just need a backup generator? We have those, too.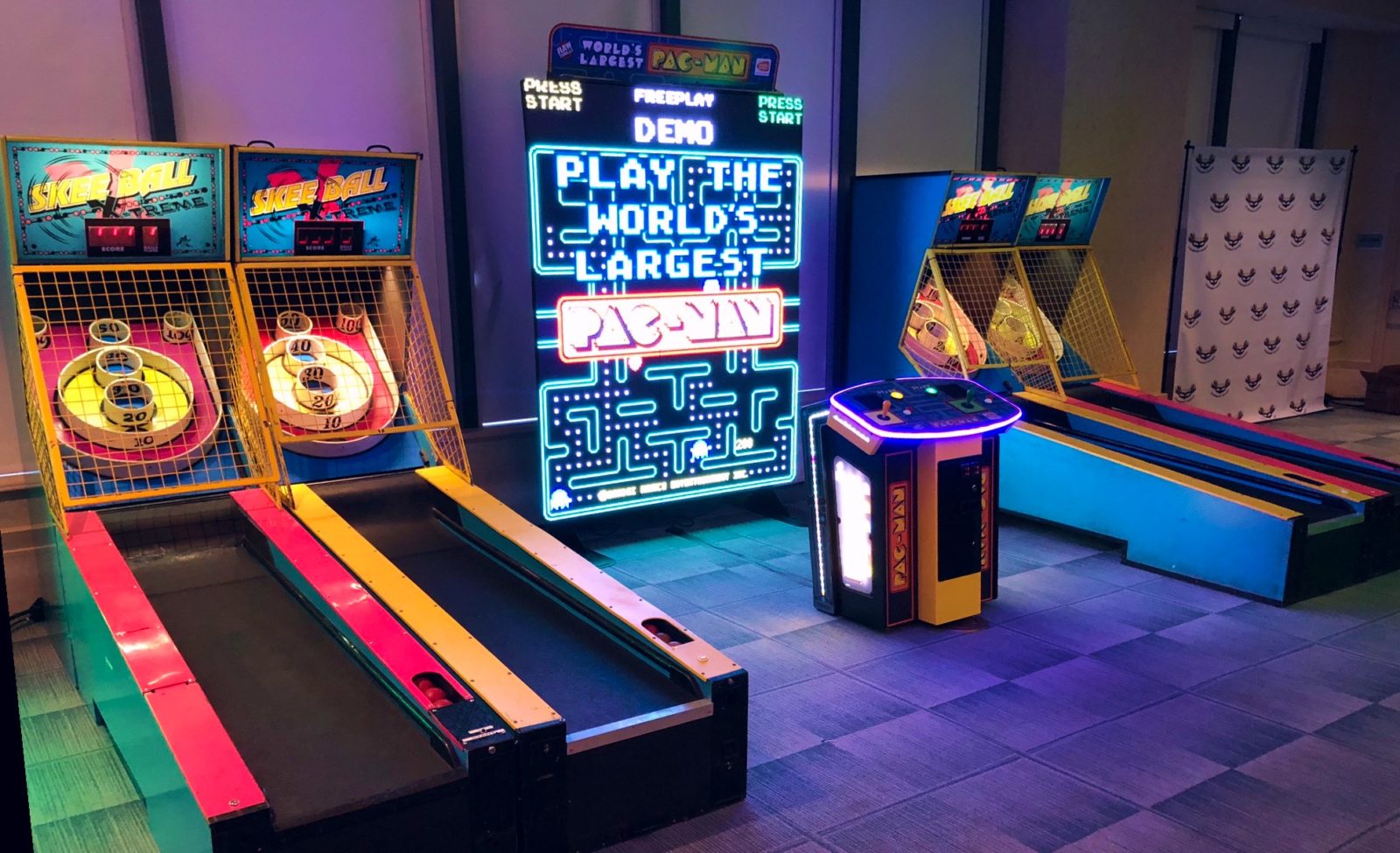 ---
Professional Delivery, Setup, and Teardown for Salt Lake City and Beyond
Of course, aside from the technical details and power concerns, you might have our team also handles everything from A to Z when it comes to events. Our team has got it covered from, load in, set up, safety checks, tests runs, supervising and assisting during the event, to cleaning up and packing up our equipment when the event is over. The only finger lifting you need to worry about is how to get that high score in Packman.