The Ultimate Guide to Giant Outdoor Games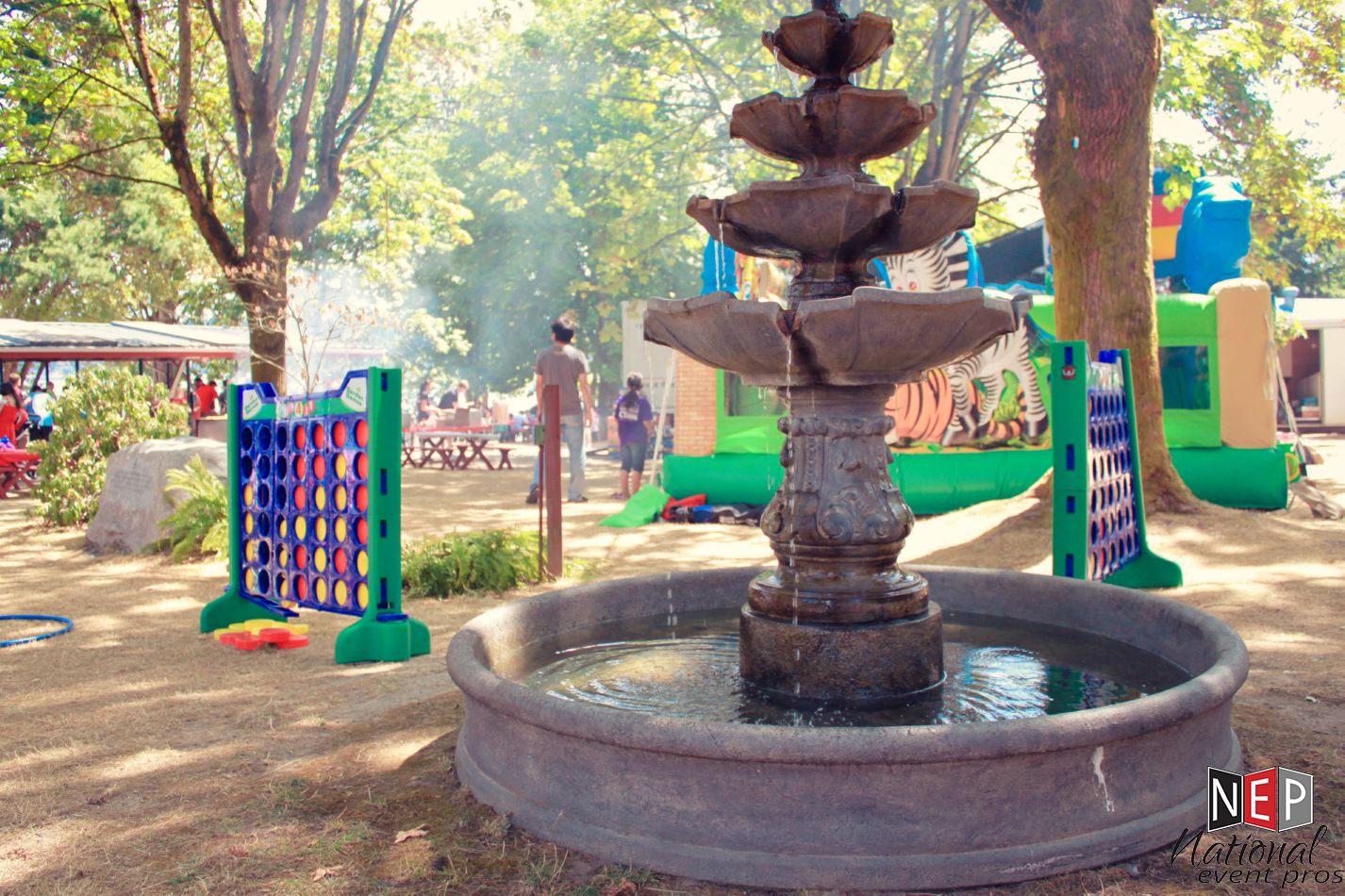 With the warm weather and sunnier days ahead, it is time to start planning the outdoor activities for spring and summer events.
There are so many ways to enjoy an outdoor event and creating a successful event that engages everyone on the guest list. There are few additions to an event as successful at bringing everyone on the guest list together than giant games and outdoor activities.
Giant games take the familiarity of all the classic board games and party games from throughout the ages and blow them up into a fresh new format available to guests of all ages and experience levels.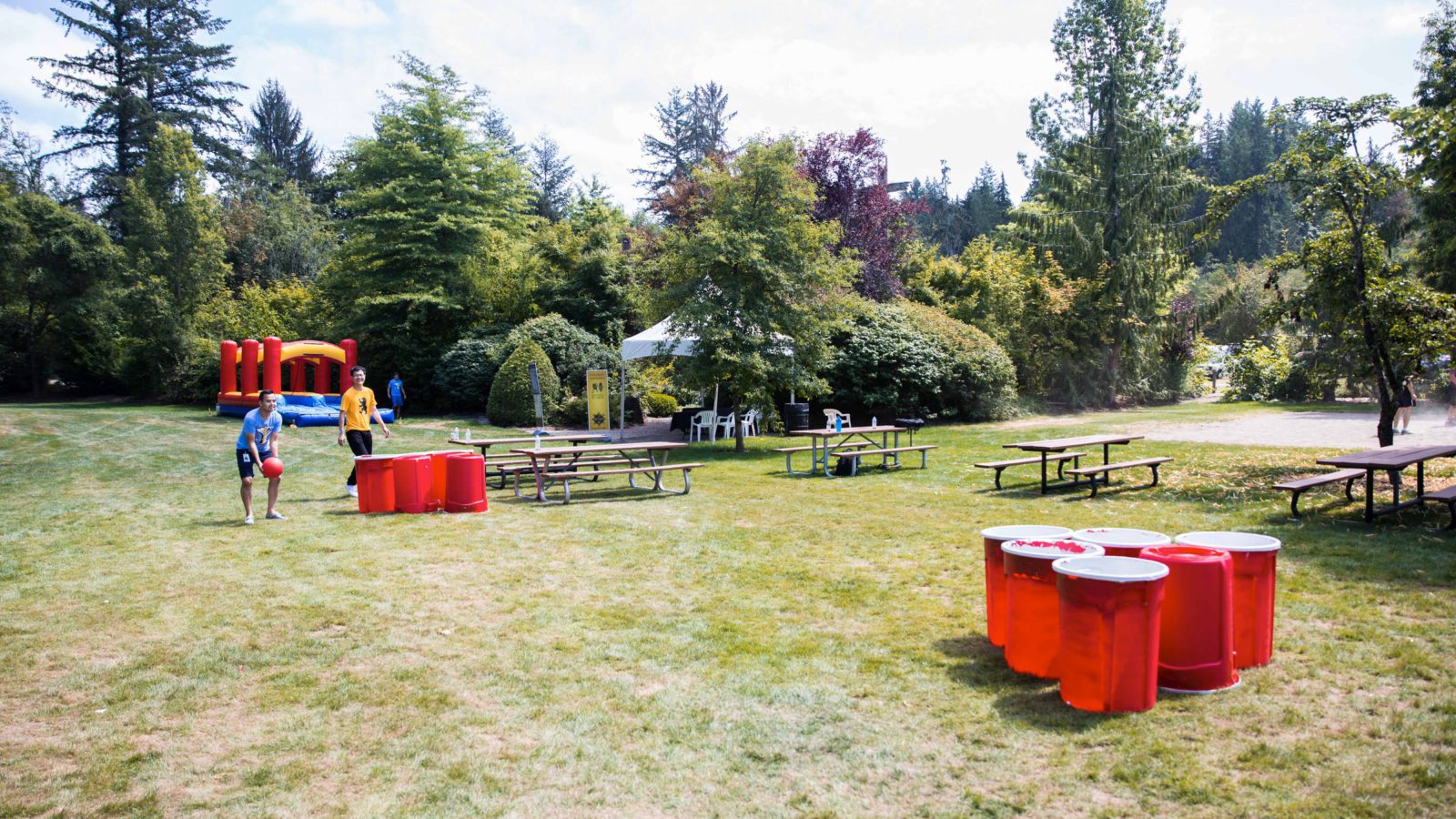 The game of beer pong is a stable game for any party. This take on beer pong is not only larger than life but alcohol-free so contestants of all ages can compete in a head to head beer pong match or tournament. Although beer enthusiasts can still enjoy their brew by adding a beer garden or beverage services to the event itself.
Guests can play head to head two-player matches or someone can host an official beer pong tournament and guest can play beer pong tournament style with teams of two creating a 4-player game. May the team with the best BP skills win.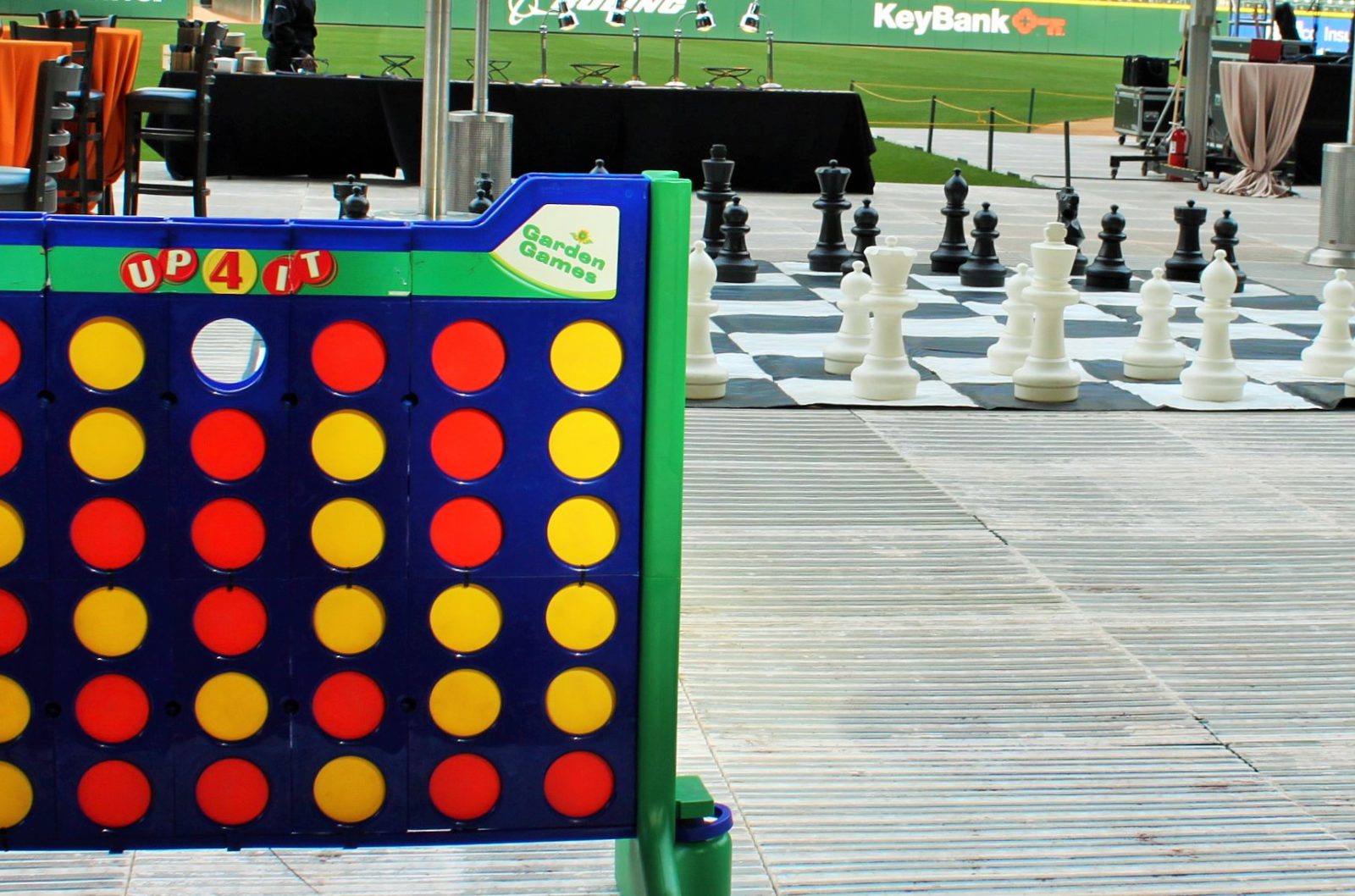 Arguably one of the most beloved board games throughout the decades, since it's an official trademark in 1974, a game of Connect Four, has remained a party stable for any occasion. Now guests can enjoy a game of Connect Four in a larger than life format with the giant Connect Four set-up.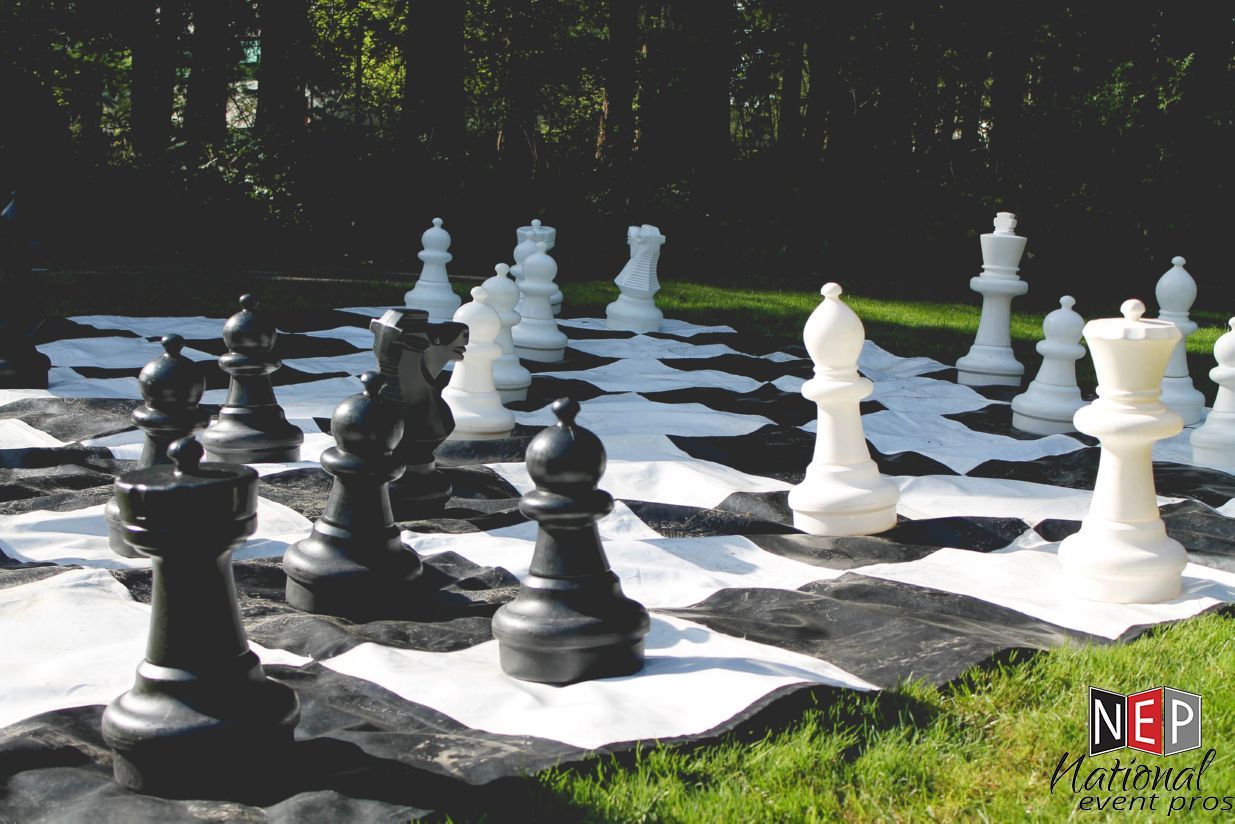 The game to start all board games, Chess is the original party game. Giant chess is not only a great way of including classic board games at an event that everyone will know and love but taking board games and creating a social aspect to them.
Regular sized chess is not as welcoming to spectators as a blown up giant version where guests can gather around to watch the chess match unfold. It's time to break out the giant chess board at the next outdoor party and have guests put their chess and strategy skills to the test.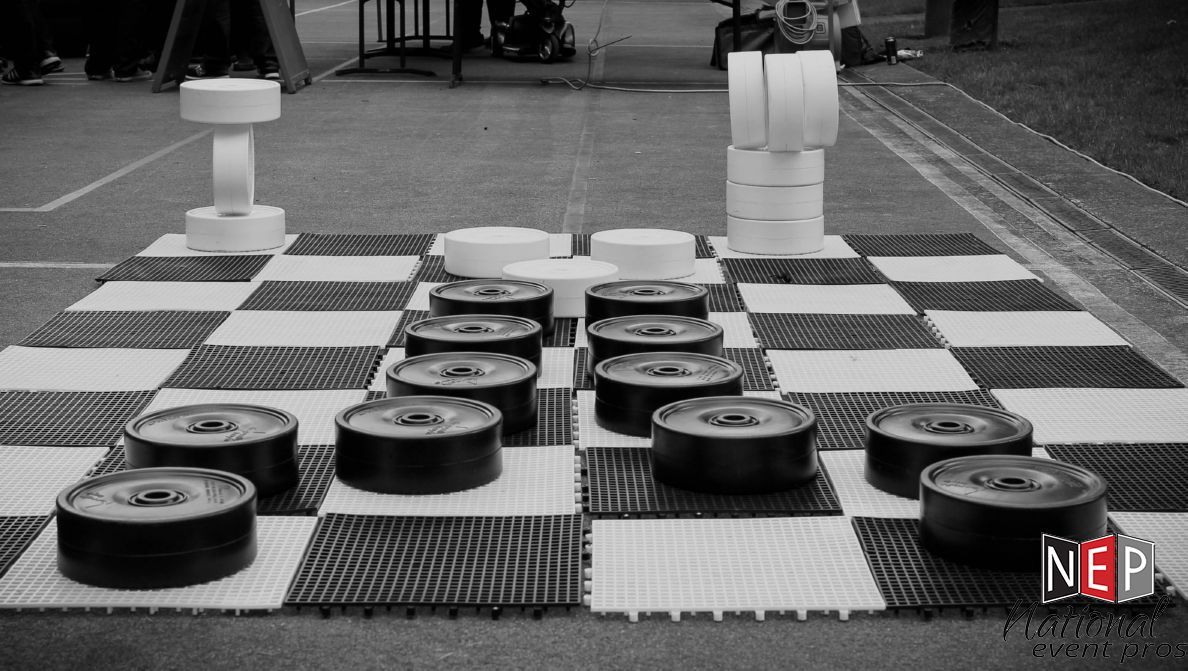 In addition to giant chess, those who prefer a game of checkers instead can now enjoy the giant game experience with a giant checkers board at events.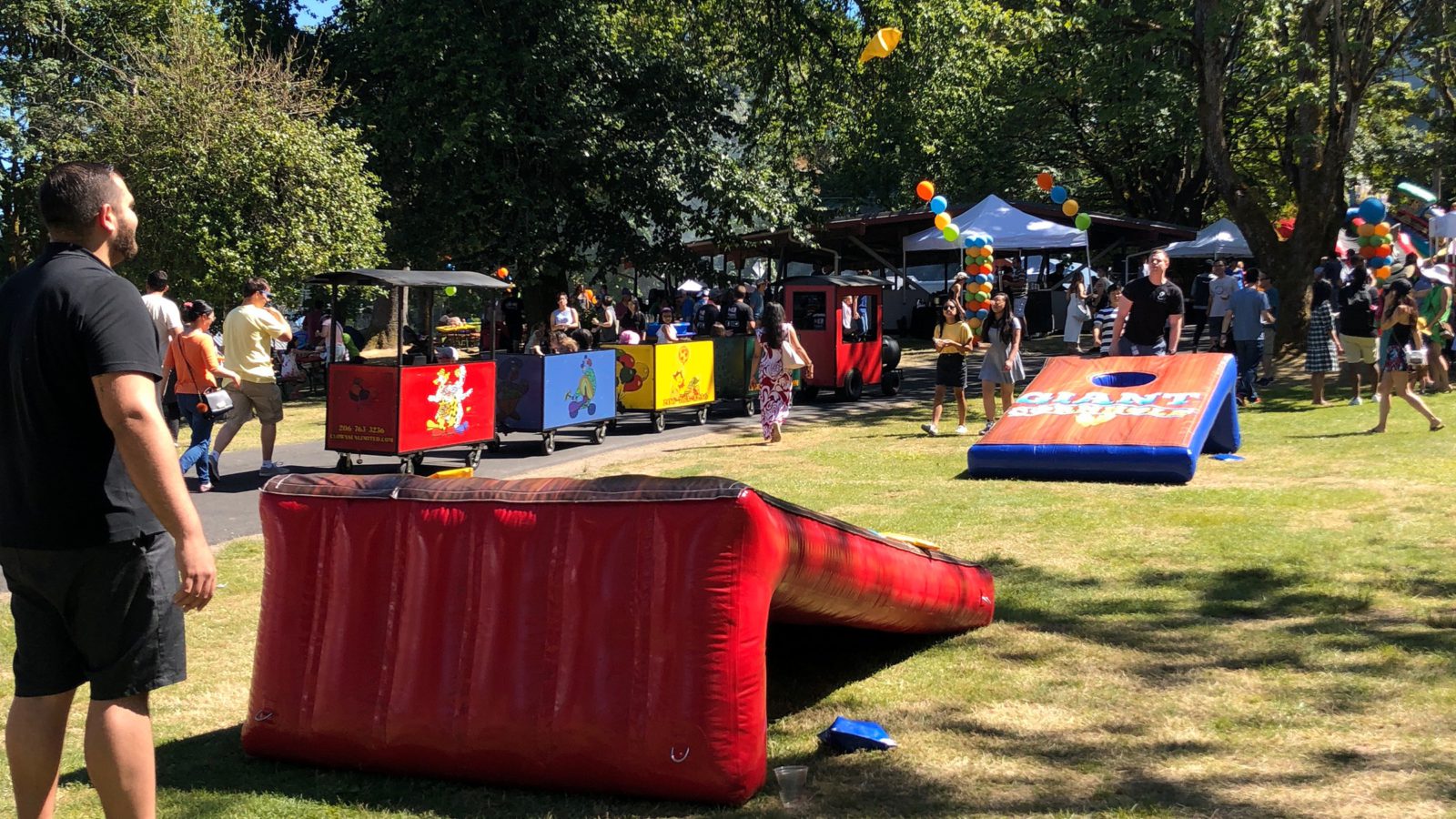 A game of Cornhole is a classic for any occasion. Got a backyard barbeque, company picnic, outdoor reception, indoor networking event, or fundraiser that could use a little bit more fun? Add in a larger than life game of cornhole for guests of all ages to enjoy and test out their skills.
Guests can go head to head in a two-player cornhole face off or play tournament style with teams of two in a four-player cornhole face off.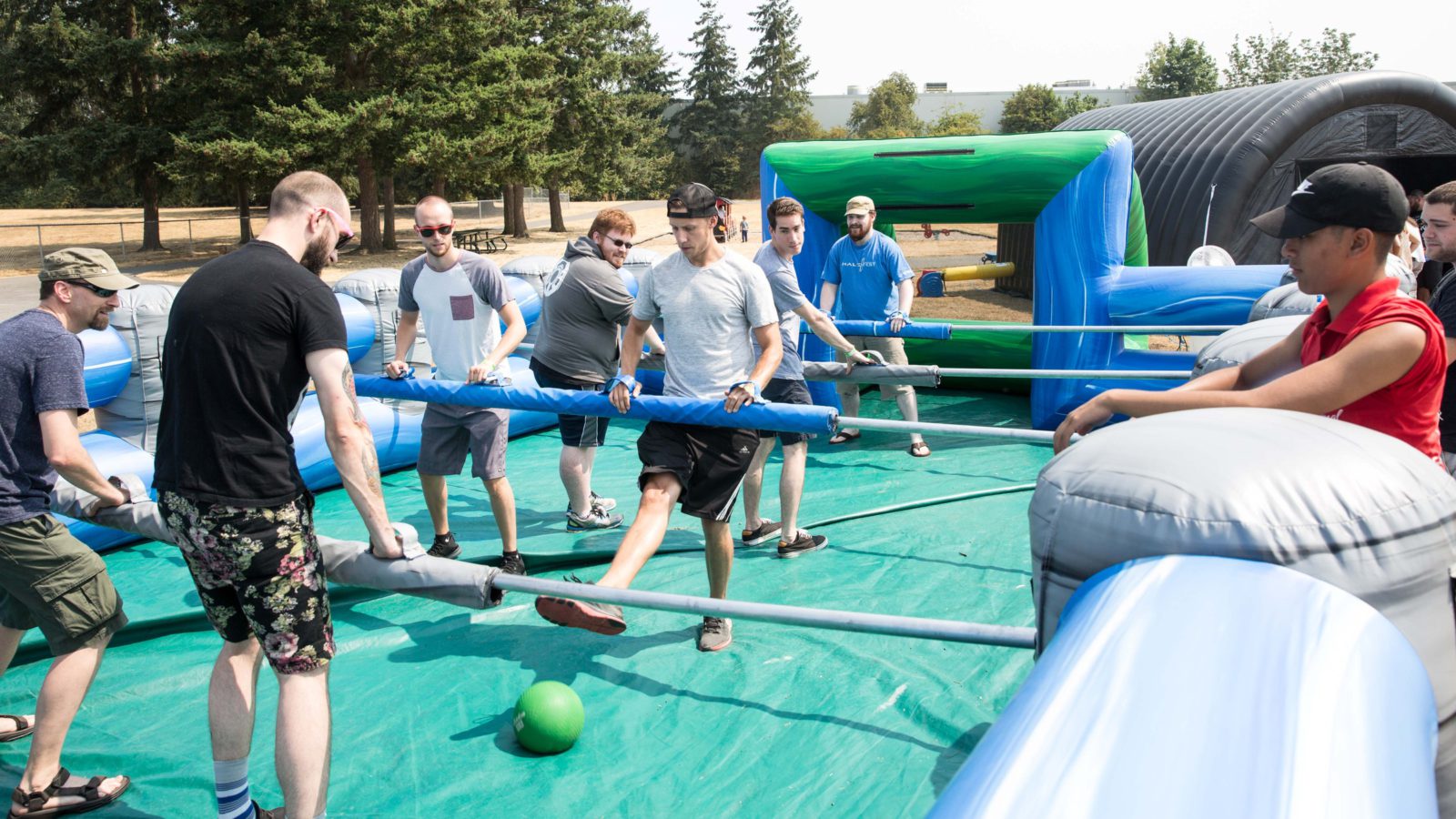 A giant outdoor game unlike most on this list is the human foosball game. The human foosball game is effective for engaging and entertaining large crowds at events.
Human foosball (also known as "Table Football") is quite possibly the best team building game to get guests working together. The game takes regular foosball gameplay and makes it life-sized. Players have to work together, moving side by side, trying to kick the soccer ball. This is not only a great game for any outdoor event but also makes a great game to watch at an outdoor event as well.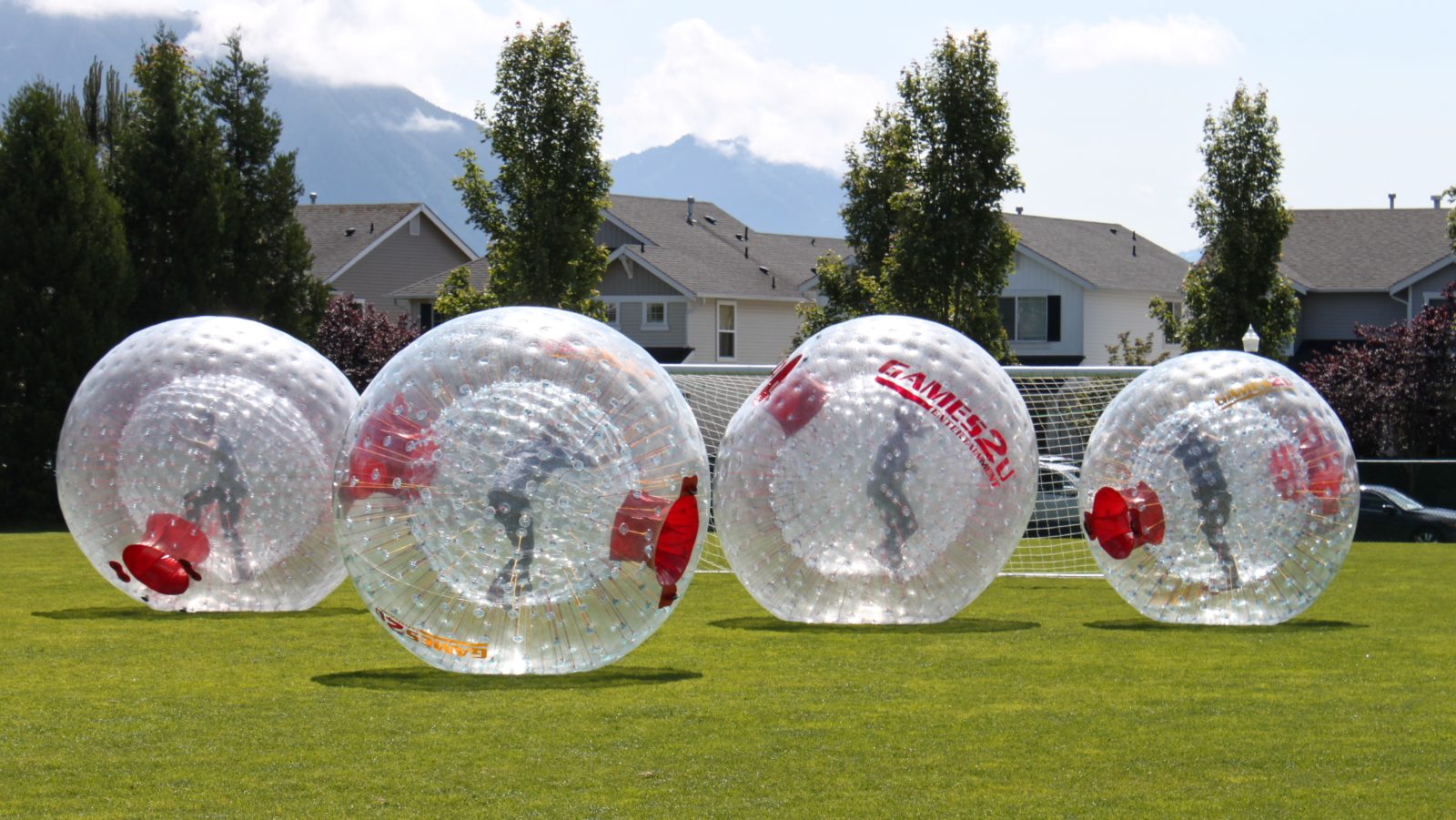 Another larger than life game made perfectly for the outdoor event arena is the Human Hamster balls and Human Hamster ball track. The Hamster balls or Zorb Balls are made for outdoor venues and are perfect for guests of all ages who are on the adventurous side.
Guests can choose their hamster or zorb ball, climb inside and navigate through obstacles, race head to head or create teams and see which team can complete the obstacle courses and race in the best time.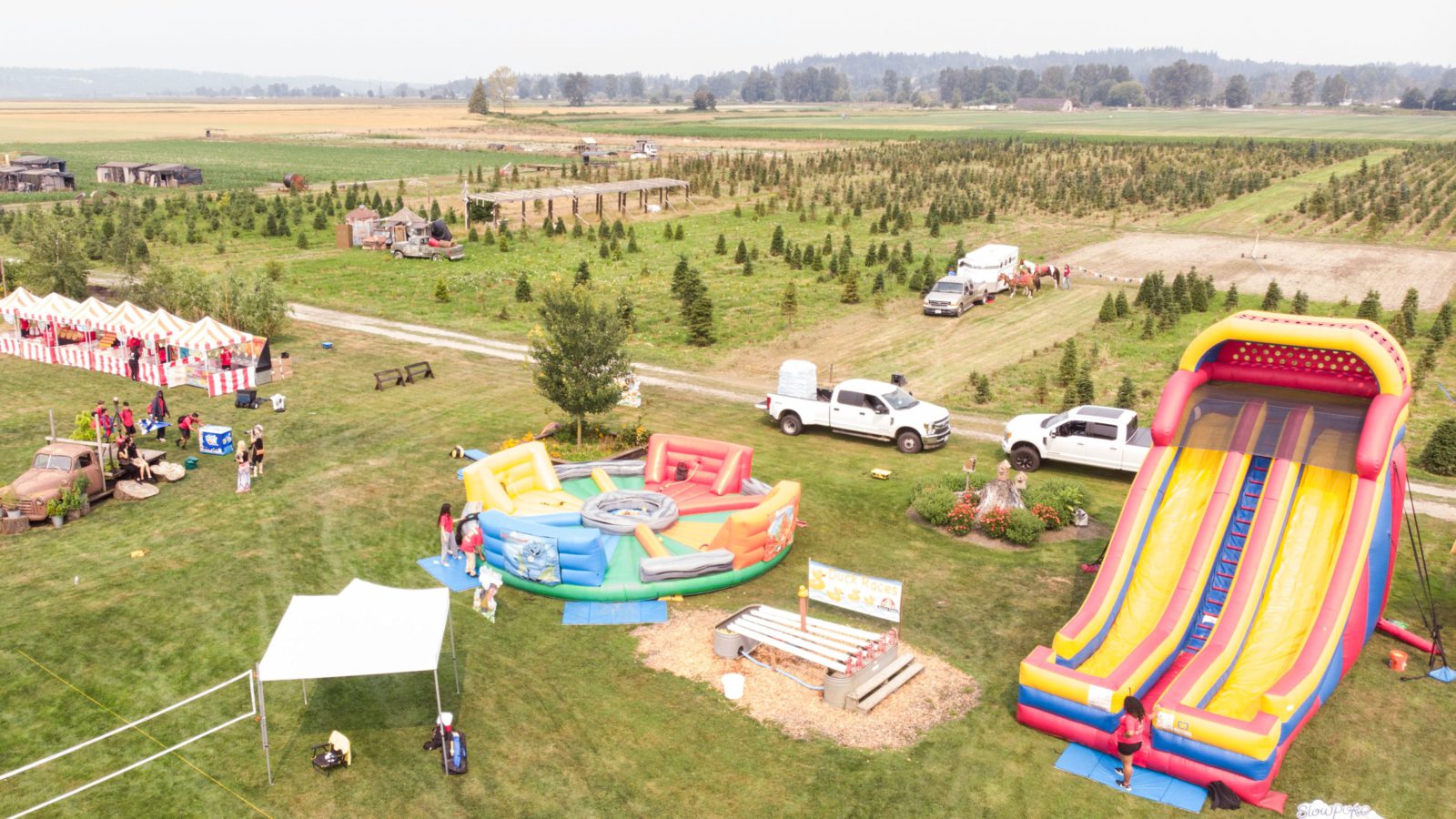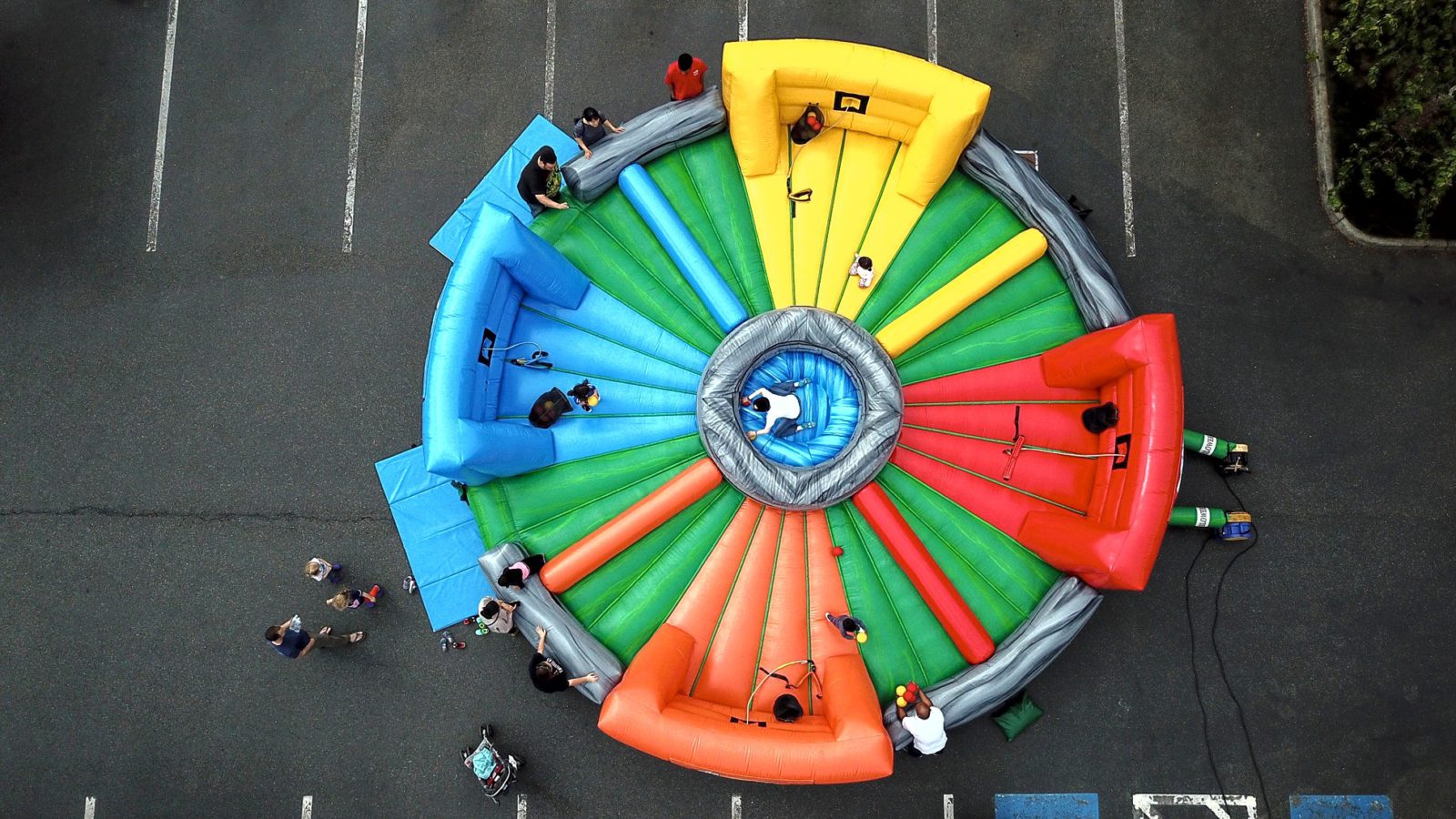 The board game Hungry Hungry Hippos has been a beloved classic board game since it's creation in 1978, has now transformed into a larger than life interactive inflatable activity for all ages to enjoy.
This four-player game puts guests to the test, taking the place of hippos in the game players are tasked with grabbing the most balls from the middle in a timed round all while being strapped into resistance bungee bands. The player to swipe up the most balls in the period of time wins.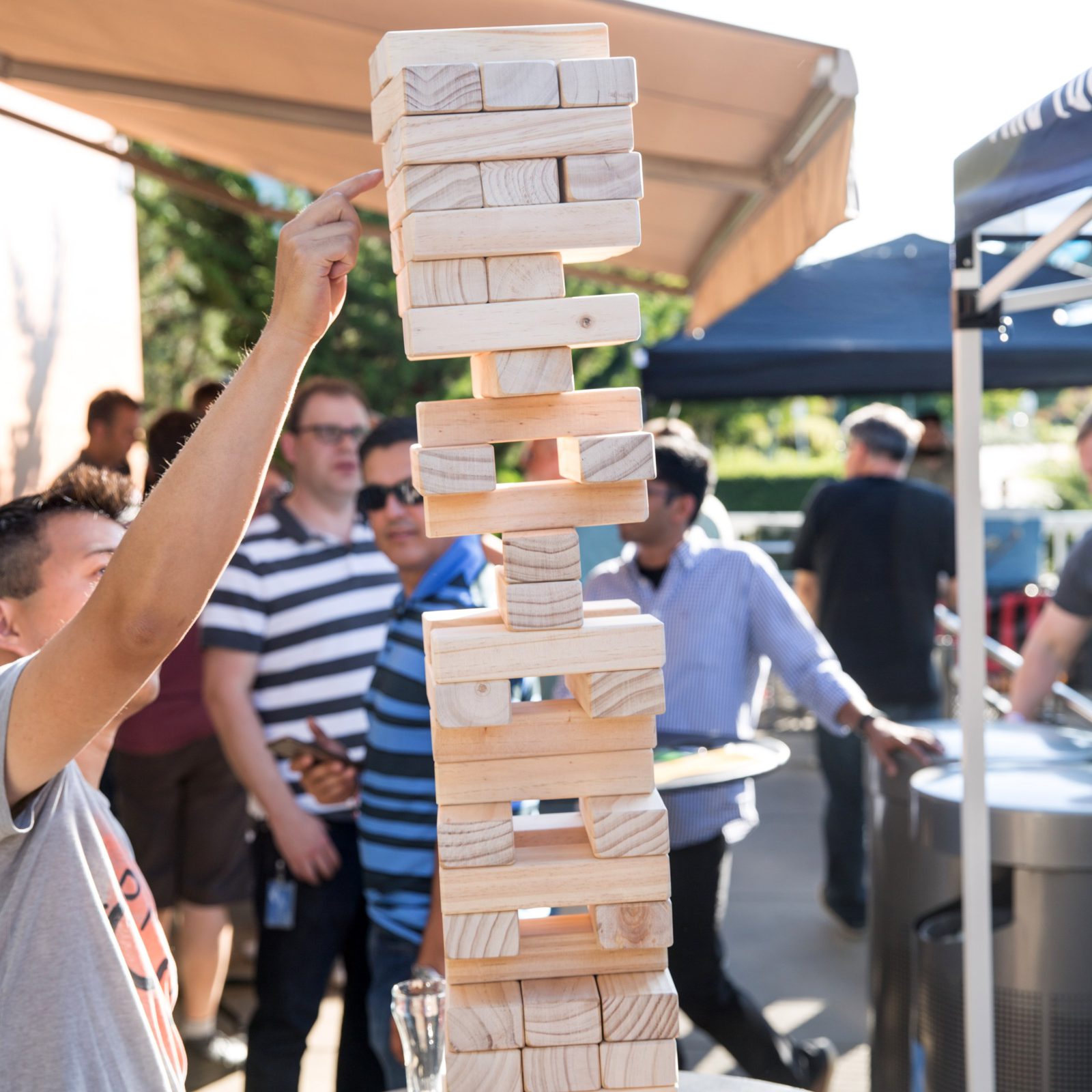 Take your Jenga skills to the next level with larger than life Jenga. Stacking up to five feet, giant Jenga is the perfect casual game to break up a dining space or beer garden at an event and add in some more entertainment. A great game for guests of all ages and a great game to watch unfold at an event.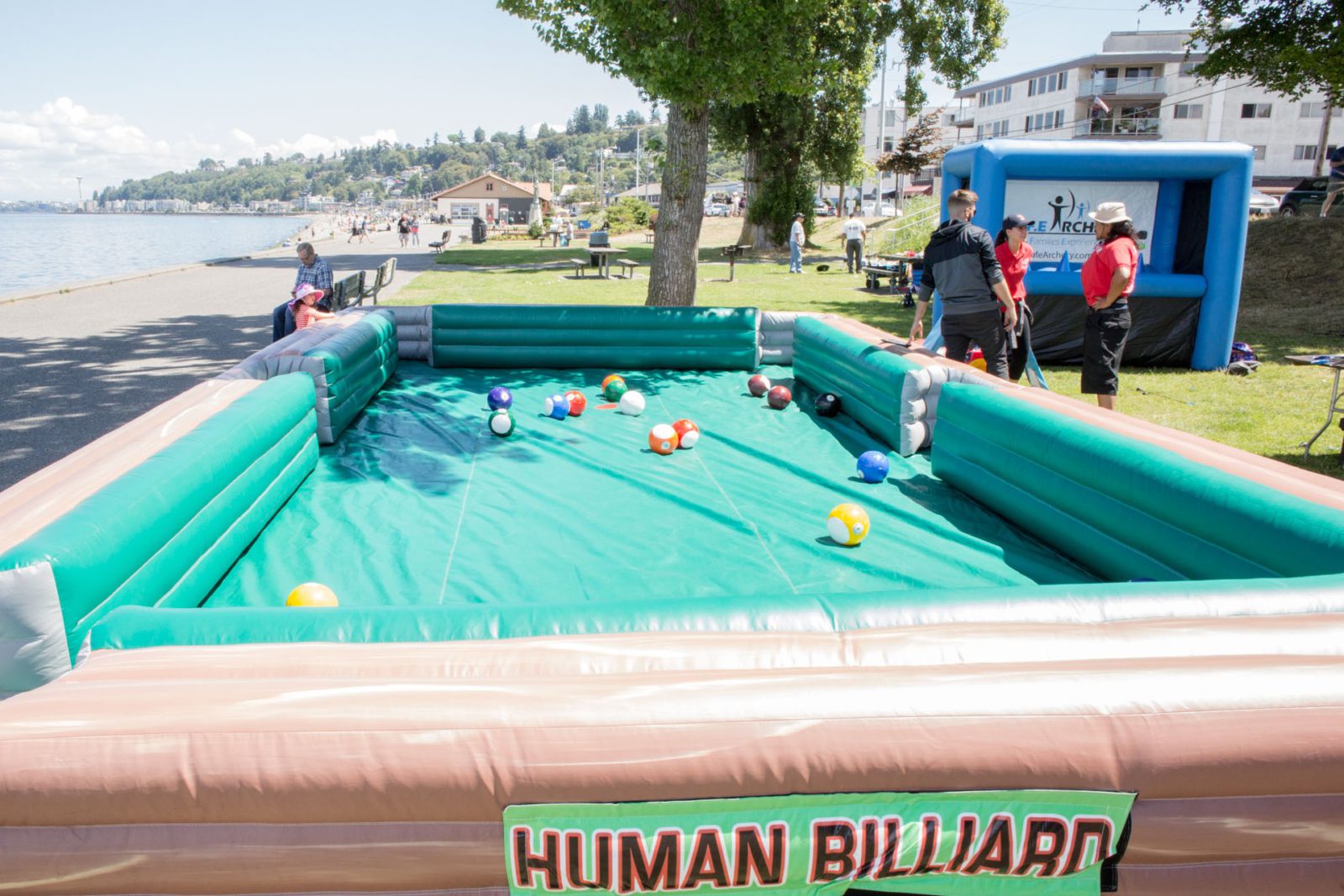 In addition to Human Foosball and the Hungry Hippos inflatable, now players have yet another larger than life game where they play the central role. Human Billiards in a new way with this interactive human-sized version.
Pool sharks and new players alike will have a blast with this unit! No pool cues needed, just bring your best footwork!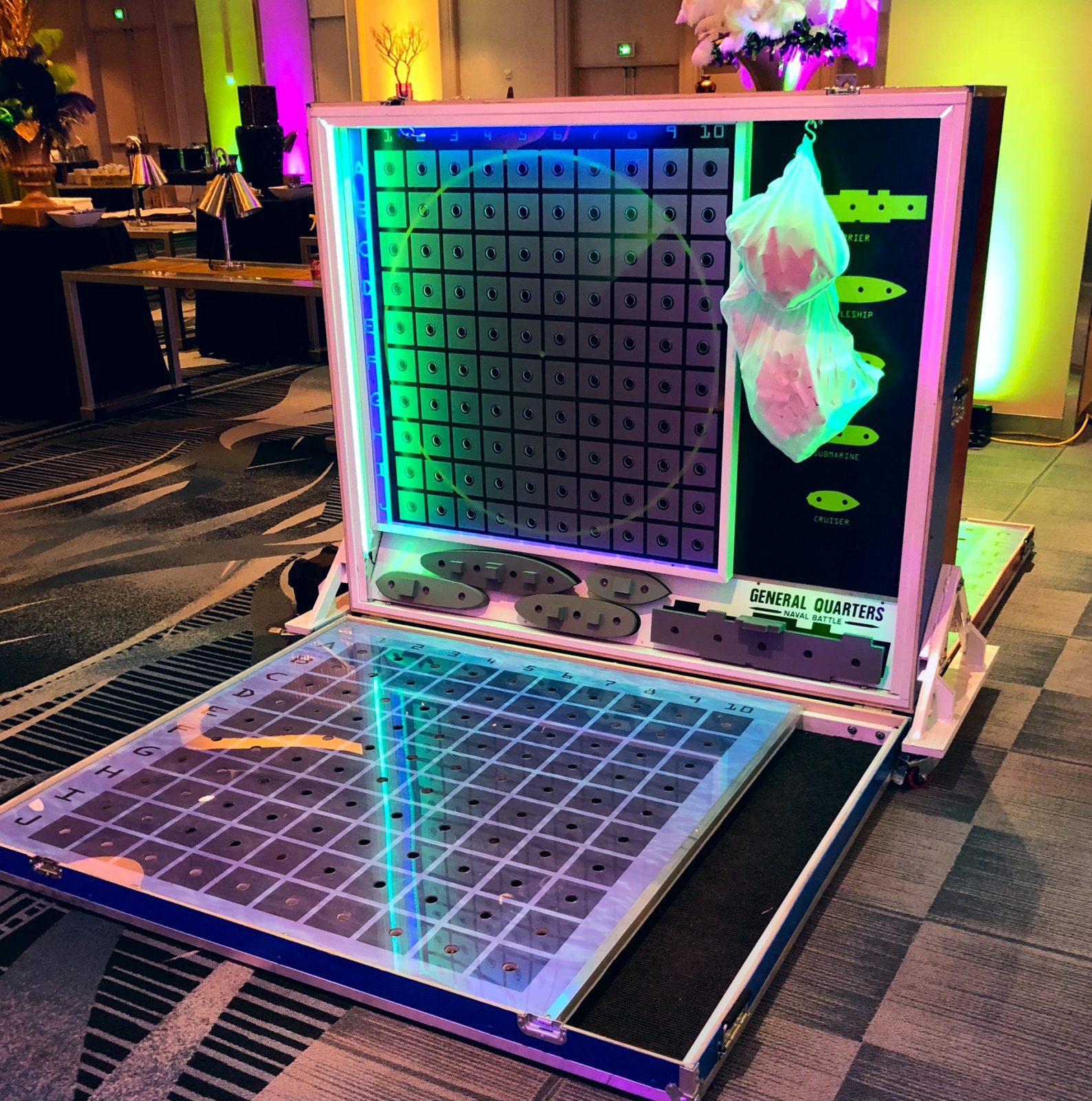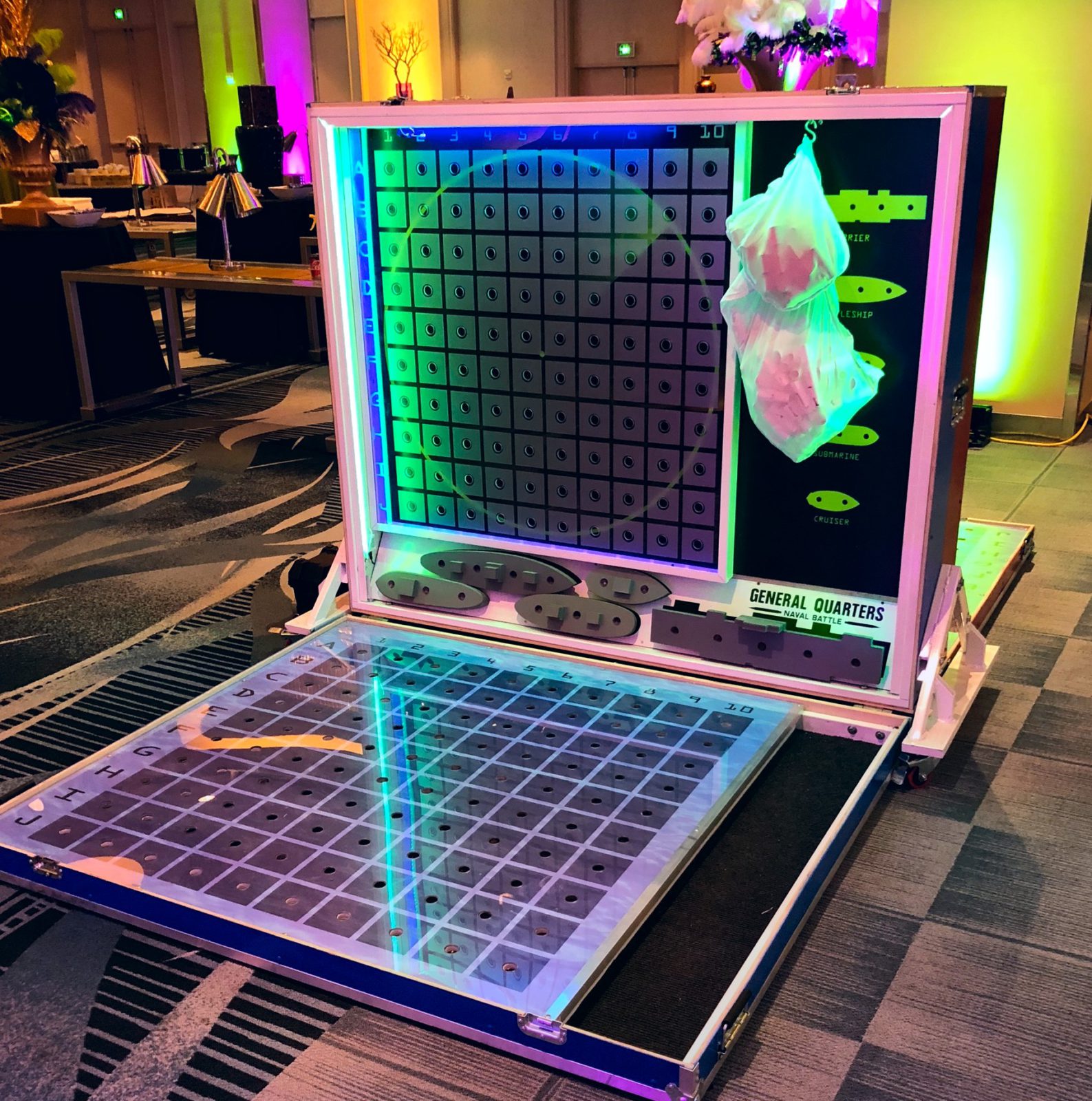 Battleship is a classic strategy-based board game that is close to the hearts of many as a childhood favorite. Now indoor or outdoor events can feature a throwback to the beloved game in a new and exciting way.
The LED Battleship game is larger than life Battleship board game that can be set up indoors or outdoors and allows players to play the game with sound effects and lighting effects just like the real-life game of Battleship.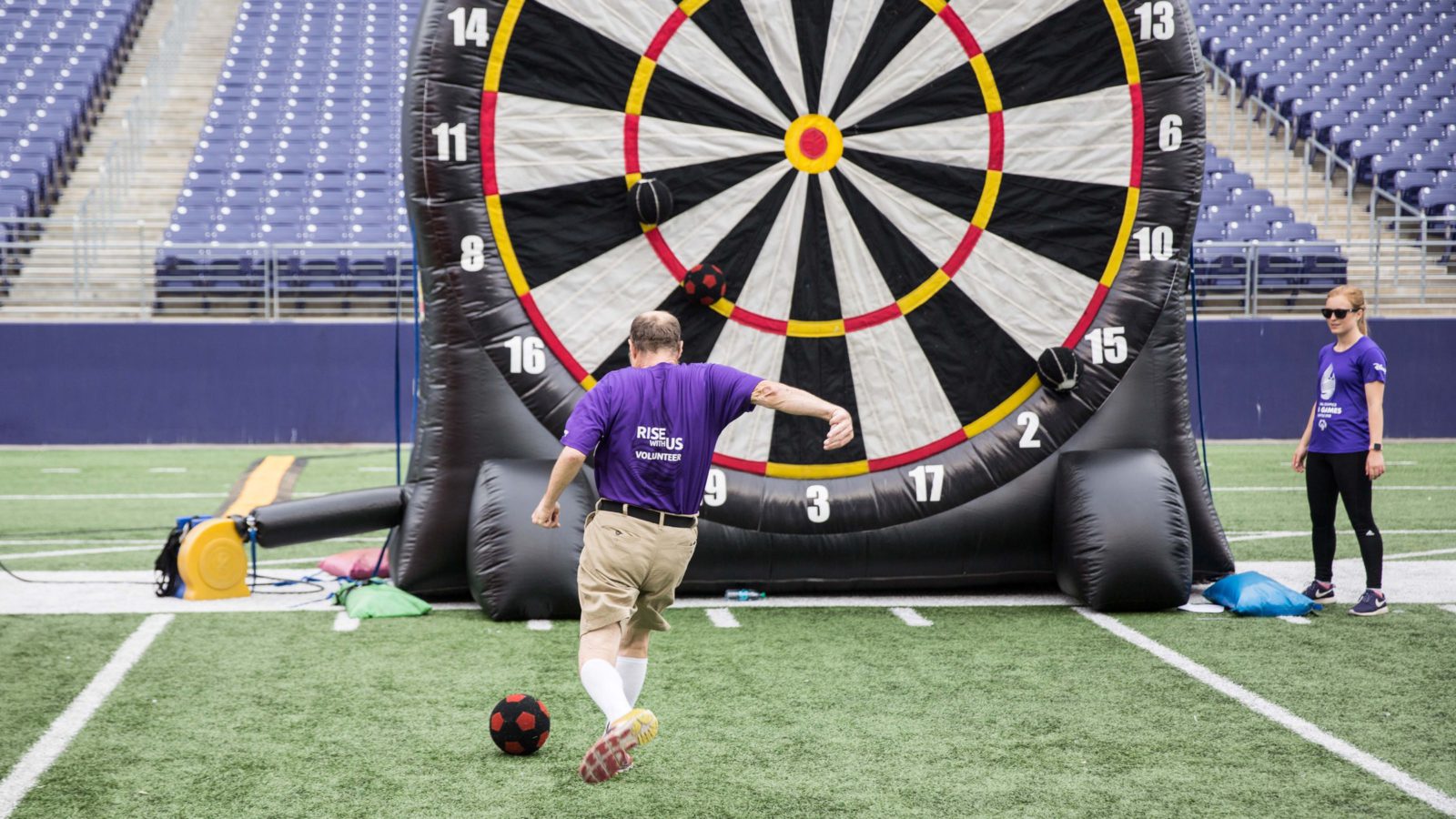 What is like a game of darts but life-sized? Soccer darts! For those who love a good game of darts but have a better kick than a throwing arm, you are in luck because if you can shoot a goal you can hit the bullseye in the soccer darts challenge.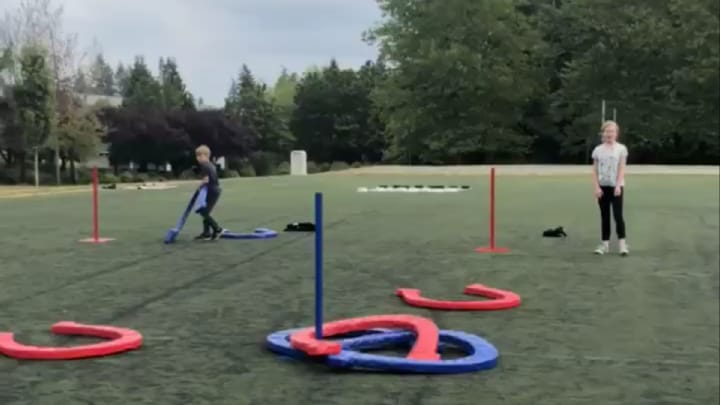 A game of horseshoes is fun and all, but the life-sized version of horseshoes will take the casual game of shooting horseshoes to the next level.
Host a giant horseshoe shootout or split into teams and total up the scores to see who has the best technique for shooting these larger than life horseshoes.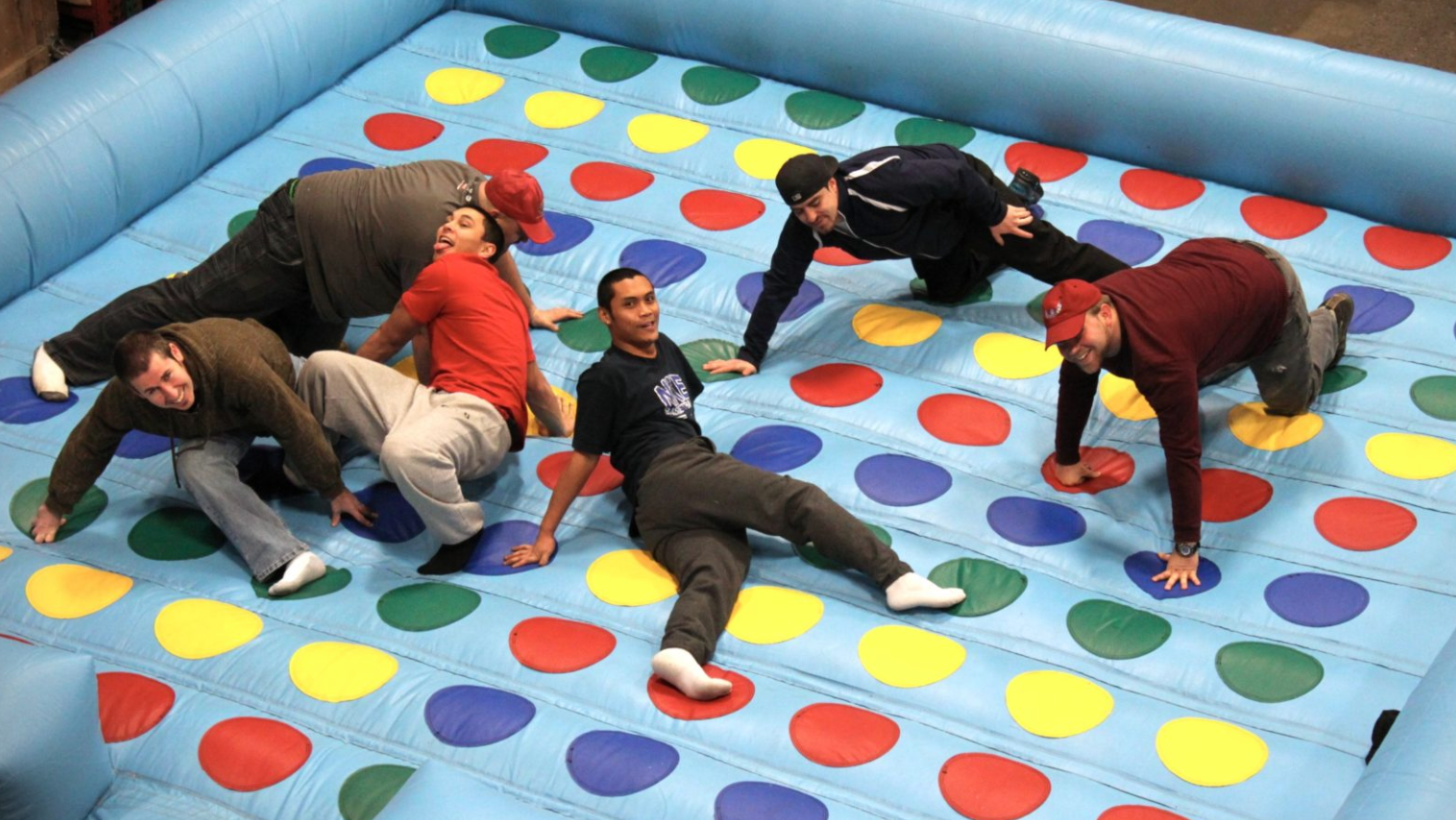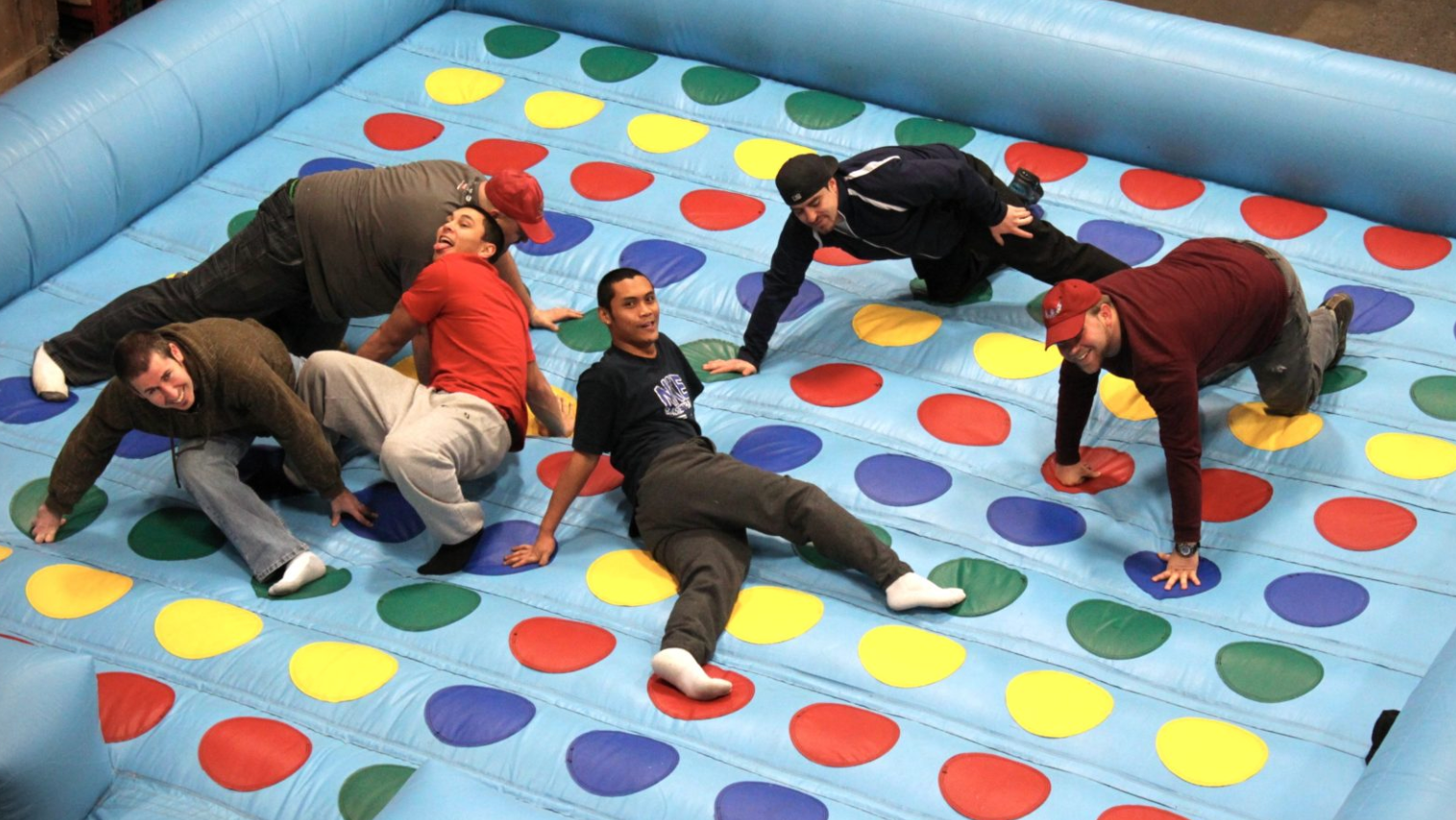 Everyone remembers the classic party game of Twister. The plastic white mat with the classic red, yellow, blue, and green dots with the dial that decides the next moves has made many party appearances throughout the decades.
This giant twister inflatable takes the game of Twister and creates a larger than life version this time with a comfy inflatable base instead of a plastic mat for more comfortable gameplay.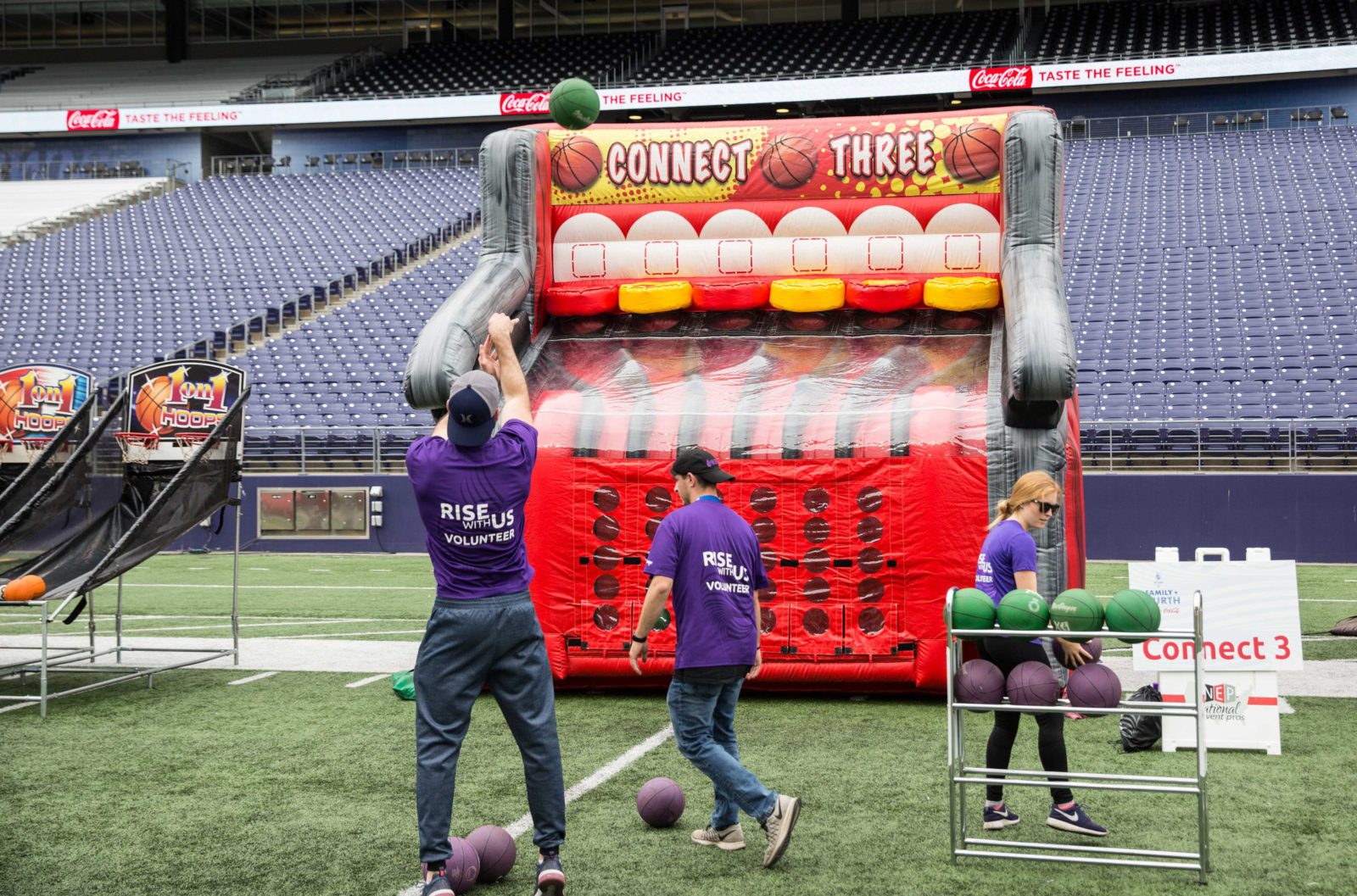 A take on connect four but with a twist. This fusion of a basketball hoop shootout and the classic board game of Connect Four brings us the Connect Three Basketball game.
Guests will have the opportunity to put their basketball skills to use in a head-to-head connect four-style shoot out, trying to get three basketballs to line up in a row and block their opponent from lining up their basketballs as well.
This fun indoor or outdoor group game is the perfect activity to ignite some friendly competition at your next corporate event, launch party, or fundraiser.