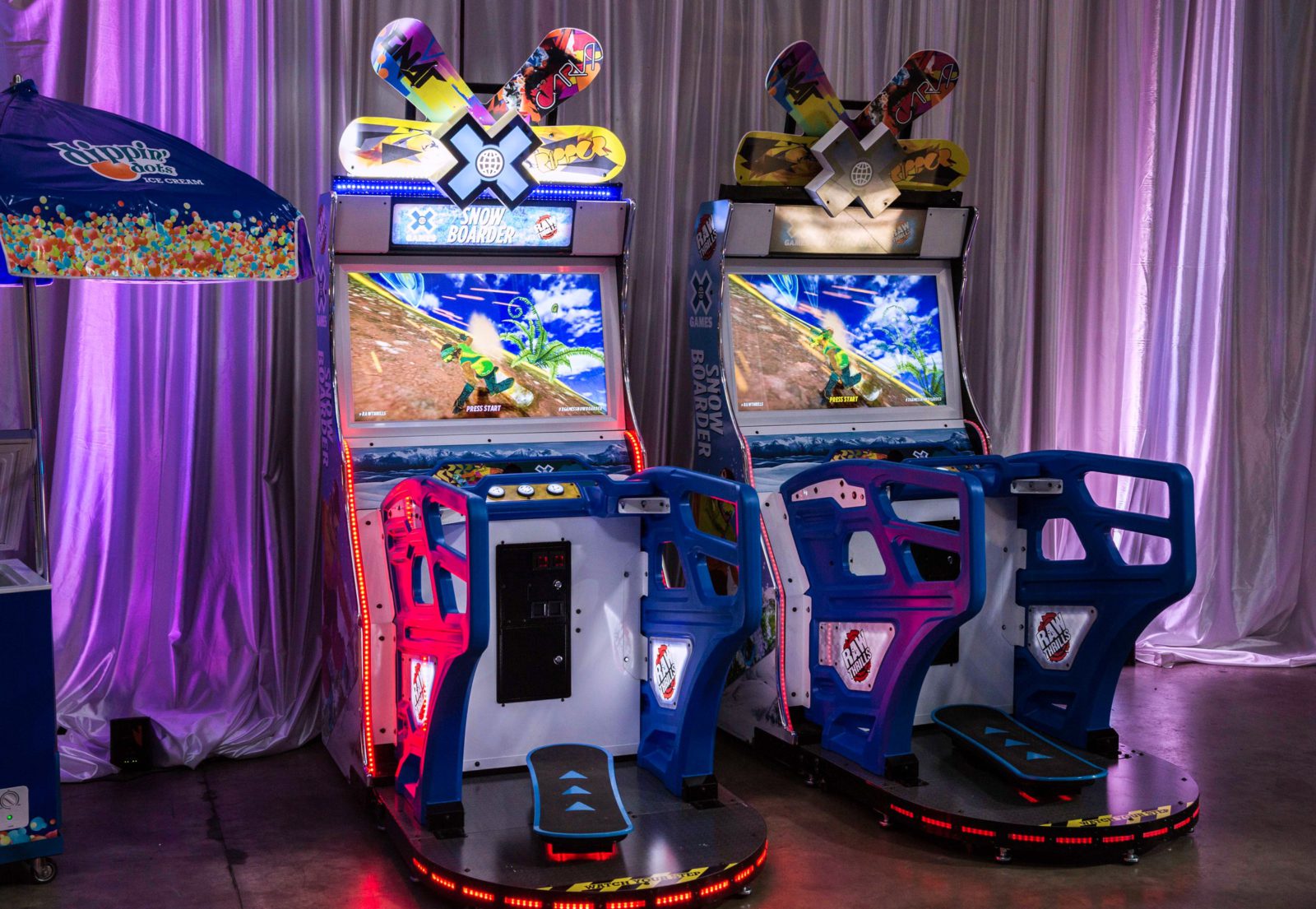 Indoor Snowboarding
Cost: $$
Space Required: ◼◼◼
Say what?! Your trade show booth is now the place for snowboarding, thanks to the Raw Thrills X Games Snowboarder game. No, this isn't a VR trick. It's a nuts-and-bolts arcade game that challenges players to the slopes while exercising their calves and testing their balance. Potential brand tie-ins: winter weather brands, vacation rentals, or cold weather coats and accessories, just to name a few.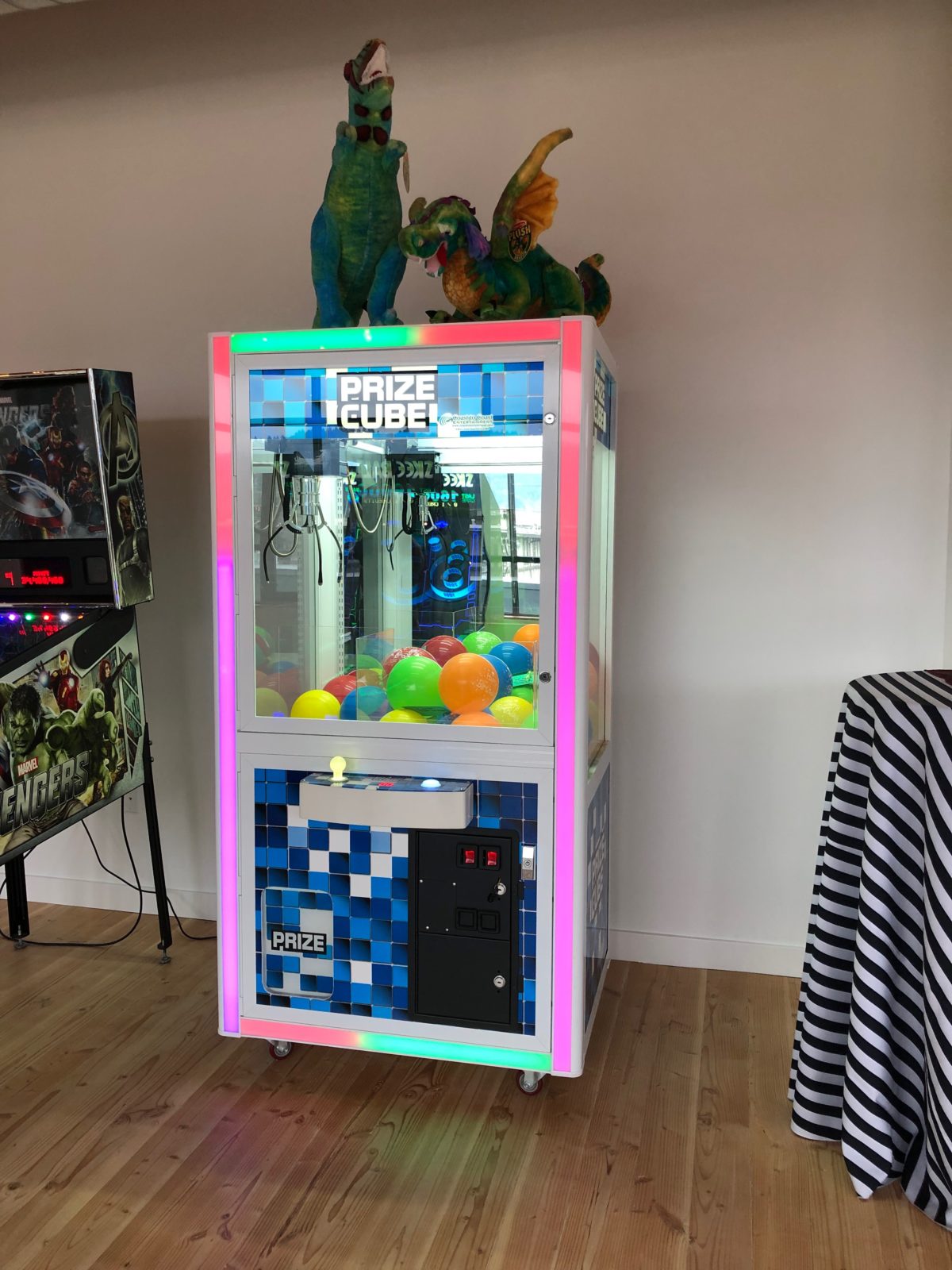 Clawing for Swag
Cost: $$
Space Required: ◼◼
Want to make customers clammer for those logo-emblazoned t-shirts and stress balls? Don't just give them away on a 6-foot table. Put them in a claw machine! Our claw machine takes up 76" x 31" of space but delivers attention-grabbing power like something much larger. Children at heart will be lining up to wear your logo on their chest or place it on their desk. Really want to spice things up? Include some high-dollar prizes in your claw machine as well, such as gift cards or cash.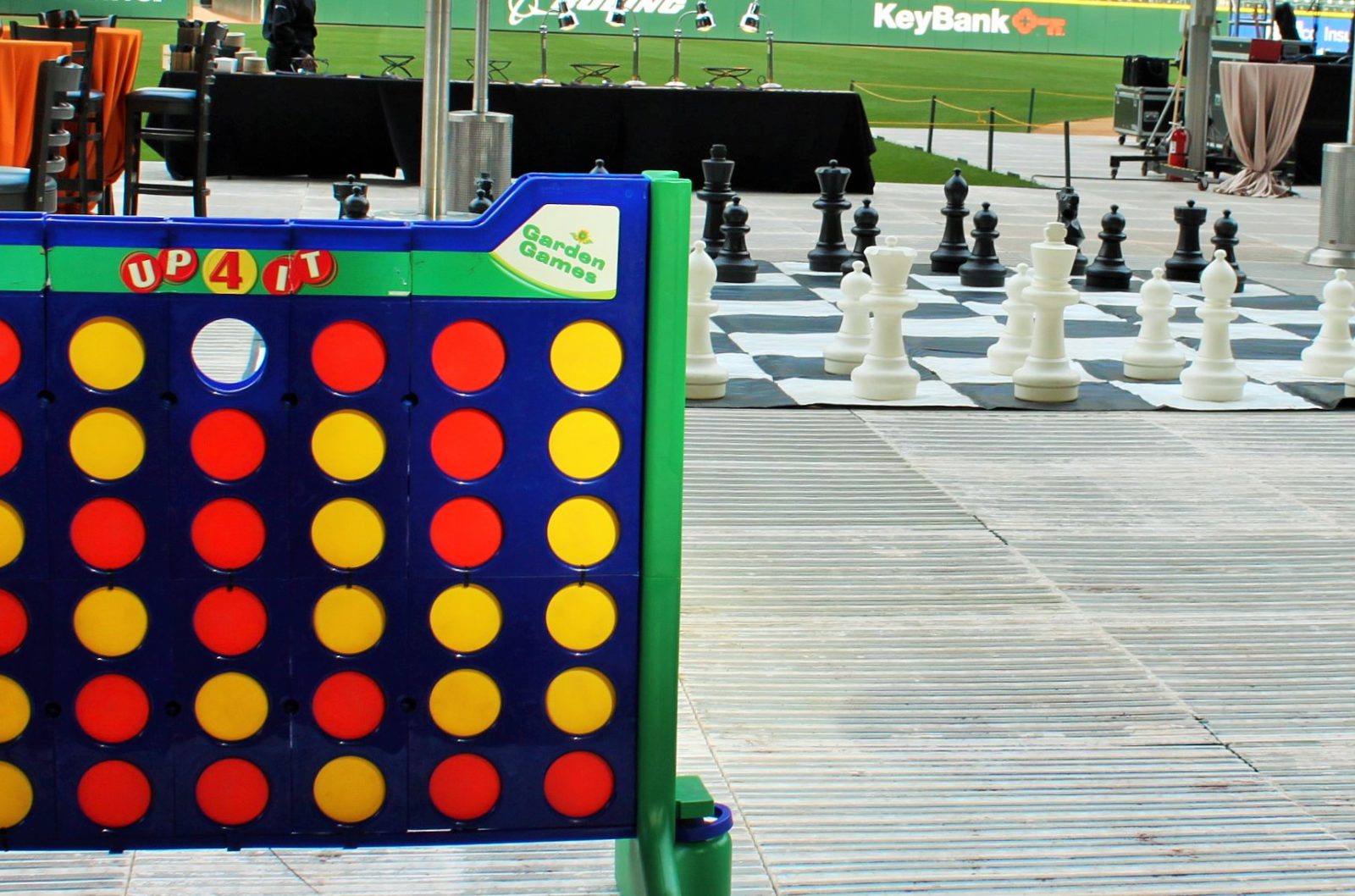 Cost: $$
Space Required: ◼◼
Want something fun to do while chatting with your next potential customer? Play them in a giant game of connect four! The huge game actually has quite a modest footprint. At 6' x 6' x 4', it's the perfect eye catcher for the traditional, small trade show space allowance.
Booth-in-a-Snowglobe
Cost: $$$
Space Required: ◼◼◼
We all know that people are more likely to desire something if it comes with a perception of being off-limits. Like a roped-off restaurant or a members-only country club, barriers to entry have a way of increasing demand. What's a trade show booth to learn from this notion? Tuck it away and challenge attendees to find it. Our 15-foot Snowglobe makes for a hilarious barrier to entry for an in-demand trade show booth. Filling the sphere presents an opportunity without limit. Create an undersea theme, a holiday motif, or any other theme relevant to your brand and catching to the eye.
The Trade Show Phone Reviver
Cost: $
Space Required: ◼
Here's a riddle: what's invisible, but impossible for the modern business person to live without? Power! Our courtesy phone charging station transforms a trade show booth into a life-saving pit stop. Simply plug it in and allow attendees to recharge their devices while they see all you have to offer. For some, that little bit of juice will turn them into customers, too.
Caricatures with a Catch
At the theme park, a good caricature could cost you $10, $20, or even more. At your trade show booth, the cartoonish artwork will be offered to visitors at an impressive price: $0. But there's a catch. Buried in each caricature is a reference to your product, service, or campaign. Perhaps the subject is wearing the pair of boots you craft, shown undergoing the service you offer, or enjoying the experience you provide. Need helping finding an artist? We've got you covered.
Onsite Customization
Cost: $
Space Required: ◼◼
If you sell a product your customers are already familiar with, onsite customization is a great way to turn their familiar experience into a personal one. Perhaps that's using foil stamping to add monograms to leather goods, a laser engraver to engrave personal photos into glass, or just an onsite tailor to make clothing fit visiting customers 10x better. It's a simple way of going the extra mile for your loyal customers.
Dunk the Networker
Cost: $$
Space Required: ◼◼
Nothing gets laughs like satire. Want to set the tone for your next trade show networking event? Rent a dunk tank and dress up an actor (or intern) like a power networker. The salesman tossing business cards and making endless pitches. Then invite guests to dunk him (and his hard sales tactics) away.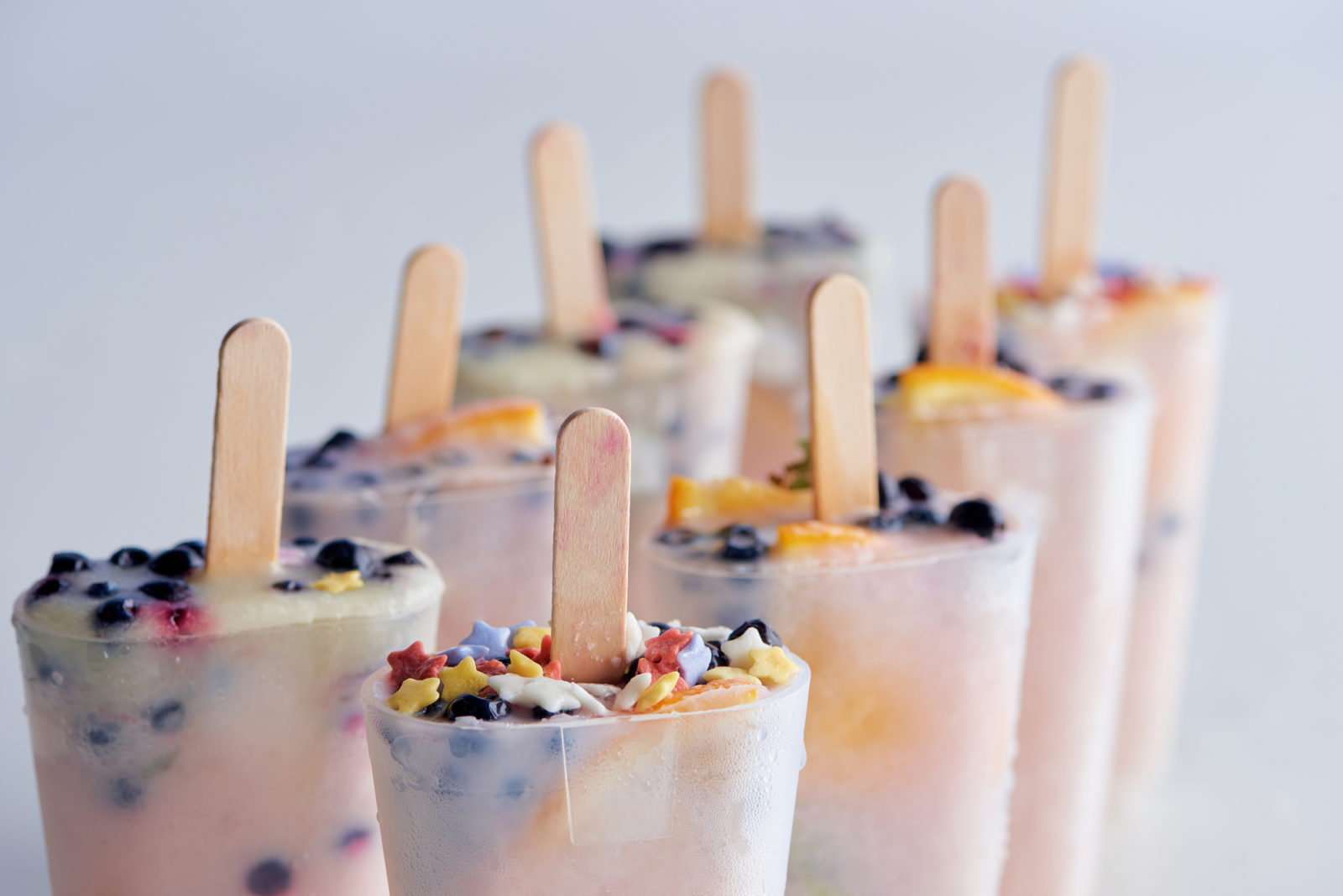 Free. Ice. Cream.
There's no sugarcoating this one. No, it's not a game. And it's not an activity. But it is destined to be the most beloved feature at the trade show. Bringing in an ice cream truck is the professional equivalent of bringing fast food for your kids' friends at school. No matter what else you have going for you, the gesture will make you a champion in their eyes. Enlist the ice cream pro's help in including a brochure or custom-printed cone wrapper with each scoop. No, it's not just for kids. Modern ice cream trucks aren't chintzy. Some are even gourmet or organic. Our professional event planners can connect you with a truck that will impress even the most refined of palates.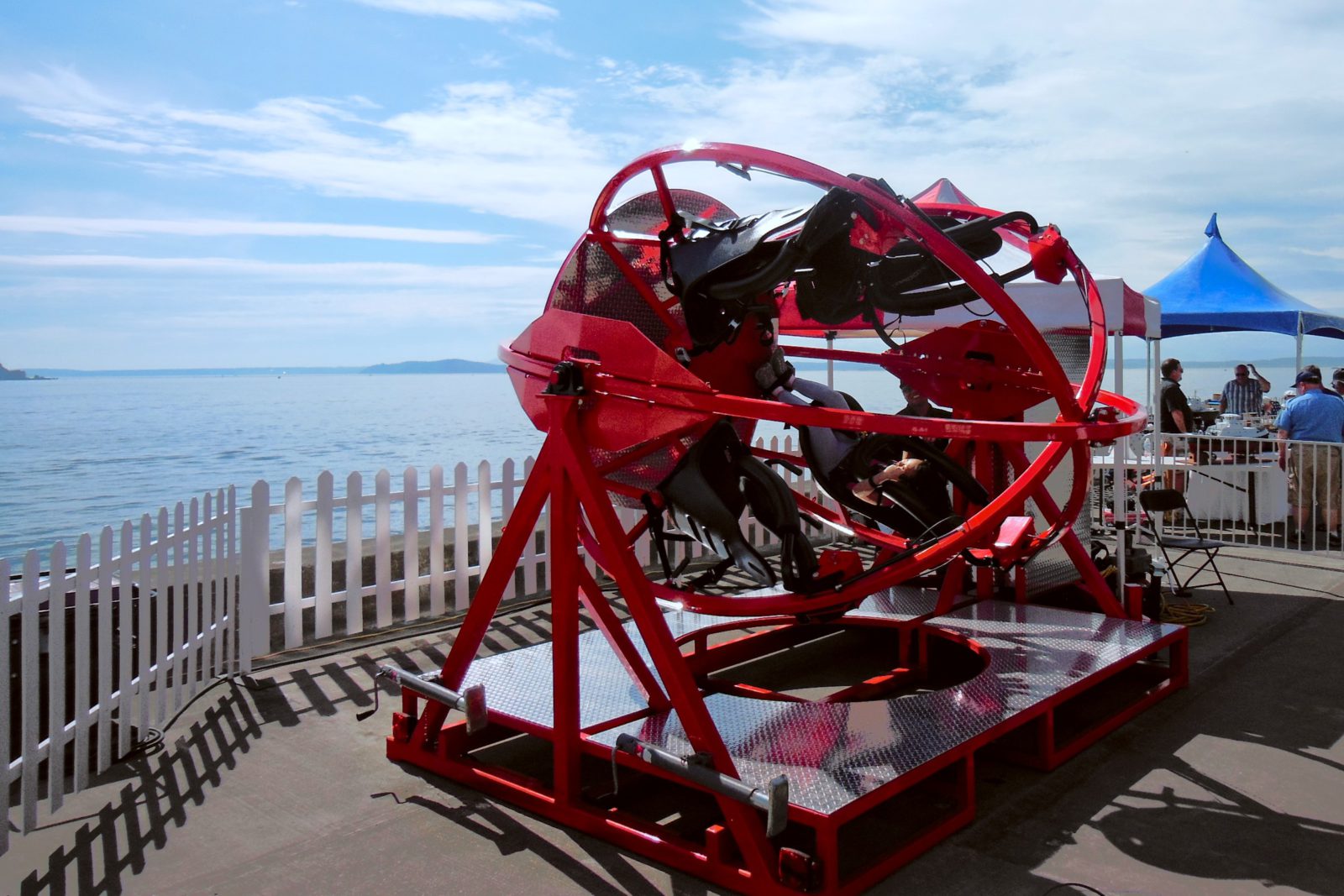 Cost: $$$
Space Required: ◼◼◼◼
Ever wanted to win the trade show? You know, guarantee that your booth will be the talk of the break time networking session. Well if you have 400 square feet on your hands, our 4-seat human gyroscope is as close to a sure thing as you can get. It sends attendees on a rip-roaring, fast-paced ride that will not only be seen above the other booths but heard, too. Your next challenge? Connecting the thrilling activity into a memorable connection for your brand.