A Rip-Roaring (& Rentable) Good Time
The classic staple of any country music video, western bar, and motion picture, carnival, state fair, or bachelor party is now available for any event that you feel needs a little extra laughter, adrenaline, competition, and a whole lot of good memories.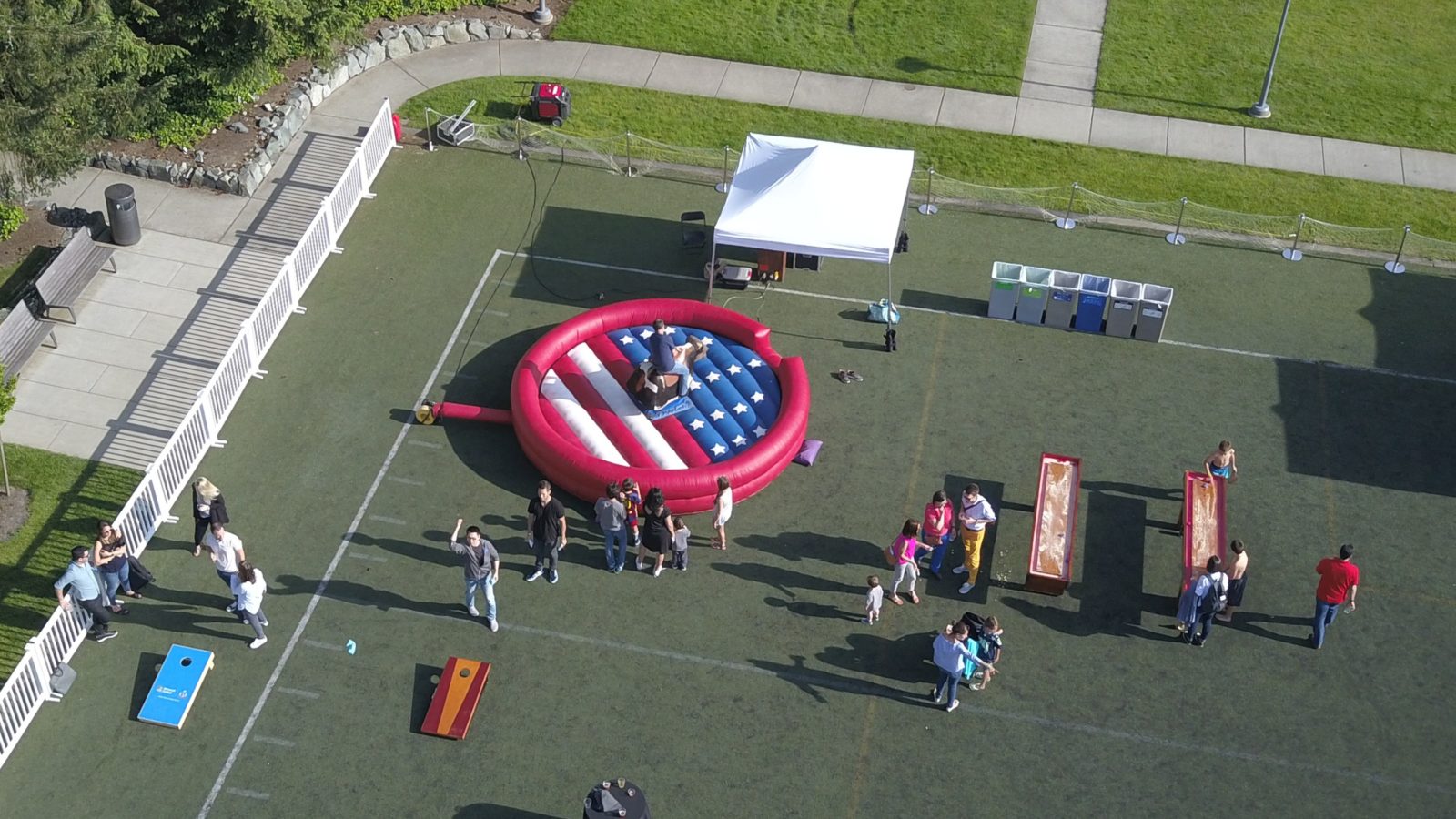 Any venue in San Francisco that your heart desires, our team will deliver, load in, assemble, safety check, supervise during the event, and finally tear down our mechanical bull event rental as well as any other event rental item that you can think of. Our event planners can safely say that our mechanical bull is just as fun to ride as it is hilarious to watch other guests attempt to ride.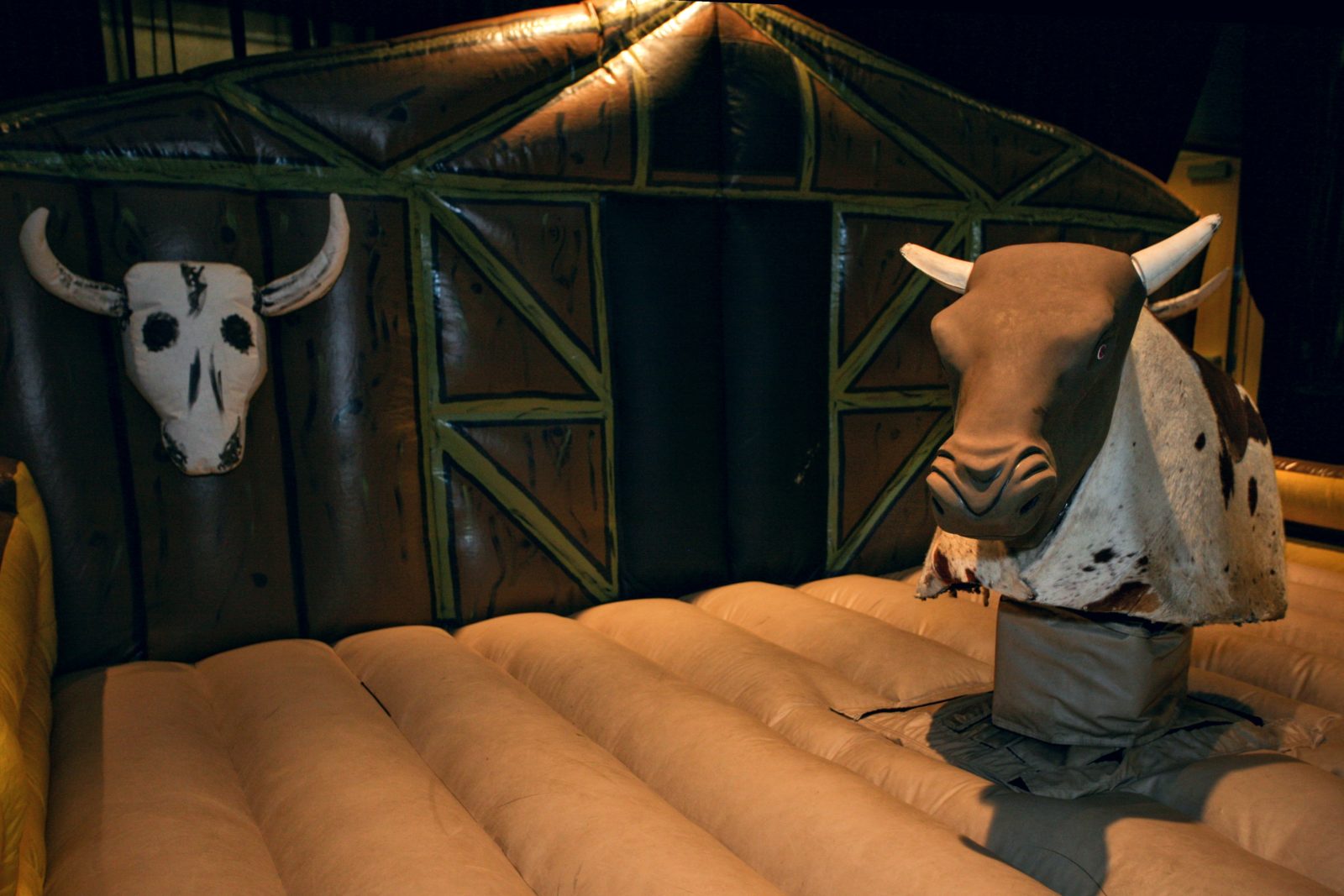 ---
Western Themed San Francisco and Bay Area Event Rentals
For those who want to kick it up a notch and go for a fully themed western throw down at your next event, our event planners have an entire warehouse of great western gear that will suit any occasion or venue that you have in mind.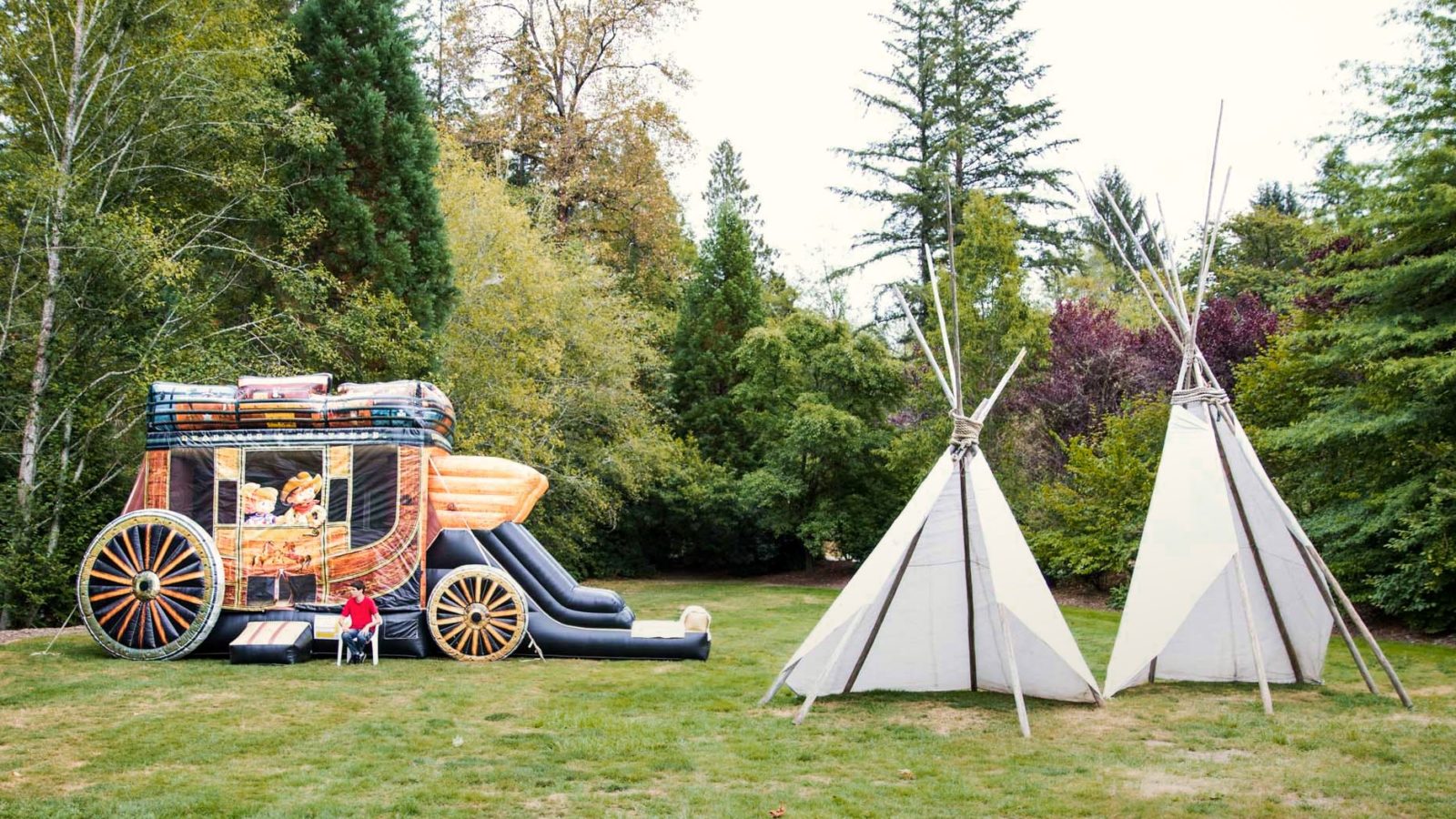 We have been pioneering the wild west of event rentals for well over three decades and our collection for western themed rentals range from everything to saloon door swings, to our 24-foot western themed dual lane inflatable slide, a 16-foot inflatable stagecoach, and even an Instagram worth saloon style backdrop for your event photos and photo booth of choice. Don't see something you like? Our event planners can customize, create, or order anything you see fit for your next event.
---
Entertainment for San Francisco Weddings, Parties, and Conferences
Bachelor or bachelorette celebrations or at the wedding reception itself the thrill and hilarity of a mechanical bull event rental is a perfect addition to any event regardless of what your theme may be. Even at your next corporate conferences, who says you can't ride a bull in a suit?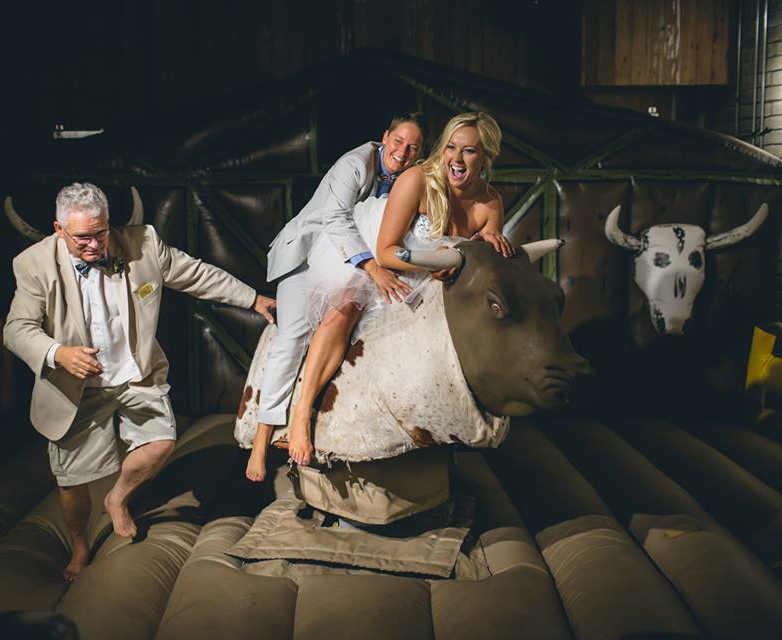 Nothing draws a crowd of engaged and care free guests cheering and laughing like a mechanical bull in full rodeo mode. How long can you and your co-workers ride the mechanical bull? Need to unleash a little friendly competition? Out mechanical bull wranglers got you covered.
---
That's a Lot of Bull
Our event rental selection is certainly no bull. From our traditional mechanical bull event rental, complete with our American flag emblazoned inflatable landing pad, lifelike hide, and a dynamite-themed operations panel. If your event needs a little bit more we have The Deluxe Western Corral Mechanical Bull Rental which comes housed in a giant twenty-by-twenty feet inflatable barn.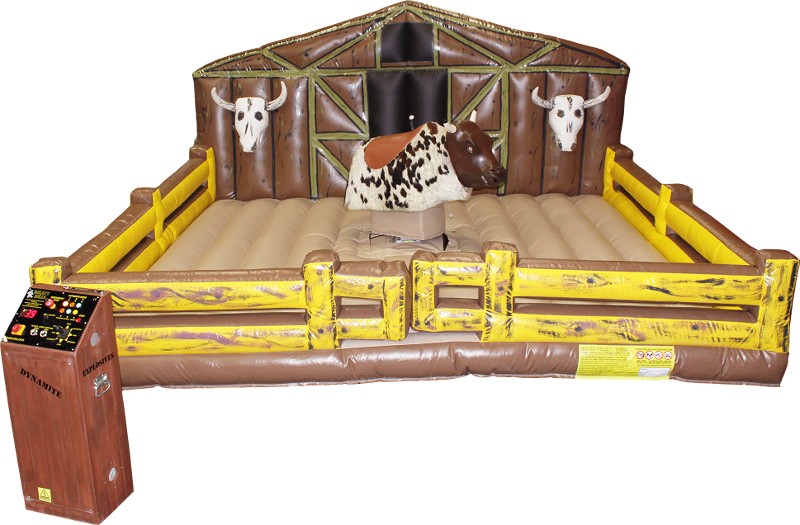 Want a little bit more of the action but don't want to ride our mechanical bull? We also offer our Rope the Bull party rental which is perfect for children of all ages or the kid at heart. Guests are given a ring of rope and have to put their rodeo skills to word trying to ring the rope around the tricky bull's neck. This event rental can entertain 45 guests an hour and is a great addition to the mechanical bull to satisfy all levels of trill at your next event.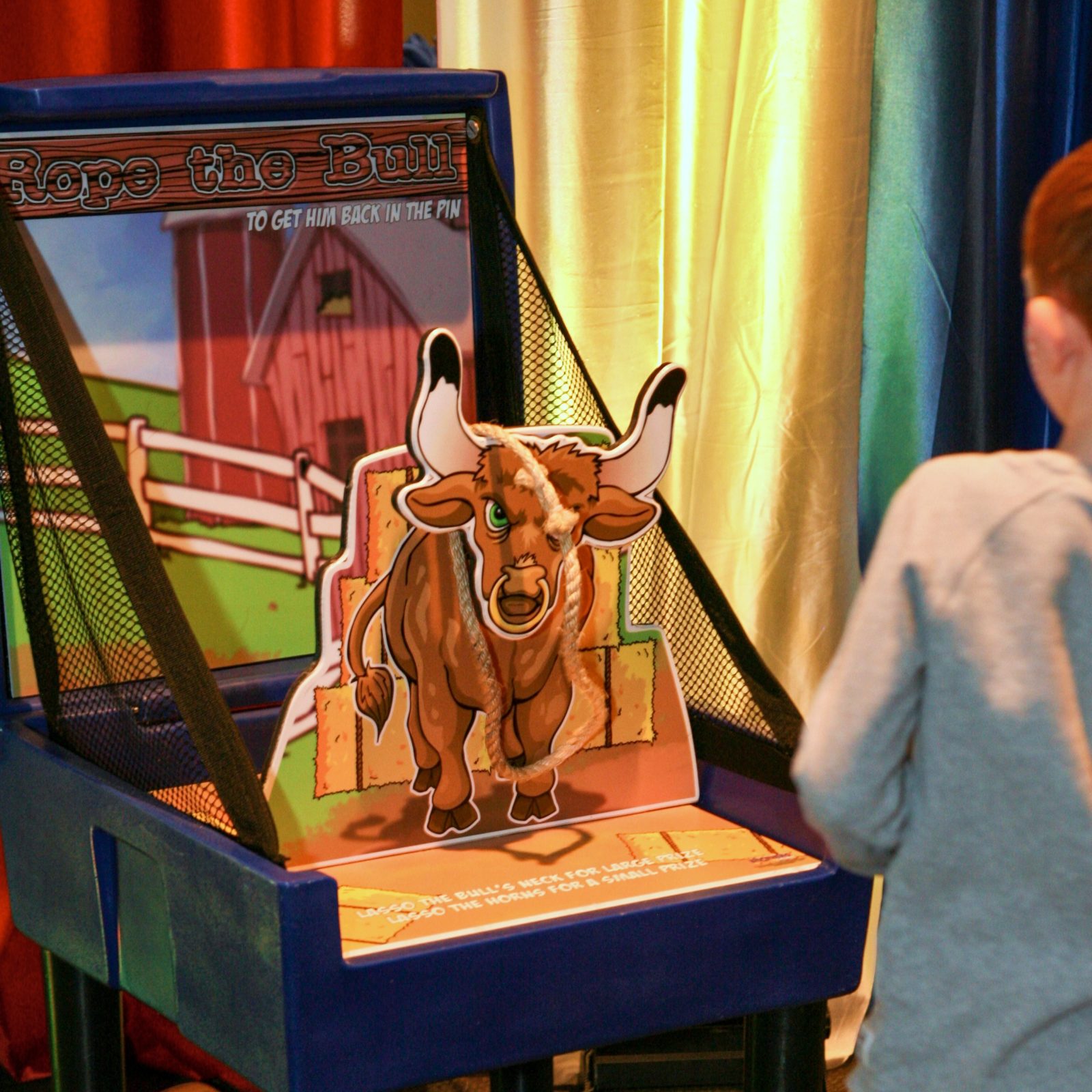 ---
Professional San Francisco and Bay Area Delivery, Setup, and Teardown Every Time!
Apart from our thirty years of full service event production we are also professional bull wranglers, well mechanical bull wranglers that is. We deliver our prized mechanical breeds all over San Francisco and the rest of the bay area. Along with delivery to your venue of choice, our mechanical bull handlers will do a full-scale safety and equipment check to make sure your guests only receive our finest and high functioning mechanical bull. We also offer technicians to be staged at the mechanical bull to supervise and make sure things run smoothly. Our event planning overs a variety of other staffing options for your event from technicians, photography staff, parking, and more. When the party is over whether you need your mechanical bull just for an hour or a multi-day event our mechanical bull handlers will pack up, and leave the venue without a trace.