Get Ready to Make a Splash in Austin
Few things compare to Austin in the spring and summer time. When the snowy winter melts away and the people of Texas welcome sunshine and the warm weather back with their famous southern hospitality and one thing is for certain, people make the most of their summer get-togethers. Summer is a time to celebrate the simple things in life, good company, good food, and amazing weather. Of course, the summer weather also brings back the perfect opportunities to enjoy a warm weather classic, the dunk tank. With all the advances in modern entertainment from arcade games to virtual reality, there is still something about soaking a friend, co-worker, or boss that never gets old and always manages to withstand the test of time. The timeless and hilarious appeal of the dunk tank will always live on but our collection of dunk tanks have been upgraded to bring more to the table than just their timeless appeal. In fact, Dunk tanks since their hay days have gotten a makeover, their now safer, more engaging, and most of all more cost-efficient than ever. Our dunk tanks can be delivered, set-up, tested, and supervised at any event in the greater Austin area and beyond and we are more than ready to make a splash with you and your guests.
---
The Timeless Joy of Soaking Your Boss
You would be surprised how often a dunk tank could fit perfectly into your next company events, even the more casual ones. Because who doesn't want to dunk their boss? Need to blow off some steam after a massive deadline? Host an all-hands meeting with a surprise dunk tank. Nothing bonds team together than sharing in some laughs and soaking the team after a long round of hard work.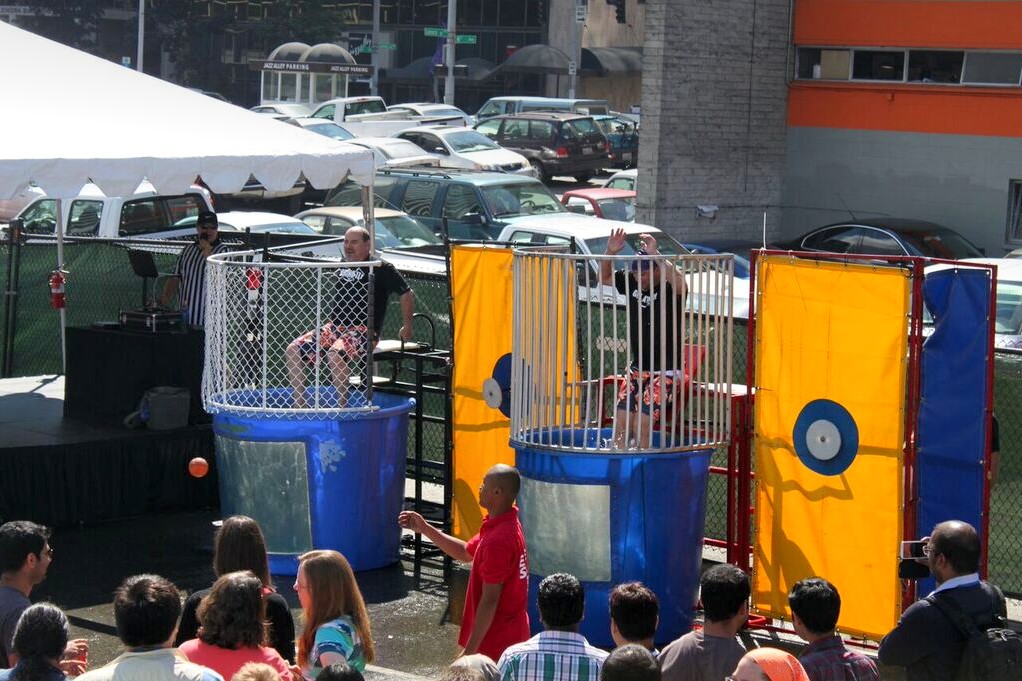 Need to break the ice at a networking event? A surprise dunk tank can do just that and more. Talk about making a strong first impression. Get the crowd going at your next fundraiser or launch with a healthy competition and the addition of a dunk tank. There are so many uses for these hilarious games outside of your classic carnival or company picnic and the laughs and memories that come with are priceless.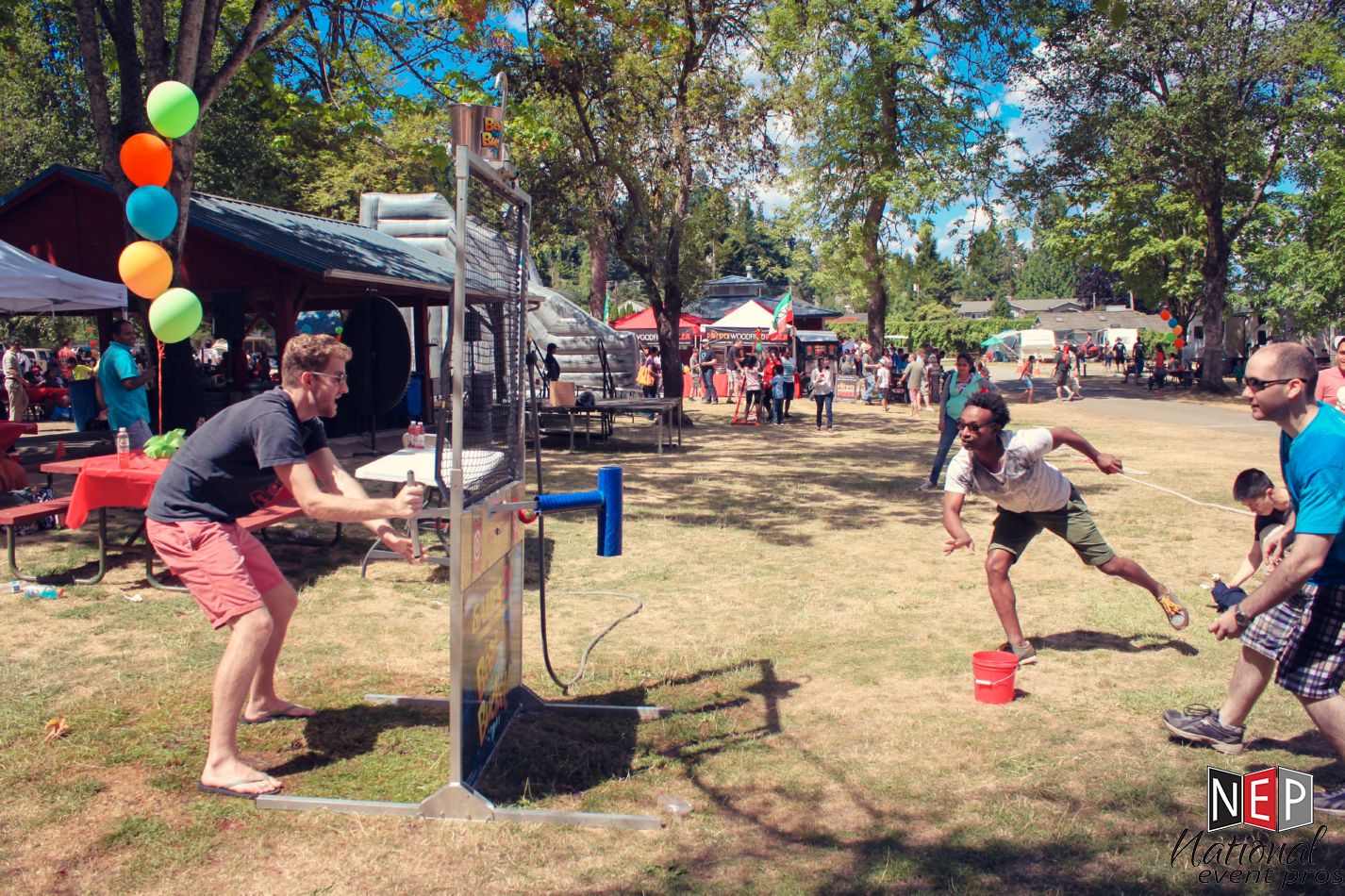 With our Beat, the Bucket rental guests can go head to head in a battle to prevent getting dunked first with another player. Other heads to headwater and dunk tank experiences include our classic Deluxe Window Dunk tank, Our Hydro Blasters are perfect for those wanting to face off in the ultimate water blaster shootout, and of course there is our Big Splash which connects giant water-filled bucket to a target for those who are really trying to practice their aim on their unsuspecting opponents. The sky is the limit for the warm weather fun to be had at your next event whatever the occasion may be.
---
Dunk Tank Party Rental Delivery & Setup for Austin and Beyond!
Our warehouse is stacked to the rafters with over three decades worth of interactive water games. Our collection is full of everything you could ever need for a fun-filled and soaked summer picnic, corporate event, networking event, or fundraiser. Our venue booking specialists can secure the proper permits, find you the best venue for your needs, and even handling your parking situation.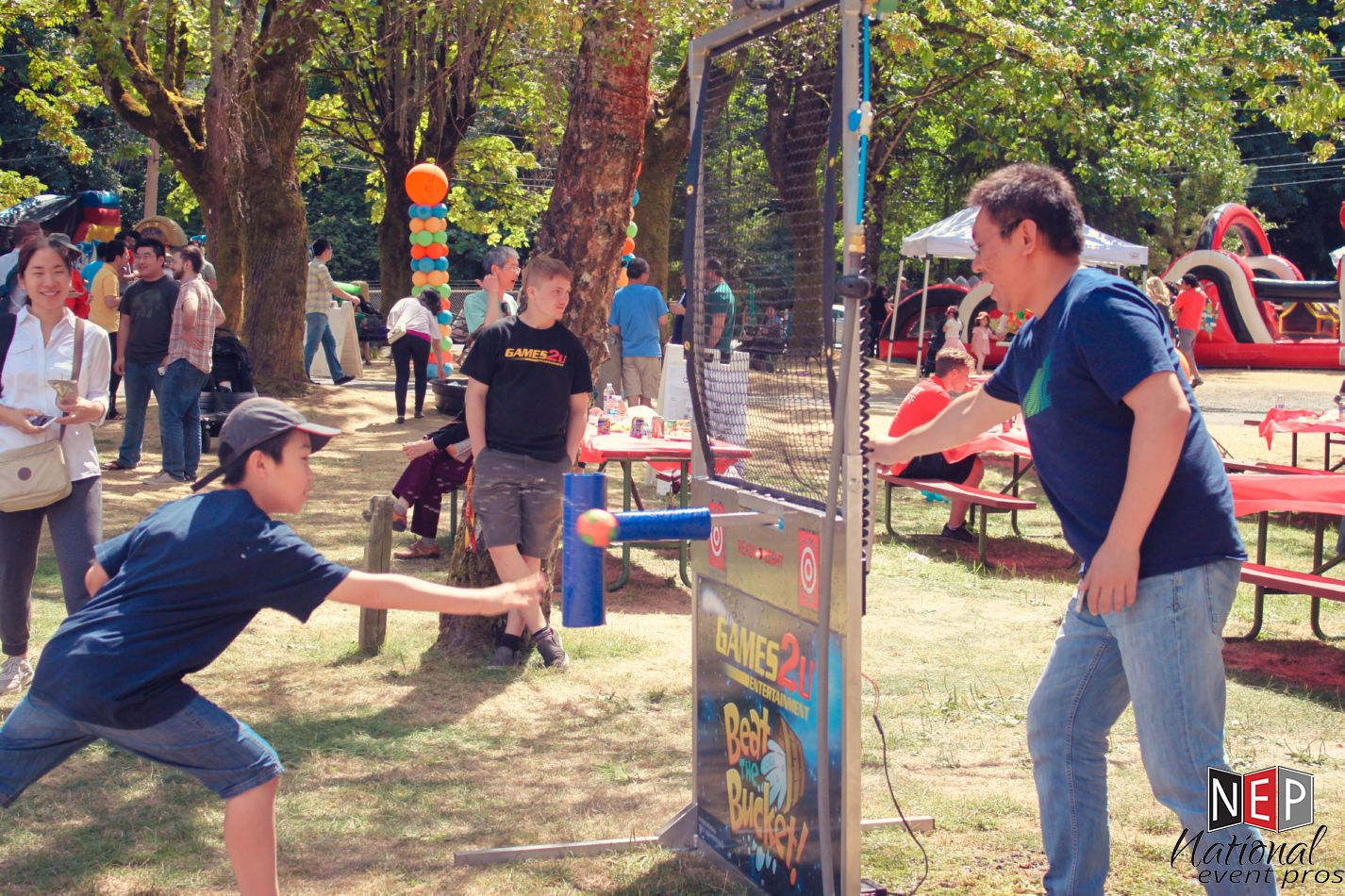 Our team can deliver to any event, any location near or far, install, safety check, supervise, and clean up any dunk tank or interactive water rental for any occasion. Whether you need a dunk tank in a pinch for a downtown Austin event, or for multiple day events in Georgetown, or for a week-long conference in San Antonio, our team has your back.
---
Weather, Water, & Other Considerations
Making sure the conditions are right for a dunk tank is crucial for overall enjoyment. Whether its sunny at your outdoor venue or a little bit too chilly our team has many ways of making sure the dunk tank festivities go on without a hitch rain or shine. Our team can do it all from installing temporary flooring to protect the venue's indoor floors, having a heated patio station for guests to dry off and warm up, or making sure there is plenty of towels to go around our team has dunk tanks down to a science.