Sky-High Mobile Entertainment for Austin and Beyond
Take the next all-hands meeting, corporate event, company picnic, or fundraiser to brand new heights with our giant mobile zip line!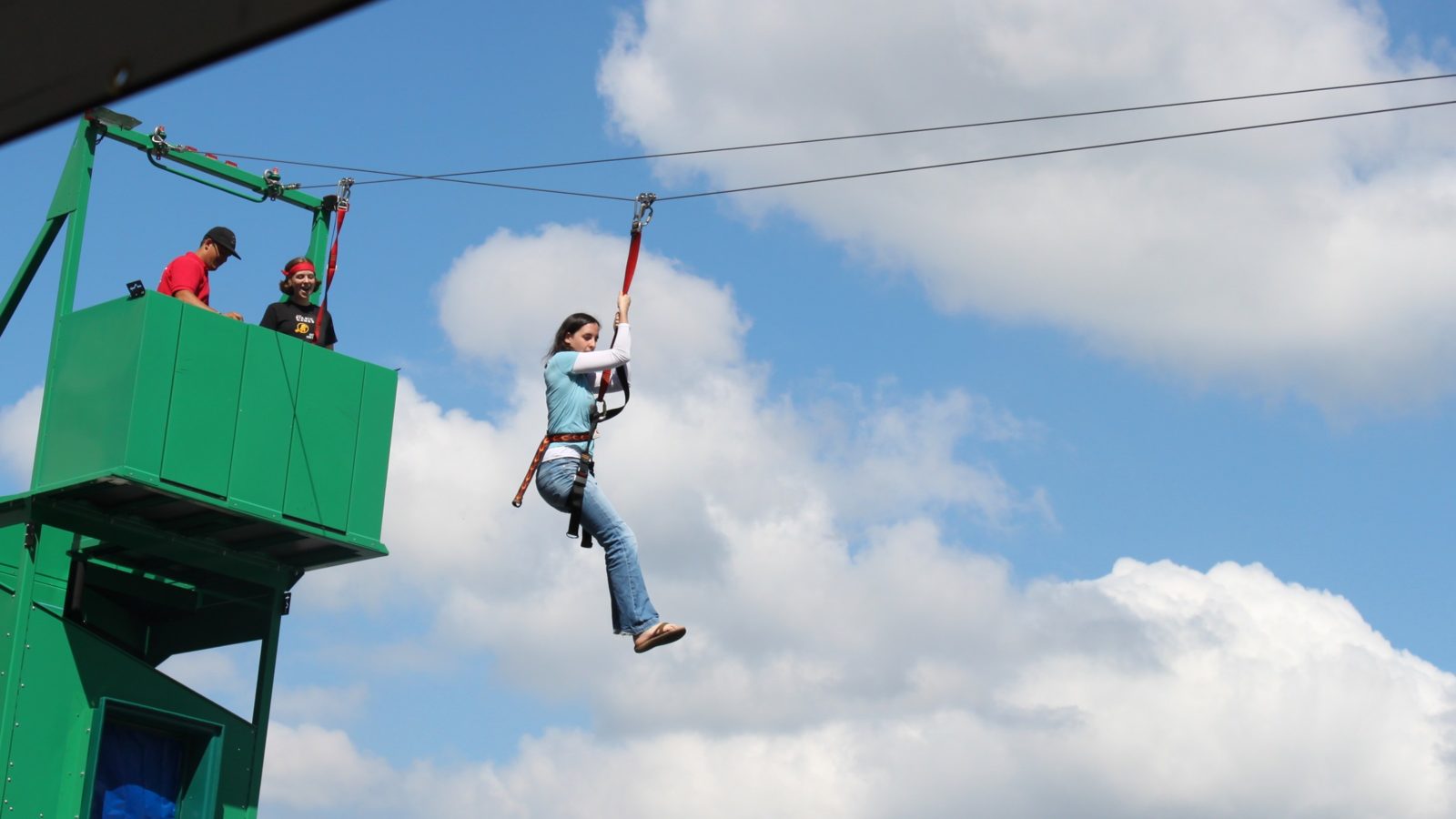 Our mobile zip line is not just any zip line it's one of the west coast's only mobile zip line rentals. Not only that but our zip line can entertain about 100 guests per hour, and requires open space of 250′ × 20′ × 34′ and a 20A/240V electrical outlet.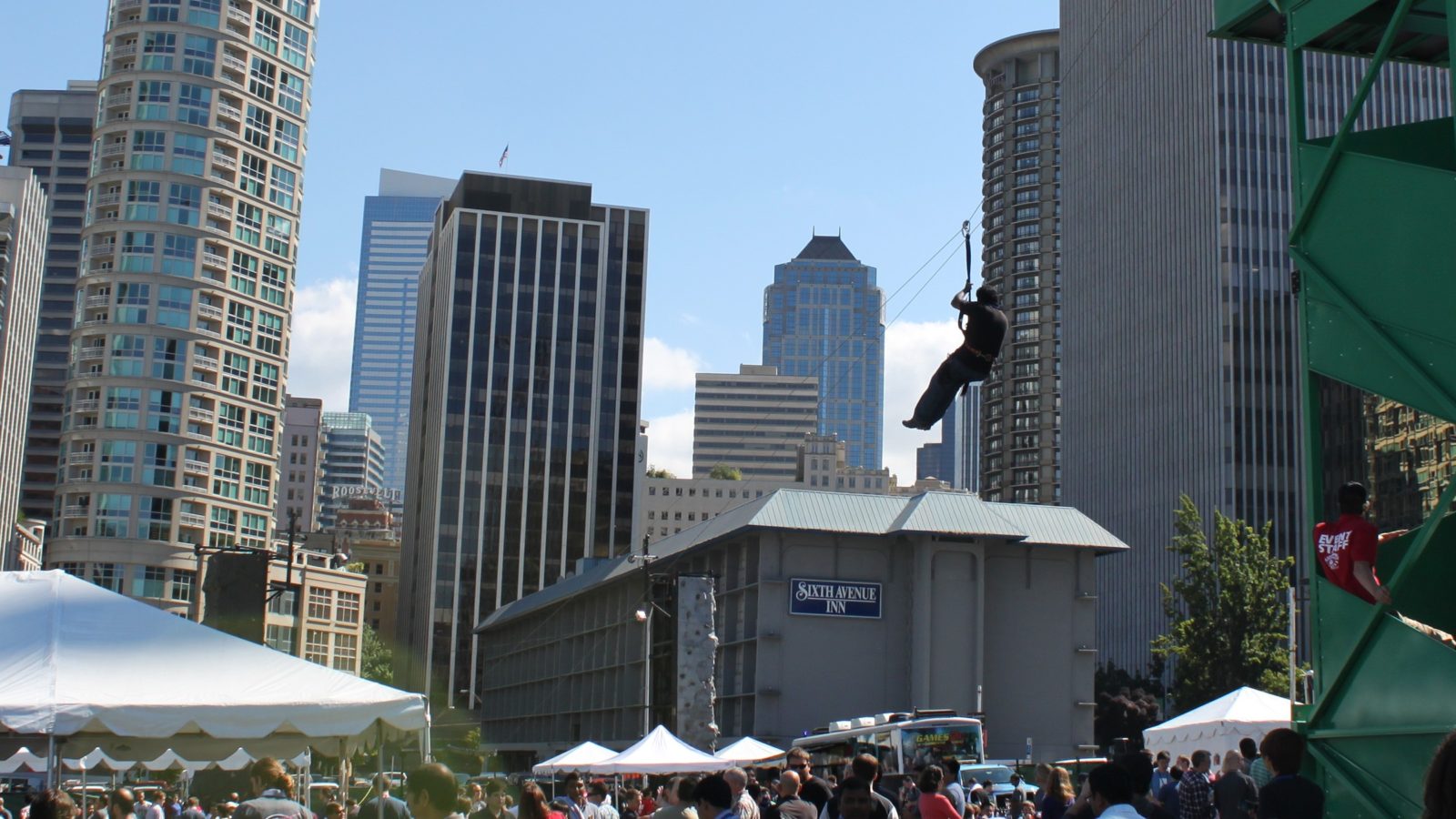 Our team has successfully delivered our mobile zip line system to Fortune 500 corporations, sports teams, and school campuses all around the country each and every year for knockout events. Whatever the occasion makes it one your guests will never forget with a surprise pop up zip line experience at your next event.
---
The Ultimate Austin Team Bonding Activity
Redefine what it means to spend time with your team. We know that company events and conferences are an investment and so often they can seem like on in the same if you attend many of them a year. If you're looking for giving your attendees a long-lasting impression all while getting the most bang for your buck, our mobile zip line is the cure-all for adrenaline seekers on a budget.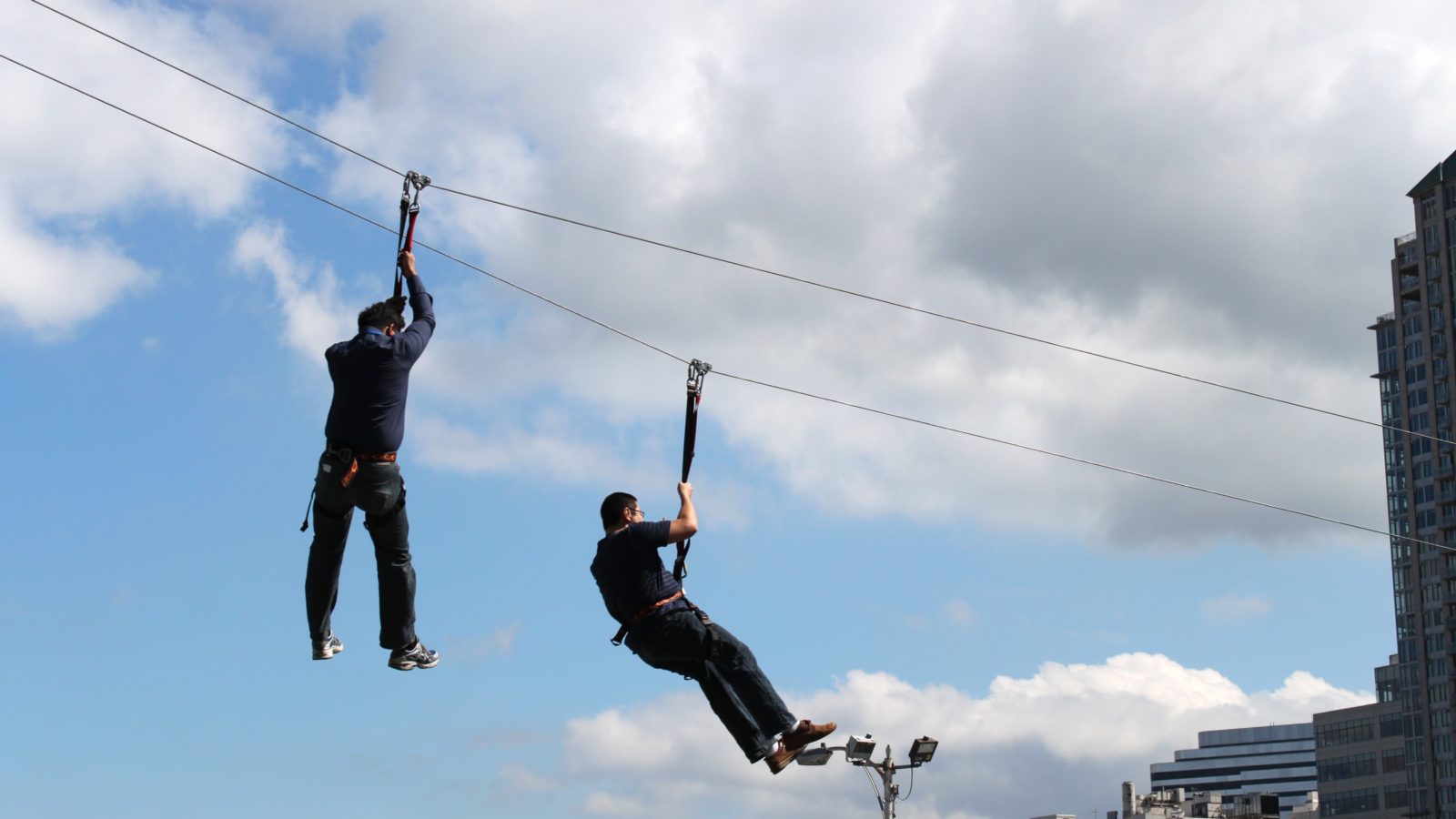 Nothing brings people closer together in a short amount of time than facing their fears in a positive and lighthearted setting. Nothing will get your mind off work or off a deadline quicker than soaring 250 ft high. Bring your team to new heights, literally with this experience. The beauty of extreme experience rentals such as our mobile zip line and our many other rental items is that you don't need to worry about all the expenses other than one flat rate cost. Your zipline will be delivered, set up, safety tested of course, and supervised all included in your purchase of this fabulous rental.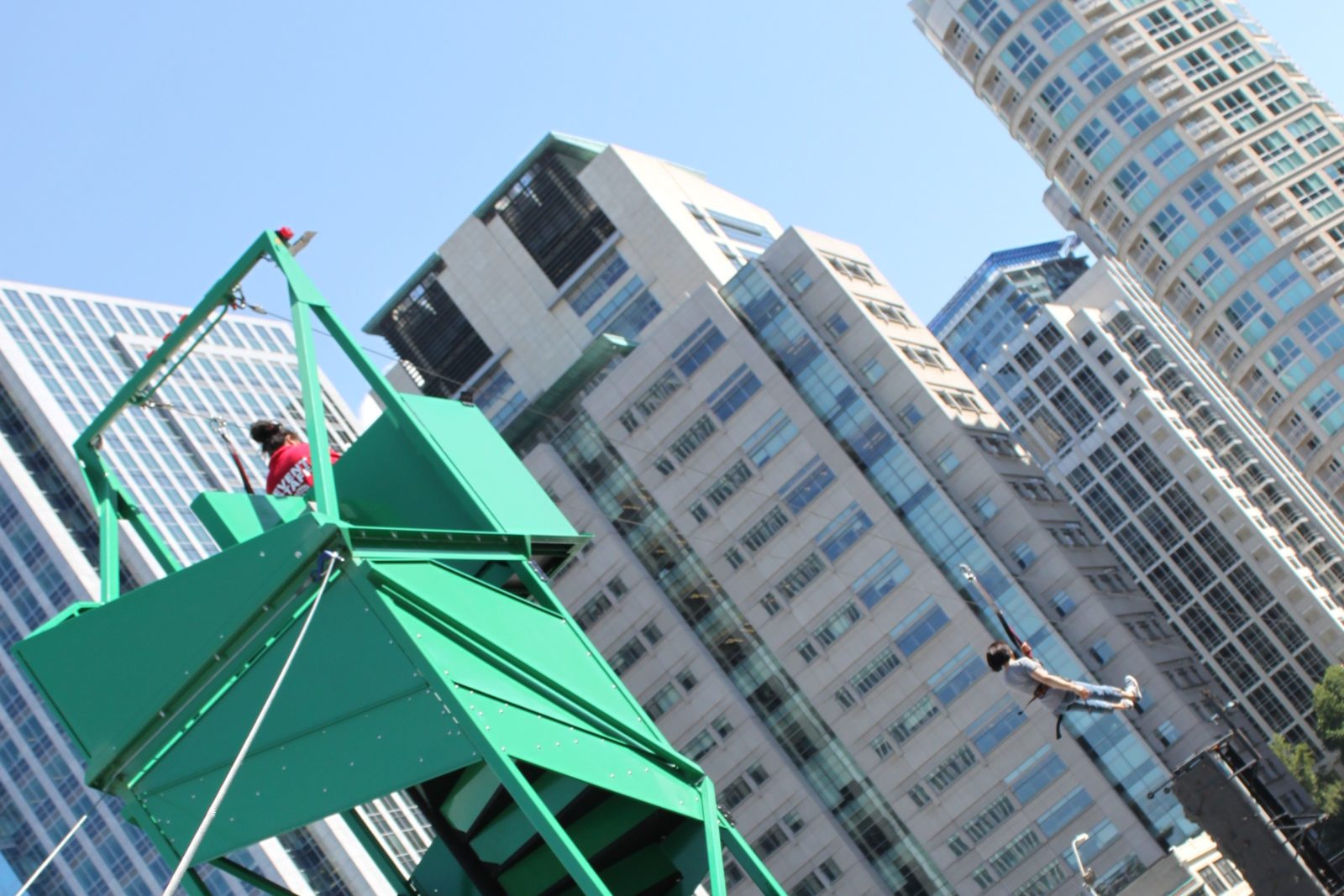 The element of surprise when your office walks up to see a giant zip line installed in the company parking lot or at the selected venue of your next conference is worth every penny. Don't stress about the details as our venue selection specialists are seasoned pros when it comes to obtaining the correct permits and handling everything else from parking to load in.
---
Surprise Your Office with The High-Flying Trill of The Outdoors
What goes best with an adrenaline rush? The element of surprise. Yes, your coworkers and friends will never see it coming when you surprise your guests with 250ft of high flying adrenaline pumping fun at your next event. Our mobile zip line is not just a hit at carnivals, picnics, fundraisers, and barbeques but also a great addition to a much-needed company meeting where a team might need to blow off some steam. Need an icebreaker at your next networking event or fundraiser? Raise the bar with a surprise pop up zipline. It won't be what anyone is expecting but it sure will be something guests won't forget about. Get them talking, posting, and tweeting about your event weeks after it is over with an array of extreme experience rentals.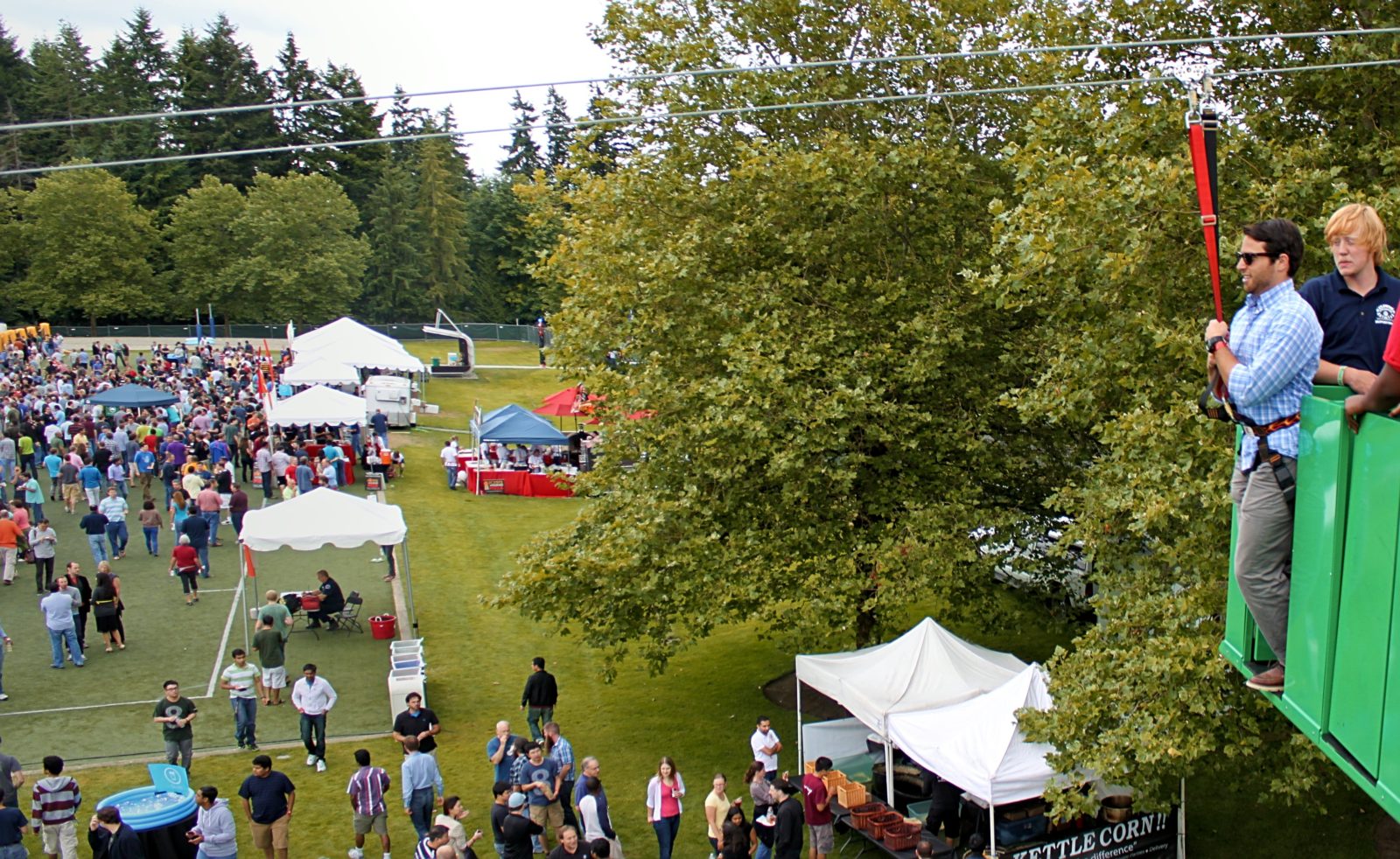 Looking to drive engagement in fun new ways? Create activities the entire team can take part that is aligned with your organization's sales or marketing goals and as a surprise reward relax with a fun half day at the office and our mobile zip line, a beer garden, catering, live music and entertainment, and whatever else you and your team desire.
---
Professional Austin Zip Line Rental Delivery, Setup, and Teardown
Fortunately, there is not a venue too near or far for our team to travel to and deliver the goods. Over 250ft worth of adrenaline rush-inducing fun. In addition to delivering our team can also scout the perfect outdoor location for your event and secure all the necessary permits. Whether you need our mobile zip line at your next downtown Austin event, a picnic in Fort Worth, or a reception in Lexington our team has got you covered.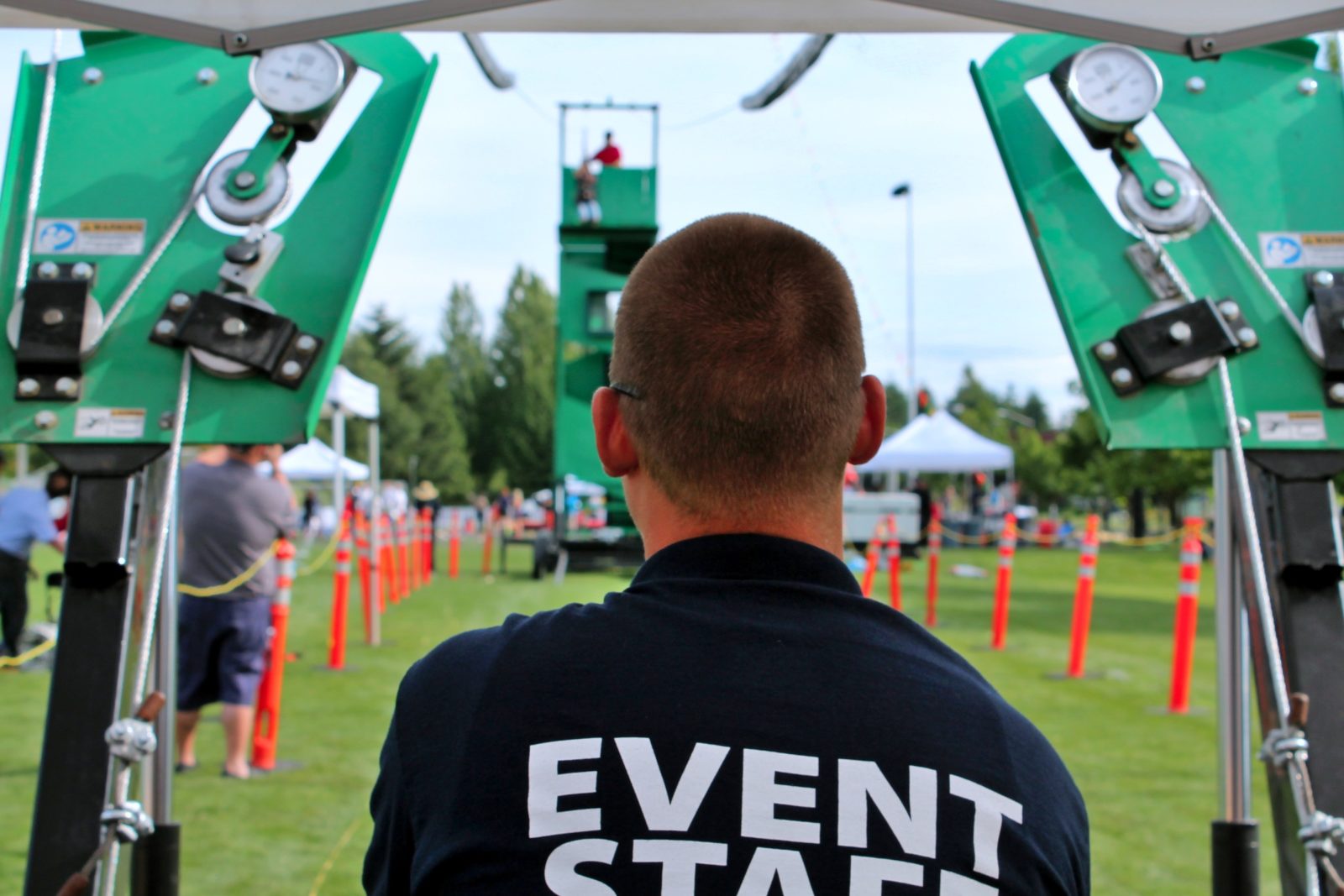 Our system can be delivered, set up, safety tested, and supervised for just a few hours to even a week-long carnival event. However long you want the high-flying fun to last our team will be there to keep things running smoothly every step of the way.
---
P.S. Don't have 250 feet of space on hand?
If all of this high flying entertainment sounds like a great idea for your next event but you're unsure of where to even find enough space for 250 feet of zip line fun in the heart of downtown Austin, don't you worry. Our venue booking specialists have got you covered with over thirty years of venue contacts in our Rolodex for you to choose from.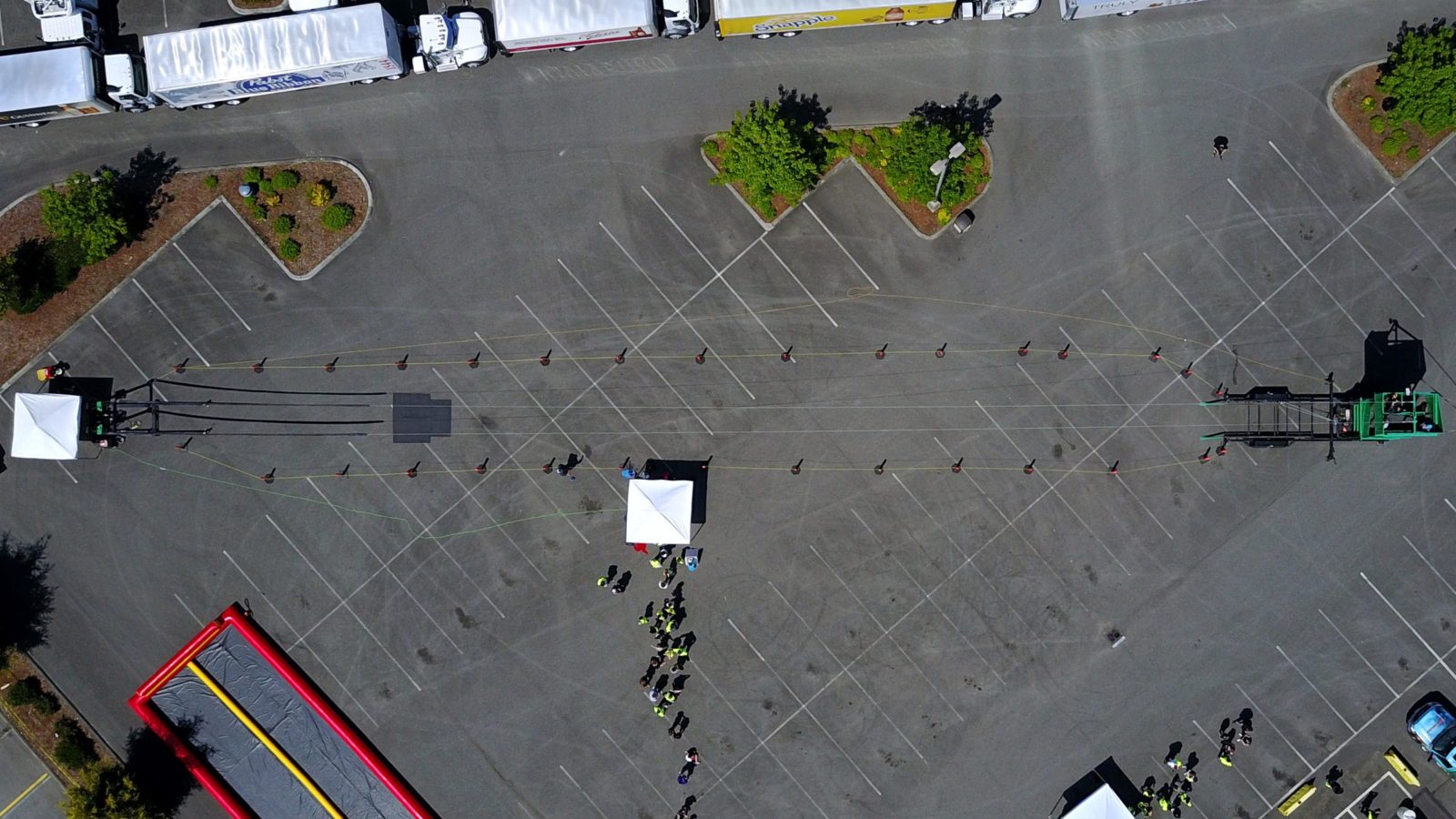 Whether it be finding the perfect venue that's only a hop, skip, and jump away from your downtown office, anywhere out of the city in San Antonio, Georgetown, or securing the correct permits for your next outdoor movie screening or outdoor event, our venue booking specialists have it all figured out so you can enjoy spending your valuable time with those who matter most.